The California Agricultural Labor Relations Board may have just celebrated its 40th anniversary, but this board also has a long history of abusive behavior – toward California farm workers, and farmers and ranchers.
Many are aware of the fight that thousands of workers at Gerawan Farming have been waging since 2012 to oust the United Farm Workers union from Gerawan. The ALRB has clearly been "in cahoots" with the UFW, according to a Superior Court Judge, to force the workers into the union.
But there are many more cases of farm and ranch owners abused by the ALRB, which raise serious doubts about the fairness and objectivity of this California state agency created to defend the rights of farmworkers. And top ALRB attorneys are involved up to their eyeballs, misleading farm workers, as well as the courts.
Some of the obscure cases resurfaced after the surprise gubernatorial appointment last week of Sylvia Torres-Guillen, the controversial general counsel of the state Agricultural Labor Relations Board, to Gov. Jerry Brown's office as special counsel. Many say Brown did this to avoid any more public scrutiny over his appointment of her.
Silas Shawver
Two of the cases concern a family-owned farm in Caruthers, CA near Fresno, that raises grapes and almonds.
H & R Gunlund Ranches, Inc., was forced to pay nearly a million dollars in a settlement to California Rural Legal Assistance, a private group whose lead attorney, Silas Shawver, would later be hired as Torres-Guillen's top lawyer in the field.
Silas Shawver, the former Directing Attorney for the Fresno Migrant Office of the California Rural Legal Assistance program, has led the contentious cases in both the Gerawan and the Gundlund situations.
Shawver has been the prime ALRB attorney trying to prevent field laborers at Gerawan Farming from voting in a decertification election of the United Farm Workers in 2013. He confiscated their ballots, and ordered them destroyed instead of counted.
When Shawver first took up the case against Gunlund in Nov. 2009, he was a Fresno-based lawyer for California Rural Legal Assistance, a private advocacy group funded by the federally-funded Legal Services Corporation. The farm owners allege that Shawver deliberately misled the workers in order to keep them agitated to fuel his case against the farm.
Shawver graduated law school 2006 and went to work for the CRLA. His dates of employment are sketchy, although I found evidence of him working at CRLA in 2008, 2009, through Dec. 2009. But then nothing; his name is removed from the stationary.
Finally I found evidence of him months later working at the Legal Aid Society in San Francisco June 2010 through at least March 2011.
Then, after Sylvia Torres Guillen was appointed by Gov. Jerry Brown as ALRB General Counsel in 2011, she hired Silas. Apparently by that time, the CRLA case against Gunlund was over, with Gunlund paying $915,000 to settle with CRLA In Nov. 2011.
Following what Gunlund thought was a settled case, some of the Plaintiffs also filed charges with the Agricultural Labor Relations Board against H&R Gunlund Ranches, Inc. for unfair labor practices. Many say the workers were likely encouraged to do this by Shawver.
CRLA Misused Government grants
During the time Shawver worked with the CRLA, the federal Office of Inspector General received a serious complaint against CRLA for misusing government grants. CRLA is just one of the many community groups that receive large amounts of U.S. taxpayer dollars to represent the interests of the poor, but actually more often than not, represent illegal immigrant farm workers. As in the case of CRLA, they were also accused of political impact litigation, and fee-generating cases.
The CRLA was embroiled in a four-year federal probe accused of illegal political activism and misplaced priorities. Accused of broad-based, politically impacting litigation and neglecting the underserved populations it claimed to represent in 2005 Congress reported the allegations to the Legal Services Corporation Office of Inspector General, which then conducted an investigation. The OIG found "substantial evidence that CRLA violated federal law by: soliciting clients; working a fee-generating case; requesting attorney fees; and associating CRLA with political activities."
The LSC-OIG report also raised "serious concerns" that CRLA may have been engaging in impact litigation to an impermissible extent and conducting litigation without an identifiable client, in violation of congressionally-mandated restrictions.
But this never stopped the flow of taxpayer dollars. One year after the allegations were reported and well under investigation by Congress and the OIG, the CRLA received another $6.8 million from U.S. taxpayers.
Because CRLA receives millions of dollars in federal funding each year from the Legal Services Corporation, a Congress-created, taxpayer funded legal services corporation for the poor, these are all serious violations.
But the CRLA attorneys fought the judges' subpoena orders for several years to turn over their files.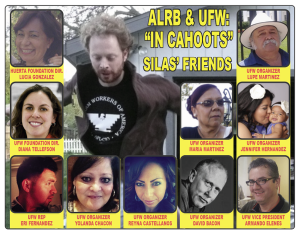 Finally, about the time a federal District Court judge ordered the CRLA attorneys to comply with the subpoena for records in 2011, many of the CRLA rats jumped ship. By then, Shawver was working at Legal Aid in San Francisco. But his coworkers Martha Guzman Aceves, Alegria de la Cruz, Jennifer Hernandez, Phoebe Seaton, and an Arturo Rodriguez all got new jobs – de la Cruz with the ALRB, Guzman Aceves with Gov. Jerry Brown's inner office, and Hernandez partnered with Guzman Aceves' three non-profit community organizing outfits. Phoebe Seaton went to work for the Leadership Counsel for Justice and Accountability, funded by the Tides Foundation and its related group, the Tides Center. Tides, funded by far left groups, has given hundreds of millions of dollars to anti-free enterprise groups, gun control groups, anti-private property groups, abortion rights groups, homosexual groups, groups engaged in voter fraud, anti-military groups, and organizations that seek to destroy America's constitutional basis. Seaton is also listed as the Communities for a New California Education Fund, Board of Directors Secretary, one of Martha Guzman Aceves's community organizing groups.
If these names ring a bell, perhaps you remember reading about them in several other stories I have done including, "Do Union Activists Work For Gov. Brown Farm Board?" Reread it and this all becomes crystal clear.
These people are all tied together in radical cause and purpose, inside government, funded by government, and tied to government.
Part ll: How the ARLB Targeted Gunlund Ranches and Gerawan Farming