Those on the left who wail incessantly about "income inequality" need look no further than California academia. While the left focuses like a laser beam on private sector CEO salaries, the salaries in government and state run academia are soaring.
There's no risk being a public official; the real risk belongs to CEO's who can be tossed out of their jobs on the whim of boards of directors. Private sector employees are subject to performance reviews and standards — it's called merit. When was the last time anyone in government was terminated for poor performance? The faulty Oakland Bay bridge… no heads have rolled yet on that.
Income Inequality Belongs to California Academia
The UC Regents approved 3 percent raises for 15 of the University of California's highest-paid executives. The new pay scale for the five UC chancellors are: $772,500 for UC San Francisco's Samuel Hawgood; $516,446 for UC Berkeley's Nicholas Dirks; $441,334 for UCLA's Gene Block; $436,120 for UC San Diego's Pradeep Khosla; and $424,360 for UC Davis' Linda Katehi, the Los Angeles Times reported.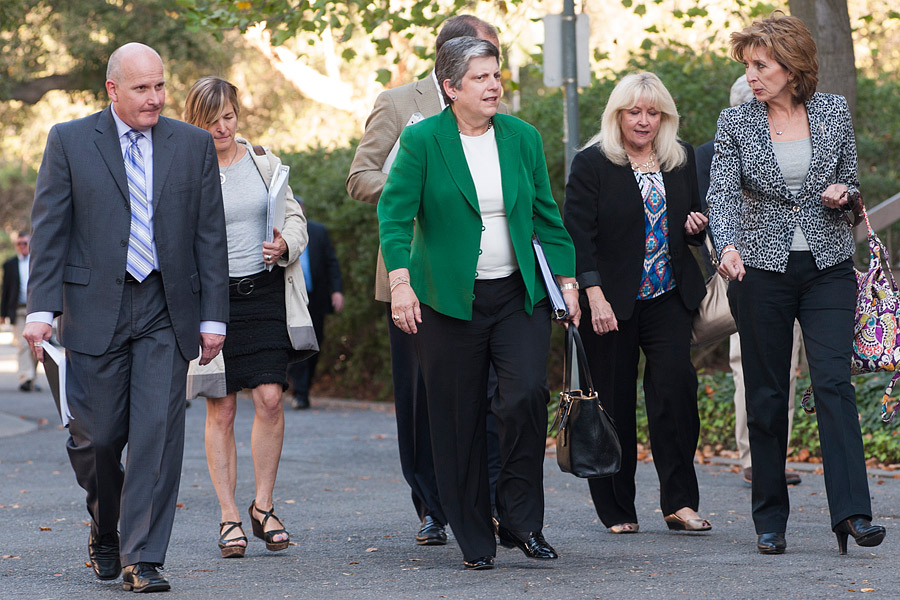 Also included in the raises were $231,750 for Anne Shaw, chief of staff for the UC regents, to $991,942 for Mark Laret, chief executive of UC San Francisco's medical center. Many of them had salaries well above $400,000 before the new increase.
These are public employees who also can look forward to rich pensions and lifetime health care in retirement… unless the system goes broke. But that's another story. These people will live as millionaires in retirement, courtesy of the taxpayers. A $770,000 annual retirement for 30 years is $23 million. Is anyone really worth $23 million in retirement for something they did not build themselves?
Others on the UC pay raise list include the UC system's chief investment officer, Jagdeep Bachher, whose salary now will be $633,450; UC's general counsel, Charles Robinson, $441,334; and UC Davis' medical center chief executive, Ann Madden Rice, $848,720.
Kevin Sabo, board chairman of the UC Student Association, denounced the pay raises as "shameful" and said the raises would hurt future lobbying efforts in Sacramento to boost state funds for UC. He's right, but no one is listening. They really don't care.
"Nothing is more sabotaging of student efforts to get increased funding for higher education," he said of the executive pay increases. Money instead should be going to increasing class offerings and hiring more faculty so students can more easily fulfill their requirements and graduate on time, he said.
In September, the regents raised salaries of the five other chancellors by as much as 20 percent, saying they had been paid significantly less than leaders of comparable campuses across the country.
CSU is in on the Gravy Train
And going largely unnoticed last week, the 23 California State University presidents and other administrators will receive a 2 percent salary increase that was approved Tuesday by university trustees. San Diego State University President Elliot Hirshman's overall salary will be $420,240.
His $8,240 raise is based on 2 percent of his past base salary of $362,000, plus the supplemental money, the San Diego Union Tribune reported. CSU Chancellor Timothy White's annual salary increases from $422,300 to $430,746, including a $30,000 annual supplement from a university private foundation.
The UC Regents' Committee On Compensation members are Regents Richard C. Blum (spouse to US Sen. Diane Feinstein), Gareth Elliott, Russell Gould, Eddie Island, George Kieffer, Sherry L. Lansing, Eloy Ortiz Oakley, Norman J. Pattiz, Bonnie Reiss, and Richard Sherman; Ex officio members: Regents Gov. Jerry Brown, Monica Lozano, Janet Napolitano, and Bruce D. Varner; Advisory members: Regent-designate Marcela Ramirez; Faculty Representative Mary Gilly.
Federal funding in academia was significantly increased when the Obama stimulus package was passed in 2009. Stimulus bills, as the President claimed, are supposed to pump dollars into the hands of cash-starved Americans whose spending will jump start the economy. But that's not what happened. Spreading the wealth to already wealthy government employees; this is where real income inequality is.