The California State Assembly passed the assisted suicide bill Wednesday. It will be heard next in the State Senate, which has also previously passed a prior assisted suicide bill.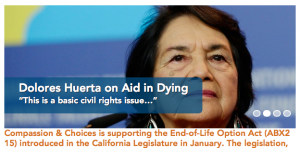 The bill passed 42-33 during hours of often emotional versus rational debate… and despite being revised during an extraordinary legislative session having nothing to do with the bill. The special session was called to address funding health care and Medi-Cal.
However, the bill passed with the help of three Republicans.
Assembly members Catharine Baker, Brian Maienschein, and David Hadley voted to pass AB X2 15, "the most rigorous aid in dying legislation in the country," according to the bill's author Assemblywoman Susan Talamantes Eggman, D-Stockton. Baker and Maienschein previously voted in committee to pass the bill.
Eggman proudly declared her bill as the most "rigorous," and then closed her argument by appealing to the emotions surrounding death due to illness.
What was revealed today is Eggman has worked her entire career in the medical field, familiar with death. She was a hospice social worker. In her closing speech she said she specifically went to school in Oregon in 1997 for a Ph.D. at Portland State University after the assisted suicide law was passed.
"I am committed to this issue of people being able to die on their own terms," Eggman said.
In January, Sen. Lois Wolk, D-Davis, and Sen. Bill Monning, D-Carmel, first introduced the End of Life Option Act. Senate Bill 128, and its successor bill, modeled on assisted suicide legislation in Oregon, which narrowly passed in 1997, and was sent to the voters for reconsideration, but again narrowly passed.
One of the myths about assisted suicide in Oregon is that it is highly regulated and has strong safeguards, said Marilyn Golden, senior policy analyst with the Disability Rights Education and Defense Fund. Golden said proponents gloss over the serious lack of safeguards in Oregon's law.
In fact, the state of Oregon is rationing healthcare to Medicaid recipients, says Gayle Atteberry, the executive director of Oregon Right to Life, following a trend largely encouraged by President Obama's Affordable Care Act, the New American reported. "Atteberry recently attended a meeting of the Health Evidence Review Commission (HERC), a committee affiliated with the Oregon Health Authority, and concluded that Oregon's healthcare system is encouraging the denial of medical care."
Many in the California Legislature warned that this is where the state is headed should this bill make it into law.
Oddly, the Los Angeles Times sounded excited with the day's proceedings: "After nearly a quarter-century of efforts in California to afford terminally ill patients the right to end their lives with a doctor's help, state lawmakers and the governor may be on the verge of granting the dying that authority."
In one of the oddest floor speeches of the day, Assemblyman Jimmy Gomez, D-XX, explained his role in the Legislature. "We have to try to relieve people's suffering throughout their lives," Gomez said. "If my job is to relieve their suffering during the course of their regular life, then my job is to relieve it at the end of life."
Opposition
Assemblywoman Cheryl Brown, D-Rialto, opposed the bill, saying in her experience, doctors can jump to declaring patients terminal, rather than considering treatments that prolong life. Brown told Assembly colleagues about her father-in-law who was given six months to live, instead lived another eight years.
She told an amazing story about her son, who nearly died from a leg infection. While on life support, doctors tried to convince her to pull the plug and let him die. "He came off, and lived," she said, and is now a husband and father.
Brown's husband was diagnosed with ALS in 2002. Doctors told her his was going to be a horrible death, and didn't recommend treatment. She said had he listened, and had done what doctors wanted him to do, he'd be dead. "Hardy Brown sees his grandchildren, his great grandchildren. I'm here because of him," Brown said.
"Doctors don't know everything."
"I've seen so many people turn around when given a death sentence," Assemblyman Mike Gipson, D-XX, said. He asked Assembly members to vote their conscience "for the miracles that take place each and every day."
"Suicide should not be the first option where hospice and palliative care hasn't been tried," said Assemblywoman Marie Waldron, R-Escondido. "People will be offered the cheaper lethal method."
"Fear, sadness, depression – we do not want to be endorsing taking one's life for these reasons," Assemblyman Das Williams, D-Santa Barbara said.
Assemblywoman Lorena Gonzales, D- San Diego, recounted the pain she went through with her mother's terminal illness and passing. She said her concerns are with the lower income constituents in her district and districts like hers, where there isn't enough medical care options, hospitals, and "everything in our health care system is driven by costs."
"We represent a different constituency – one who, we're afraid, won't have real choices."
According to Margaret Dore, assisted suicide statistics in Oregon are consistent with elder abuse. "Oregon's assisted suicide law, itself, allows the lethal dose to be administered without oversight," said Dore, a lawyer from Seattle and the president of Choice Is an Illusion, in a blog post . Typically persons who take this route of "treatment" are seniors who are middle class or above, a group disproportionately at risk of being financially exploited. "Oregon's law is written so as to allow such abuse to occur without anyone knowing," Dore said.
In 2009, the Daily Telegraph UK told about two Oregon patients on Medicaid, both denied treatment; one for recurrent lung cancer and the other for prostate cancer. Both were told the state would instead only pay for their assisted suicides.
"I believe it is cruel to deny them of that choice in their final days," Assemblywoman Baker said.
"Brittney Maynard died a gentle death," Assemblywoman Eggman said.
If assisted suicide becomes law in California, it becomes the cheapest option for insurance companies, as well as for some families.