A recent report from the FBI claims to offer proof that violent crime is down in cities throughout California. However, the FBI stats do not include the affect of Proposition 47, passed in November of 2014.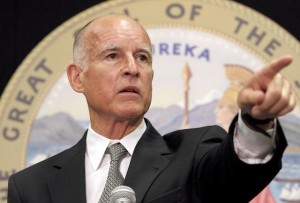 Recent local data show crime is rising in 2015 throughout the state, and particularly in large cities.
Recidivism is a huge problem with prison realignment. Yet, Liberals will likely use the FBI report to argue crime is down in California – but nothing could be further from the truth.
Let's look at how Gov. Jerry Brown and Democrats are dismantling California, and undermining law and order.
Illegal immigrants will be registered to vote, thanks to a bill Gov. Jerry Brown just signed. Sex offenders are out on the street, increasing violent crime. The state has reduced prison time, and released many dangerous offenders. A million and a half Californians are unemployed, and one-fifth of the state's labor force is underemployed. The exodus of businesses leaving California for healthier states continues.
Taken all together, and this adds up to a calculated dismantling of California, which once was known as the land of opportunity.
Prison Realignment and Prop. 47 – A Premeditated Crushing of California
"California has implemented an alarming cocktail of criminal justice "reforms" that are likely to lead to a major crime wave into 2016," I wrote in the chapter on crime in Taxifornia 2016, by James Lacy. "In 2014, California voters were sold on reforming the state's drug laws with Proposition 47. However, the measure covered more crimes than non-violent drug offenders. Moreover, drug addicts are likely to get less treatment in the state's drug courts because prosecutors have lost a bargaining chip in the plea process. Add to it the court-ordered prisoner releases as a part of the state's prison realignment under the 2011 AB 109 law, and you have a state ripe for a surge in crime; such as what is already underway in Oakland, which even after Jerry Brown's eight years on-the-scene as Mayor, the FBI still considers one of the most dangerous cities in America."
Gov. Jerry Brown just vetoed a bill which would have cracked down on sex offenders who remove or disable their GPS tracking devices. This is all part of Brown's prison realignment scheme.
Senate Bill 722 by Sen. Patricia Bates, R-Laguna Niguel, received nearly unanimous approval from lawmakers, yet Brown vetoed it.
According to the State Board of Parole Hearings, the number of new GPS violation charges for sex offender parolees that occurred when they should have been serving time for an earlier violation, has increased after realignment from 99 cases in the 15 months prior to realignment to 495 cases in the 15 months following the start date of realignment, Bates' explained in a press statement.
Approved by the Legislature and signed by Governor Brown in 2011, realignment is the shifting of thousands of inmates from state prison to county jails.
SB 722 would have made it a felony for a person to willfully remove or disable an electronic, GPS, or other monitoring device, if the device was affixed as a condition of parole or probation as a result of a conviction of a specified sex offense, if the person intended to evade supervision and either does not surrender, or is not caught within one week.
Brown's veto message said he didn't want to create new classifications for crimes. Blah blah blah. How about just upholding sentencing on the existing crimes?
School Shooters
Gov. Brown also just signed a bill to make it illegal for anyone to legally carry a permitted concealed gun onto a college campus. His timing is interesting following very recent college campus shootings in Sacramento and Oregon.
The recent Sacramento City College shooters are graduates of Jerry Brown's AB 109 prison realignment program. Two convicted criminals were attending Sacramento City community college instead of serving sentences in jail.
After serving relatively short sentences for assault-with-firearms crimes, the two "college students" were released and offered the condition that they attend college.
Media reported over and over that the man murdered at Sac City College "was a father of two and a student at the college," and "one of the others wounded also was a student at the college." But they were also known gang members and convicted criminals, with multiple violent convictions, according to police and court records.
Jerry Brown doesn't think your kids should be allowed to protect themselves against murdering thugs like these while at school.
'Recividism' by Any Other Name Would Be As Deadly
Is Crime Spiking or Dropping? That depends on whom you ask.  The California Department of Corrections and Rehabilitation reports that 75 percent of recidivists commit their re-entry crime within a year of release. With AB 109 and Prop. 47 statistics potentially exploding with recidivist offenders, the Democrats in the Legislature passed Assembly Bill 1050, ordering the Board of State and Community Corrections to redefine "recidivism" in an obvious effort to manipulate recidivism statistics.
Sacramento Sheriff Scott Jones told me the Attorney General and BSCC have different definitions of "recidivism." "There is no meaningful way for me to show recidivism rates now," Jones said.
The previous definition of "recidivism" was "arrests," rather than "convictions," and it was within one year, not three years. When you re-classify something and no longer consider it a crime, the stats are going to drop.
Sheriff Jones explained that in most instances, many crimes prior to passage of Prop. 47 that were previously "arrestable" as a felony are now only "citable" as a misdemeanor. "That means they may not be booked into jail but rather given a citation, like a traffic ticket, with a court date to appear, and released," he said.
Prop. 47 actually reclassified felons with prior convictions for armed robbery, kidnapping, carjacking, child abuse, residential burglary, arson, assault with a deadly weapon, and many other crimes. That reclassification ultimately eliminates jail time for some serious offenders. Californians are already seeing more incidences of armed robbery, kidnapping, carjacking, child abuse, residential burglary, arson, and assault with a deadly weapon, and it will get worse, according to law enforcement professionals throughout the state.
For Taxifornia 2016, I interviewed District Attorneys, Sheriffs, judges, police officers, and law enforcement policy experts.
Prior to passage of Prop. 47, the Public Policy Institute of California reported the most recent national data showed California's violent crime rate of 422 per 100,000 residents was higher than the national rate of 387, and ranked 16th among all states.  In 2013, 59 percent of violent crimes in California were aggravated assaults, 35 percent were robberies, 5 percent were rapes, and 1 percent were homicides.
This is Jerry Brown's California – he's leaving it worse off than he found it. Again. Don't listen to what he says; always watch what he does.