The Agricultural Labor Relations Board has spent $10.8 million to prevent Gerawan Farming Workers 2013 votes from being counted – more than $4,100 per vote to deny farmworkers their legal rights to be heard.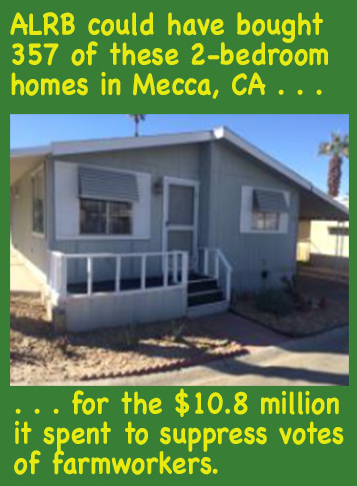 The Agricultural Labor Relations Board is also being sued for bias and conflicts of interest, and has been found actively and openly working on behalf of the United Farm Workers Labor union, rather than farm workers. And this takes money… a lot of money.
Growing the ALRB
Who says jobs are hard to come by? There have been significant increases in the ALRB budget and staff positions since 2013, the year when workers at Gerawan Farming collected signatures to petition the ALRB for the right to vote for decertification from UFW, and then held the election. But since November 2013, the day of the decertification election, the ALRB confiscated the ballots and kept them locked up, refusing to count them.
The ALRB estimates that 2,600 votes were cast by Gerawan Farming workers in the November 2013 decertification vote. Even if the entire ALRB budget is not devoted to the Gerawan Farming cases, just the required increase in spending to handle the Gerawan Farming cases is more than $10 million. This means ALRB has spent more than $4,100 per vote to deny farmworkers their legal rights to be heard.
Estimated Spending on Gerawan Farming cases is expected to constitute more than 34 percent of the entire ALRB budget for 2015-16 and 2016-17, according to a report by MB Public Affairs.
Recently, I sent a request to California Secretary of Labor David Lanier and the ALRB Members asking for confirmation of the ALRB spending on Gerawan. I pointed out that Pick Justice posted several Tweets saying that this spending equals the amount it would cost to buy homes for hundreds of farmworkers in Mecca, or could have paid the housing rent for more than 1,000 farmworkers Mecca.
ALRB's Paul Starkey, who handles media inquiries, responded. "The Board cannot," Starkey emailed. "The articles, in and of themselves, do not provide sufficient information such that amounts can be confirmed."
"This link is also from the Pick Justice website," I replied. "Does it contain the the detail you need to confirm or deny the amount Pick Justice claims? http://pickjustice.com/wp-content/uploads/2016/03/ALRB-Budget-Memo-February-2016.pdf
Starkey replied: "In looking at the link you have provided, the information presented purports to rely on state budget documents and other unknown information. In addition, there are various assumptions and claims, some of which relate to pending matters before the Board. For these reasons, the Board declines to comment concerning those claims."
ALRB Bias
Since 2011, when Sylvia Torres-Guillén was appointed by Gov. Jerry Brown as the general counsel for the California Agricultural Labor Relations Board, the agency's budget has increased by almost 90 percent. Torres-Guillén was ousted in June, but the spending continues. And the agency continues its biased operations.
ALRB Chairman William Gould's admitted the ALRB bias in a recent speech at the Agricultural Personnel Management Association's 36th Annual Forum. "Union organizing has completely disappeared," Gould said. "Union organizational activity in California agriculture at this moment is completely moribund."
"During these past two years, while I have been chairman, there has not been one single representation petition filed under a statute which requires certification through a petition in order for a union to be recognized," Gould said.
This begs the question: What do they have to show for their almost doubled budget and staff?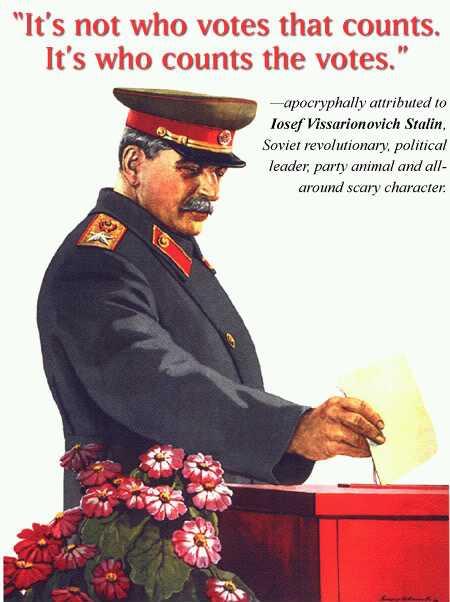 "In a March 2014 budget memo, Torres-Guillén sought to boost the budget by more than one-third, from just under $6 million to more than $8.1 million, adding four attorneys and one field examiner to the agency's staff," the Modesto Bee reported. "'These additional five positions will help the ALRB address an increased workload over the last two and a half years, the backlog of cases, and the significant workload caused by intense litigation in numerous complex cases involving one of California's largest growers, Gerawan Farming Inc.,' she wrote. The additional money was approved in the state's 2014-15 budget."
This year, the agency asked for, and received, an additional 16% increase, boosting the total to almost $9.5 million — more than double what it was before Torres-Guillén was named as general counsel. The number of authorized positions in the budget this year is equal to 63.5 full-time employees, compared to fewer than 33 before Torres-Guillén's tenure.
A Bee
graphic
showed:
$4,393,000 — ALRB spending in 2010-1132.9 — Full-time equivalent positions for ALRB in 2010-11$9.457,000 — ALRB budget for 2015-1663.5 — Full-time equivalent positions for ALRB in 2015-16
UFW Needs Members
Desperately in need of dues paying members, the United Farm Workers labor union showed up at Gerawan Farming in 2012 after a 22 year absence, demanding Gerawan workers bow to union leadership. But there was never a collective bargaining agreement, and none of the workers in 2012 had voted to join the UFW back in 1992.
Longtime Gerawan Farming employee Silvia Lopez organized thousands of workers and they fought against the attempted takeover. Lopez collected signatures to petition the Agricultural Labor Relations Board for decertification of the UFW. She turned in 2,000 signatures Sept. 19. The ALRB rejected her petition and said most of the signatures were forged. Undaunted, Lopez turned in another 3,000 signatures Friday, Oct. 25. Within 24 hours, Silas Shawver in the Visalia ALRB office said Lopez turned the petition and signatures in too late to be valid. But then the Sacramento ALRB overturned Shawver's decision and said the workers could have an election, within seven days of submitting the signatures.
The Gerawan family has been farming in the Central Valley for more than 60 years, and is the nation's largest peach producer.
The Agricultural Labor Relations Board says it exists to protect the rights of all agricultural employees, including those not wanting labor organization representation, as is the case with Gerawan Farming employees. However, Gerawan farming employees say they have not received any assistance from the ALRB.
ALRB Legal Issues
Conflict of Interest: Gerawan Farming Company employee Silvia Lopez filed a legal brief to disqualify ALRB Board Member Genevieve Shiroma from the Agricultural Labor Relations Board. Lopez cites evidence of Shiroma's close political ties with the United Farm Workers union, and long time Democrat political operative Richie Ross. Silvia Lopez, a San Joaquin Valley farm worker, filed the legal documents detailing payments over $120,000 from Shiroma to United Farm Workers' Lobbyist Richie Ross, and documented Shiroma's financial support of the author of a bill designed to help the UFW force itself on workers.
Free Speech Problems: The Agricultural Labor Relations Board has become so secretive and extreme that it has been deemed a threat to free speech by free press groups and legal experts. The California Newspaper Publishers Association, the Reporters Committee for Freedom of the Press, and the First Amendment Coalition and UCLA Law School Professor Eugene Volokh, recognized as one of the nation's most prominent free speech scholars,  show that the ALRB's bias in favor of the union goes far beyond the disgraced Office of General Counsel. The three advocacy organizations and Volokh argued in an amici curiae brief before a state court that the ALRB's exclusion of workers, the press, and the public from attending "on the record" hearings was a threat to freedom of speech. The groups asked the California Court of Appeal in Fresno to quash an ALRB order to prevent citizens and employees from attending the hearings, which are held as part of the Board's compulsory contracting process.
And there is Assembly Bill 1513, which unfairly singles out Gerawan Farming and Fowler Packing, two of the largest fruit growers in the San Joaquin Valley, for discriminatory treatment, based on demands that these two companies be excluded from protection under the bill's affirmative defense. Both companies are targets of United Farm Workers unionizing efforts.
The ALRB is acting as an arm of, and on behalf of the United Farm Workers labor union, rather than farm workers.