While I am a political analyst more comfortable with legislation and policy, occasionally the personal lives of politicians become entangled with politics and even policy. The affair of Republican Assembly Leader Chad Mayes and former Assembly Leader Kristen Olsen is one such situation where personal lives intersected with politics. This is personal and difficult to write about however, it is necessary.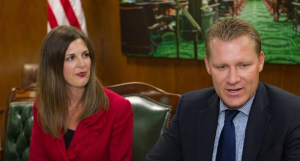 The shamelessness exhibited in politics today is not new. But the current willingness by Republicans to sell out is audacious and unprincipled.
The worst kept secret in the California State Capitol was the recently publicly exposed affair between current Republican Assembly Leader Chad Mayes and former Republican Assembly Leader Kristen Olsen, now a Stanislaus County supervisor and the Vice Chairwoman of the California Republican Party. This affair was exposed after Olsen's estranged husband Rod wrote and sent a letter to Assembly Speaker Anthony Rendon, demanding an investigation into the affair and alleging tax dollars were used in the affair and cover up of it.
It is often said the cover up is worse than the crime.
Joe Turner, a Conservative blogger and founder of American Children First, broke the news story about Chad Mayes affair with former GOP Assembly Leader Kristin Olsen. It was followed up by the Sacramento Bee, and other news outlets.
I have seen a copy of Mr. Olsen's letter (below) requesting that the Assembly Ethics Committee investigate whether or not taxpayer dollars and/or state resources were used inappropriately by Assembly Republican Leader Chad Mayes and former Assembly Republican Leader Kristin Olsen while conducting and covering up their affair.
Rod Olsen said Capitol Sergeants, staff, travel within the state, lodging, per diem, etc… were used at times by Mayes to foster and conceal his relationship from the public. Olsen wrote that he believed Mayes misused taxpayer funding, and acted unethically.
However, Olsen withdrew his investigation request the same day, saying it was hasty and done in anger, and he was advised by his attorney and pastor to withhold comment about his wife's affair.
If Mayes and Olsen were just office colleagues and this was just an office romance, perhaps this could have gone away. But they are not; Chad Mayes is the current Republican Assembly Leader, and Kristen Olsen is the immediate past Republican Assembly Leader, and now serves as the Vice Chairwoman of the California Republican Party. This is where their personal lives intersected with politics and policy impacting millions of Californians.
Political Dalliances
Mayes and Olsen certainly aren't the first elected lawmakers to have a workplace sexual tryst replete with all the dodgy things needed to keep it quiet.
Perhaps the most notoriously famous political dalliance was former Democratic President Bill Clinton who shamelessly told the nation, "I did not have sexual relations with that woman, Miss Lewinsky," yet later admitted that he did indeed have an "improper physical relationship" with Monica Lewinksky, a 24-year-old White House intern. Once the details emerged of their "improper physical relationship," Clinton was impeached for perjury.
In 2009, audio/video taped sex remarks cost California Assemblyman Mike Duvall his job. Duvall, a "family values" Republican was caught in flagrante delicto on a hot mike while in a legislative committee bragging about his affairs with married lobbyists, in excruciating detail. Duvall properly resigned his office. This was a real head-shaker; a "family values" Republican discussing details of his multiple affairs in legislative committee to a colleague made most people want to vomit.
No tale of political dalliances would be complete without mention of Democrat Willie Brown, a two-term mayor of San Francisco, and renowned speaker of the California Assembly. Brown was notorious for affairs of the heart with much younger women who then landed lucrative jobs on the public payroll, or working in politics. Brown's exploits were not very secret either.
"Carolyn Carpeneti, Mayor Willie Brown's fund-raiser and mother of his 2-year-old daughter, has been paid at least $2.33 million over the past five years by nonprofit groups and political committees controlled by the mayor and his allies, public records show," SF Gate wrote in 2003. Their daughter was born in 2001. Brown and his wife of more than 50 years never divorced, and have three adult children.
In 2003, when Kamala Harris was running for San Francisco District Attorney, opponents tried to hang her former boyfriend Willie Brown around her neck. "Harris met Brown in 1994 when he was speaker of the state Assembly. She was 29, he was 60," SF Weekly reported. "Their May/December affair was the talk of the town during the year before Brown's successful 1995 bid to become mayor."
"Harris' big break in her political career came after dating Willie Brown, a powerful former California Assembly speaker and mayor of San Francisco," Breitbart reported. "She became the District Attorney of San Francisco before running and narrowly winning the race for state attorney general in 2010 in an election that was possibly tainted by voter fraud and wasn't decided until nearly three weeks later. After she became the state AG, her eventual ascension was mapped out. She was to become the next senator from California after the retirement of Barbara Boxer."
The Smoke Near the Fire
During his campaigns as well as last year, Mayes had been a staunch opponent to climate change policy and cap and trade legislation. He led his caucus to vote against a bill last year that would have imposed even tougher restrictions on greenhouse gas emissions by 2030.
But strangely, in April, Mayes suddenly did a 180 in support of California's climate change battle, in a "if-you-can't-beat-them-then-join-them" act. "Mayes and almost all of his colleagues voted against last year's measure to set a new, tougher target for slashing greenhouse gas emissions by 2030," the Los Angeles Times reported May 1. "But now that the goal has become law, he wants to work with Democrats on extending the cap-and-trade program, which requires companies to buy permits to release emissions into the atmosphere."
"'It would be foolish not to engage,' said Mayes, who has huddled with a cadre of Assembly Republicans to start developing their own ideas about limiting the price of emission permits and using the program's revenue for tax credits or rebates."
But after being lobbied by Gov. Jerry Brown to pass the 10-year extension to the cap and trade program, Mayes and six Assembly Republicans turned coat and voted to raise taxes on low income, working class and middle class Californians. And in doing so, Mayes and his Republicans provided cover for three Assembly Democrats in targeted seats who couldn't or wouldn't vote for the cap and trade extension and risk the vote being used against them in their 2018 reelection campaigns.
About Face
On his reelection campaign website in October 2015, Mayes said, "We need to reform California's job killing regulations and reduce the tax burden to not only keep the jobs we have but to expand and strengthen our economy."
California Republicans have long agreed that climate change is actually cyclical, and much bigger than any cap and trade program, and offset credits purchased by guilty liberals. So, why and when the change of heart?
I was told that not only did Speaker Rendon know about the Rod Olsen complaint and not authorize an ethics investigation into the affair, but the Los Angeles Times was informed about it as well. However, the Times did not do a story about Olsen's allegations and potential complaint, leaving many to assume they were asked to hold it. If true, attorneys should be consulted all around.
Consider these dates:
At this point, when Mayes' 180-degree pivot on climate change appears to be a volte-face related to his personal issues, it doesn't take Sherlock Holmes to deduce that the Mayes/Olsen affair likely affected the policy Speaker Rendon and Gov. Jerry Brown wanted passed.
This is why it matters that California Assembly Leaders Chad Mayes and Kristen Olsen had an affair they wanted to keep quiet.
Photo of Mayes and Olsen courtesy of the Assembly Republican Caucus.