In a stunning court rebuke of the state Attorney General's Office, a Sacramento Superior Court Judge announced Friday that Xavier Becerra's title and summary for the Repeal of the Gas Tax initiative is "misleading and is likely to create prejudice against the measure"— and that he'd "do a rewrite himself" to make it clear the measure would repeal Jerry Brown's increases gas taxes and vehicle fees.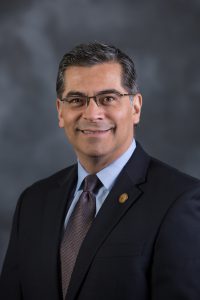 California Attorney General Becerra's title placed on the gas-tax repeal reads: "Eliminates recently enacted road repair and transportation funding by repealing revenues dedicated for those purposes."
Assemblyman Travis Allen, R-Huntington Beach, who is running for Governor, filed the ballot initiative to repeal the gas tax, and sued the Attorney General over the misleading ballot title and summary.
Sacramento County Superior Court Judge Timothy Frawley said in court Friday that the words "tax" and "fee" don't even appear in the title of the gas-tax repeal effort. "The problem with the Attorney General's title and summary is that an ordinary, reasonable elector, who is otherwise unfamiliar with the initiative, would not be able to discern what the initiative would do," Frawley wrote in a preliminary decision Tuesday.
The initiative seeks to repeal a package of taxes and fees that would generate more than $5 billion annually.
To qualify for the November 2018 ballot, Allen's campaign will gather more than 365,000 valid signatures from registered California voters within 180 days from when he receives the newly written title and summary.
The so called "transportation package" of tax increases was pushed hard by Gov. Jerry Brown as the solution for the state's crumbling roads and highways, despite his promise not to increase taxes without a vote of the people.
The bill, SB 1 was approved by the Democrats in the Legislature in April, and is the largest gas tax increase in California history. The deal was so bad they needed $1 Billion in payola to buy enough votes to pass it. And shamefully, only 60 percent of the gas tax collected from SB 1, authored by Democrat Senator Jim Beall (D-San Jose), will actually be used for road maintenance and repairs. Environmentalists got plenty of taxpayer-funded payola as well including money for more public transit, and for walking and bicycling projects. The bill includes a 12-cent gas tax, a 20-cent diesel tax and an increase up to $175 in annual vehicle registration fees, depending on the value of the car, and a $100 annual fee for zero-emission vehicles beginning in 2020.
The new gas taxes will begin Nov. 1 – after California's vacation season (sneaky) — with the vehicle license fees going up Jan. 1.
AG Xavier Becerra is a former 26-year Democratic congressman from Los Angeles, and is still behaving like one. He was named by Gov. Brown to succeed AG Kamala Harris after her Nov. 2016 election to the U.S. Senate. Becerra will run for re-election in 2018 against an already crowded field of candidates.
"There is still the rule of law in California," Allen said of the judge's decision to rewrite the ballot title and summary. Allen suggested his own language in the title: "Repeals recent legislation that created new gas tax, diesel tax, vehicle registration fee and zero-emission vehicle fee."
The judge's decision is the first of its kind since the California Attorney Generals' office was weaponized first by then-AG Jerry Brown (2007-2011), then Kamala Harris (2011-2017), and now by Xavier Becerra, all Democrats, and all of who have used the office against political enemies.