The White House and Empire State Building were lit in pink earlier this month. New York city police wore pink ball caps. Celebrities have been passing out pink ribbons. Professional athletes wear pink accessories or the pink ribbons.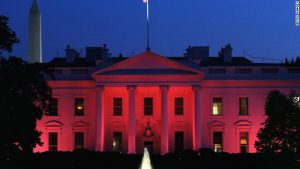 For nearly a decade the iconic Maglite flashlight company, Mag Instrument Inc., has not only observed Breast Cancer Awareness Month by partnering with National Breast Cancer Foundation, Inc.® since 2008 Mag Instrument Inc. has donated more than $377,000 to NBCF.
Most of us have been touched by breast cancer, with a family member, friend or colleague. Breast cancer is the number one cause of cancer deaths in women worldwide. Breast Cancer Awareness Month is marked in countries throughout the world every October to, help bring about more attention and support for awareness, early detection and treatment of this disease.
"Just about everybody has a friend, a co-worker or a relative, if not an immediate family member, who has been challenged by this disease," said Tony Maglica, Founder and President of Mag Instrument. "And it doesn't just affect the patient. One case touches many lives. So we wanted to help do something about breast cancer. We chose to support NBCF because our homework told us that it's an organization run with energy and passion, one that deploys resources in smart, practical ways. We were particularly impressed that for the past four years Charity Navigator, the most prestigious charity evaluator in the country, has given NBCF its highest 4-Star rating in terms of fiscal soundness."
Maglica is the entrepreneur and founder Mag Instrument Company. He designed and produced the first 'Maglite' flashlight in 1979. It wasn't long before police officers, firefighters, mechanics and military were raving about the tough, durable and dependable flashlight that would soon become an American classic.
I've written for many years about Tony Maglica and his astounding company Mag Instrument, Inc. Maglica once could proudly state "Made in America" on his product labels. But California has an unattainable law requiring that 100 percent of the product be manufactured in America, in order to state this on the product label. We first met when he appealed to lawmakers to align the law with the other 49 states. Maglica always tried to make all product parts in his own U.S. factory. But globalization and the emergence of new manufacturing centers have changed the cost and availability of some components I now have to import. Maglica said that some parts are just not available from any other American manufacturer, or are cost prohibitive for his company to produce. Despite this issue remaining unresolved, Maglica soldiers on.
Under his partnership with National Breast Cancer Foundation, Mag Instrument provides financial support and markets bright pink, specially marked and packaged MAG-LITE® SOLITAIRE® and MINI MAGLITE® flashlights. These focusing-beam machined aluminum flashlights are custom-anodized to a bright pink color, laser engraved with the NBCF logo, and packaged in special pink packaging bearing the NBCF logo, and are available at many retailers across North America.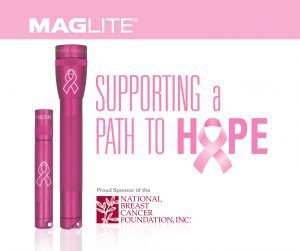 "Pinktober" as the month is known, and the pink ribbon, stand for research, for innovation, for finding a cure, and for supporting women faced with this cruel disease. According to the NBCF, 1 in 8 women will develop breast cancer in their lifetime, increasing the chances that you know someone battling this disease.
Breast cancer is a disease in which malignant cancer cells form in the tissues of the breast. According to the NBCF, when breast cancer is detected early, and is in the localized stage, the 5-year relative survival rate is 100%.  Early detection includes doing monthly breast self-exams, and scheduling regular clinical breast exams and mammograms. Breast cancer can be diagnosed through mammograms, ultrasound, MRI and biopsy.
The National Breast Cancer Foundation offers more than just awareness. NBCF is a recipient of Charity Navigator's highest 4-star rating for twelve years, and provides support through their National Mammography Program, Patient Navigation, Beyond The Shock®, breast health education, and research programs. For more information, please visit www.nbcf.org.