Democrats Want To Decide What Is Real or Fake News
Sen. Richard Pan (D-Sacramento) is the author of the "Online False Information Act," a new bill that would require anyone who posts any news on the Internet to verify all information through "fact-checkers." Sen. Pan does not name who these "fact checkers" are, but I'm sure the State of California will create a new agency of state workers to oversee this.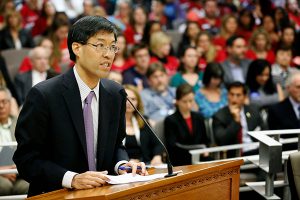 The bill will "require any person who operates a social media, as defined, Internet Web site with a physical presence in California to develop a strategic plan to verify news stories shared on its Web site. The goal of Senate Bill 1424 is "to mitigate the spread of false information through news stories, the utilization of fact-checkers to verify news stories, providing outreach to social media users, and placing a warning on a news story containing false information."
Pan's Senate colleague, Sen. Hannah Beth Jackson (D-Santa Barbara), another authoritarian, has authored Senate Bill 947 to authorize California's schools to teach kids how to spot "fake news."
Pan is also the author of the law requiring a state mandatedvaccination schedule before children can attend public school.
Sen. Pan believes the state must have direct control of key sectors, manipulate mainstream news coverage, and keep truly independent journalism on the margins of the information landscape. The news he disagrees with is "fake."
French President Emmanuel Macron announced in January a plan to allow judges to block a website or a user account to stop the spread of disinformation on social media — "fake news." In particular, this would take place during an election, and would oblige internet platforms to publish the names of those behind sponsored contents, Reuters reported.
Last year, several House Democrats sponsored legislation to call out President Trump claiming he has a  history of false statements and disregards the truth.
"Rep. Adriano Espaillat (D-N.Y.) introduced a resolution that calls for "opposing fake news and alternative facts." Democratic Reps. Ted Lieu (Calif.) and John Lewis (Ga.) signed on as co-sponsors," The Hill reported. "If adopted, the resolution would put the House on record as stating, 'the United States should continue being a democracy, not an autocracy.'"
Only authoritarian regimes try to control the truth.