The California Republican Party's state convention is now in the rear-view mirror and the election is upon us. Millions of absentee ballots are being mailed out today and Californians will start voting later this week.
There are a lot of observations to be made about the weekend confab — but out the gate I am going to name the clear big winner of the convention – businessman Cole Harris, who is running for Lt. Governor of California — and who is now the officially endorsed candidate of the State GOP.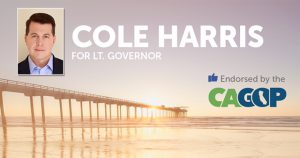 Harris wins the FlashReport Winner of the Convention honors for two reasons. The first was his ability to run a strong enough effort before and at the convention to garner the support of more than 70% of the delegates as a virtual unknown. Harris announced his candidacy late, and has had to define himself in short-order with the party faithful. The second reason is that, unlike the other candidates who were endorsed at the convention, Harris (because his success in business gives him the ability to self-fundraise with millions of dollars) has the ability to use direct voter contact tools (mailers, digital messages and such) to let likely Republican voters know that he's been endorsed by the CRP — a very useful tool, targeted to GOP voters, when you are a first time candidate, and unknown to the electorate.  Look for his television and cable spots to be non-partisan, with messaging to appeal to California's no party preference voters, and less ideologically inclined Democrats.
While much prognostication is taking place about who will make the top two in the Governor's race — with a significant chance that no Republican advances — Harris is well positioned to make the runoff in his race. While there are other GOP candidates, none are well known and none have financial resources of Harris, and obviously none but Harris have the party's office nod. In the meantime for California Democrats there is a three way donnybrook taking place between three credible candidates. State Senator Ed Hernandez has been running for some time, and is out of central casting for California Democrats. But also in the race are two extremely wealthy candidates — Jeff Bleich and Eleni Kounalakis — both of whom will spend millions of dollars.
Running as a Republican in California means that for Harris to win in November, he will have to do everything right, and still catch a favorable tailwind — a tough order in blue California. But thus far Harris is off to a good start, and clearly his efforts wooing the GOP, and his ability to convert an endorsement into an important message for him to take to Republican voters has earned him the FlashReport Winner Of The CAGOP Convention Award!