The man who broke the Bank of England, Democratic mega-donor George Soros, is using his wealth and influence in United States elections. And now he is trying to flip District Attorney races across the country. The Soros-funded California Justice and Public Safety PAC is investing heavily in the district attorney's races in Sacramento and San Diego.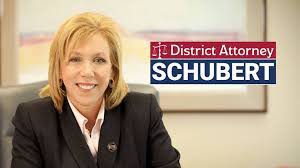 It is no secret that Soros uses his billions of dollars to influence government politics. He is credited with and has acknowledged orchestrating coups in Croatia, Georgia, Slovakia, the Czech Republic and Yugoslavia… and in the U.S.
"Billionaire Social Activist George Soros has brought his war against law enforcement to San Diego and he's spending more than $1 million to support anti-law enforcement candidate Genevieve Jones-Wright for District Attorney," the threattosandiego.com website states, created by incumbent DA Summer Stephan. The website associates Soros with Antifa groups and anti-law enforcement groups – and is not a stretch.
Soros Dumps $$ Into Sacramento DA's Race
A PAC controlled by progressive billionaire George Soros is funding the campaign of a leftist, anti-law enforcement deputy district attorney running to unseat Sacramento District Attorney Anne Marie Schubert. Schubert's opponent, Noah Phillips who has printed on his campaign signs, "Democrat for D.A.," blames the fatal shooting of career criminal Stephon Clark last March as evidence that Schubert, along with the rest of Sacramento County law enforcement, is racially biased.  Phillips has raised $750,000, thanks in large part to George Soros. The leftist Soros paid for the political ads now running on TV.
"Phillips has raised almost three-quarters of a million dollars, thanks in part to George Soros," confirmed by Mike Luery of KCRA TV. Leury reported that money from Soros' PACs is financing Phillips campaign including a significant number of television commercials. One such commercial says, "We need to end racial profiling and police misconduct. And right now the system is broken."
D.A. Anne Marie Schubert created a statewide law enforcement task force in 2016, which recently arrested the notorious "Golden State Killer," also known in Sacramento as the "East Area Rapist." And Schubert has a lengthy history of being tough on crime, wherever it takes her.
Prison Realignment and Prop. 47 – A Premeditated Crushing of California
"California has implemented an alarming cocktail of criminal justice "reforms" that are likely to lead to a major crime wave into 2016," I wrote in the chapter on crime in Taxifornia 2016, by James Lacy  for which I interviewed Sacramento D.A. Anne Marie Schubert. She was instrumental in providing me with confirmation about the rising crime rate in Sacramento and California. I wrote:
"In 2014, California voters were sold on reforming the state's drug laws with Proposition 47. However, the measure covered more crimes than non-violent drug offenders. Moreover, drug addicts are likely to get less treatment in the state's drug courts because prosecutors have lost a bargaining chip in the plea process. Add to it the court-ordered prisoner releases as a part of the state's prison realignment under the 2011 AB 109 law, and you have a state ripe for a surge in crime; such as what is already underway in Oakland, which even after Jerry Brown's eight years on-the-scene as Mayor, the FBI still considers one of the most dangerous cities in America."
As for San Diego's D.A. race, Allison Ash of KGTV reported Soros is also bankrolling the progressive candidate. At a recent news conference, "D.A. Stephan and supporters stood with community members and crime victims as they talked about the incumbent district attorney's track record as victim's advocate," the San Diego UT reported. "Some held signs expressing opposition to Soros. One such sign said 'Outside money doesn't buy justice.' Another said, '$oro$.'"
 Why is George Soros Buying Democrat Politicians and DAs?
Soros has made personal campaign contributions to numerous Democrat politicians including Barack Obama, Hillary Clinton, Charlie Rangel, Al Franken, Sherrod Brown, Nancy Pelosi, and Al Gore. Additionally, in 2007 and 2008 Soros funded Green For All and the Ella Baker Center from Soros' main organization, the Open Society Institute. Van Jones who describes himself as a Communist, was the leader of both these groups at the time.
This billionaire social activist has waged his war against law enforcement and many district attorneys including Sacramento's and San Diego's District Attorneys, and he's spending hundreds of thousands of dollars to support anti-law enforcement candidates including Noah Phillips in Sacramento, and Genevieve Jones-Wright in San Diego.
According to a recent Association of Mature American Citizens article, Why is George Soros Buying District Attorneys?, "Over the last few years, progressive billionaire George Soros has dumped millions of dollars into district attorney races around the country. Soros has used his considerable finances and political clout to challenge district attorneys that do not fit into his progressive ideological agenda:"
2015, Scott Colom and Robert Shuler Smith, $400,000
2016, Andrew Warren, Hillsborough County, Fla.
2016, Kim Foxx, Cook County, Ill.
2016, Kim Ogg, Harris County, Texas $600,000
2016, Aramis Ayala, Orlando, Fla., $1.4 million
2017, Larry Krasner Philadelphia, Pa., $1.45 million
2018, Joe Gonzales Bexar County, Texas, $958,000
"I have always harbored an exaggerated view of my self-importance. To put it bluntly, I fancied myself as some kind of god."
– Billionaire Hedge Fund Operator George Soros, from his own book, "The Alchemy of Finance"
Should George Soros be determining the outcomes of District Attorneys races in California cities? And Why is George Soros Buying District Attorneys?  
And why is the American Civil Liberties Union investing large resources and utilizing its organizational skills in local district attorney races this year? Every California voter needs to ask this.