The explosion of California homelessness can be directly linked to the radical left's determination to empty out the jails and prisons through legislation and ballot initiatives, claiming to be for safe neighborhoods and the well-being of our children. Combine that with the outrageous housing costs and lack of available affordable housing, and California is ground zero for a homeless explosion comparable only to colonies of feral cats.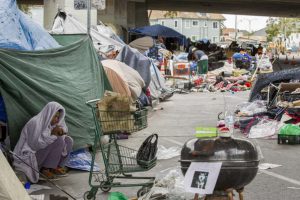 The Democrat-dominated California Legislature has pushed and legislated policies that do nothing to decrease homelessness, and instead invite more of it to the Golden State. And they've been greatly assisted by the state's biased, liberal/left media.
Ironically, the failed mayors of sh*thole California cities (Antonio Villaraigosa of Los Angeles, and Gavin Newsom of San Francisco, home of the Human defecation map), are running for Governor of California – just as current termed-out Governor Jerry Brown did, after making Oakland, CA an even bigger drug and crime-ridden sh*thole than it already was.
The Compliant Media – 'Democrats With Bylines'
The leftist Sacramento Bee Associate Editor Erika Smith wrote a recent column riddled with deceit and misrepresentations about Sacramento's homeless explosion: North Sacramento has a homeless shelter. Now it's your turn, South Land Park. I bring this up because she's playing a nasty game of class envy and "getting even," by using the homeless people she claims to care about as punishment to a nearby neighborhood.
The nasty piece Smith wrote is challenging the city to install huge pop-up tent facilities for homeless at a site next to Sacramento's largest regional park. But this park, visited by 1.5 million people a year, is also home to the Sacramento Zoo, children's Fairytale Town and Funderland Amusement Park, and William Land Park 9-hole golf course. Why would Erika Smith want to put Sacramento's children in harms way? A giant tent does nothing to help the homeless get the much-needed drug abuse, and mental health services they need.
The 200 occupants of a homeless tent/shelter located at William Land Park would obviously spend their days loitering in the park, smoking pot, crack, injecting heroin, and yelling at imaginary enemies and passers by, rather than inside the homeless shelter. Residents already find used needles in and around the park, and have strange and scary encounters with mentally ill homeless inside of the park.
Ms. Smith also erroneously claimed "the men, women and children ending up on our streets or sleeping in their cars are there because they've been priced out of housing and because they've exhausted whatever support system of friends and family they had." She parrots the worn out lie Democrat politicians frequently use.
And Ms. Smith failed to mention that Sacramento's Land Park neighborhood is already home to 44% of the city's low-income housing. In addition to the Alder Grove Projects by the Sacramento Housing and Redevelopment Agency, Land Park is home to Land Park Woods, run by Mercy Housing.
Leaders in the Land Park neighborhood have spoken with many of the young, heroin users living on the streets in the Land Park area, as well as some of their families. "They are primarily from other states, so any claims that they are from Sacramento and have been priced out of the housing market is false," Stephanie Duncan wrote in a comment on Smith's article. "A number of them have chosen a life controlled by heroin over invitations by their own families to come home, or services and housing in Sacramento. They are victims of their addictions rather than housing prices or job loss."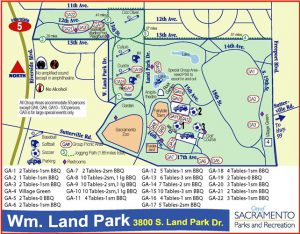 What Caused the Homeless Explosion?
"The so-called reforms succeeded in promoting crime by decriminalizing many crimes, and reclassifying violent crimes as 'non-violent,'" I recently wrote. "Gov. Jerry Brown's A.B. 109, 'realigned' California's overcrowded prison system, shifting responsibility of repeat, newly classified 'nonviolent' offenders from state prisons to county jails. Those released were assigned county probation officers rather than state parole officers. Those newly 'non-violent' criminals let out of county jails due to overcrowding are living on the streets, living on our parkways, rivers, and canals, and using the streets as their toilets."
Assembly Bill 109, Proposition 47, Proposition 57 decriminalized theft, drug crimes, sex crimes, and emptied out California prisons. Proposition 47 also reclassified shoplifting, grand theft, receiving stolen property, forgery, fraud, and writing bad checks as "non-serious, nonviolent crimes," and any theft valued at $950 or less as a misdemeanor, even if committed every day.
Proposition 57, "The California Parole for Non-Violent Criminals and Juvenile Court Trial Requirements Initiative," rounded out the undermining of law enforcement in California. The proposition was poorly written and allows criminals convicted of rape, lewd acts against a child, and human trafficking to be released early from prison. Prop. 57 allows career criminals to be treated as first offenders, and it overturned provisions of victims' rights legislation like Marsy's Law, "three strikes," Victim's Bill of Rights, and the Californians Against Sexual Exploitation Act.
The Obama-Holder prison reform program, which subverted actual law, encouraged states to ignore certain crimes, decriminalize certain crimes, in exchange for receiving extra federal grants… along with a massive homeless population.
I explain further:
The federal Housing and Urban Development agency published its 2017 report on homelessness which found California not only has the largest homeless population in the country, the population grew from 2016. California had 134,278 homeless in 2017, of which 91,642 were unsheltered — a 13.7% increase from 2016.
The HUD report found the number of homeless declined in 30 states during the same time period between 2016 and 2017, with the largest decreases in Georgia (2,735 fewer people), Massachusetts (2,043 fewer people), and Florida (1,369 fewer people). The largest percentage decreases were in South Carolina (23%), Georgia (21%), and Louisiana (17%).
The number of homeless increased in 20 states between 2016 and 2017, with the largest increases in California (16,136 people), New York (3,151 people), and Oregon (715 people). The largest percentage increases were in North Dakota (18%), California (14%), New Mexico (10%), and Vermont (10%).
Making dangerous cities even worse, in 2017 the California Legislature passed Senate Bill 180, entirely on a party-line vote, to limit the ability of law enforcement to send chronic drug abusers back to prison. Judges were already neutered by Prop. 47 in 2014, which removed their ability to sentence drug offenders to drug treatment programs, rather than prison.
Now, cities are even repealing anti-begging laws. A 2015 Supreme Court ruling about regulating church signs actually caused cities to repeal their anti-begging laws. "In Reed v. Town of Gilbert, Arizona, the court ruled that government regulations curtailing free speech have to be as narrow as possible and must fulfill a 'compelling government interest,'" Governing.com reported. "At issue was a town ordinance that restricted where signs for religious services could be displayed. But the decision, which applies to any local rules that limit certain types of speech, has caught some cities by surprise."
Adding insult to injury, the ACLU constantly threatens to sue cities to allow the homeless to use (live in) the parks, and encourages tent cities.
And don't blame the homeless population in California on Ronald Reagan – he did not close the state's mental hospitals as the leftist media has incorrectly repeated for 50 years. It was President John F. Kennedy who in his October 31, 1963 legislation –The Community Mental Health Act of 1963 — ordered the building of 1,500 mental health centers so people with mental illnesses living in state mental hospitals could be treated while working and living at or near home. Kennedy's program closed many hospitals over time, known as deinstitutionalization. (This article gives a detailed explanation).
Democrat politicians normalize homelessness. They are trying to make Californians accept volumes of homeless as a standard population component of any city.
The left, California Democrats and biased newspaper writers like Erika Smith however, obviously care more about the heroin addicted homeless than the safety and welfare of children and families in our cities. As Smith said, "fair is fair."
I nominate Erika Smith's neighborhood for the first pop-up homeless tent. Fair is fair.