UPDATE: Droughts are naturally occurring; water shortages are government-created and political. Examples of this can be found in every water bond in recent history, put on the ballot by politicians, and passed by emotional voters.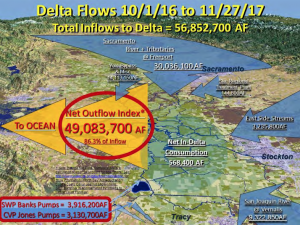 California voters will be facing two more ballot initiatives claiming to be water bonds this year, totaling $13 billion. But the overall cost will be much higher for taxpayers. One water bond is on the June 5 ballot and a second one is on the November 6 ballot.
The most recent 2014 Proposition 1 water bond funding has not even been fully spent, and will not be spent by the end of 2018, according to the Public Policy Institute of California. Some hasn't even been appropriated.
"The state's 2014 bond, Proposition 1, provides $7.5 billion in funding," the PPIC reported. "The money is broken into seven funding categories. The bond language preauthorized $2.7 billion for water storage projects."
Thus far, Sites Project Authority is promised nearly $1 billion from Proposition 1, while Temperance Flats Reservoir Project received appropriations of only $171 million despite having virtually identical "public benefits" scores.
In fact, very little has been spent at all for water storage projects that would create new water-supply sources for Californians, which is what the state actually needs in order to realistically deal with inevitable droughts. It's a chronic problem of voters' expectations being delayed and deferred without action.
Proposition 84 and Prop 1E from 2006 still have money left, according to the PPIC. Given that the state still hasn't spent that or additional sums from the $7.5 billion cache in the Proposition 1 water bond passed in 2014, why are there yet two more so-called water bonds on the upcoming ballots?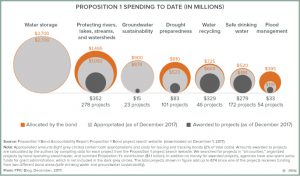 Where is the Water Going?
The oft-repeated media fib that farmers use 80 percent of California's water, is not true. California uses 40 percent of the water from the Tuolumne, Stanislaus and Merced rivers, for "endangered fish." Across the entire state over a 13-year period from 1998 to 2010, only 41.4% of all the developed water supply of California flowed to farmers' fields and livestock.
In that same time period, the state used 47.5% of its developed water supply for the environment, including wild river flows, managed wetlands and wildlife preserves, habitat and water quality control for fish, and required Delta outflows, according to the Department of Water Resource. Water is diverted in times of drought and times of plenty to the Sacramento-San Joaquin Delta, leaving much less for irrigation or for Californians to drink.
The state of California hasn't significantly invested in water storage since the 1970s when Jerry Brown was governor the first time around. "This is an era of limits and we all had better get used to it," Brown said upon being elected governor in 1975, embracing the "small is beautiful" way of thinking. Since then, California's population has doubled, as have environmental demands.
From October 1, 2016 to November 27, 2017, of the 56 million acre-feet that entered the Delta, 49 million in outflows passed through the Delta, San Francisco Bay and into the Pacific Ocean, says DWR. That's more than four parts out of five that the state mismanaged because of its inadequate water infrastructure.
Water wars are historic undertakings in California. While recent winter and spring rain has helped greatly, state water officials now tell us annually that it's just not enough.
Who is Behind the Water Bonds?
In 2016, I exposed a number of enviro-sounding non-profits claiming to be for waterfowl, ducks, trout, fish, nature, natural resources, and the environment, as groups which have actually been feeding at the government money trough, doing little or nothing to actually help improve water delivery issues, while actively blocking real solutions and slowing progress so that the water shortage in California has only gotten worse:
California Water Foundation, California Waterfowl Association, Natural Heritage Institute, The Nature Conservancy, Trout Unlimited, Audubon California, Ducks Unlimited, Natural Resources Defense Council, Friends of the River, California Sportfishing Protection Alliance, … all have connections to the Resources Legacy Fund, its related tax-exempt foundation Resources Legacy Fund Foundation, and for-profit legal services firm Resources Law Group, founded by Michael Mantell, President of the Resources Legacy Fund and Resources Law Group. Mantell was Undersecretary for Resources for the State of California, 1991 – 1997. Numerous attorneys from the for-profit Resources Law Group also are staff for the non-profit Resources Legacy Fund.
Resources Legacy Fund also runs the California Water Foundation as an internal project under the direction of former California Natural Resources Secretary Lester Snow (2010 – 2011), with close ties to Gerald Meral, Deputy Secretary of the California Natural Resources Agency from 2011 to 2013, who leads the Fund's grant client, Natural Heritage Institute.
The author of the November ballot's Water Supply and Water Quality Bond is the same Gerald "Jerry" Meral, a longtime Brown Administration official, and highly controversial Natural Resources Deputy Secretary who famously claimed, "the Delta cannot be saved" in April 2013. Meral directed the Bay Delta Conservation Plan (BDCP) for Gov. Jerry Brown to build the peripheral Delta tunnels. Meral left the state to head up the Natural Heritage Institute as Director of the California Water Program. Meral's fingerprints were all over the language of the 2014 Proposition 1.
Meral conceived and was a long time cheerleader for the peripheral canal, despite Voters rejecting Gov. Brown's 1982 plan to build the Canal through the Delta.
Meral's latest Water Supply and Water Quality Bond would allocate another $8.9 billion for water projects using language guaranteed to tug at your heartstrings including:
Safe drinking water and wastewater treatment for disadvantaged communities. $750 million. 
San Francisco Bay Wetlands and flood improvements. $200 million. 
Watershed Improvement $2,355 million to a wide variety of state agencies.
Fisheries restoration. $400 million. 
Waterfowl habitat. $280 million. 
The usual suspects are endorsing Meral's water bond – the same enviro-sounding non-profits claiming to be for waterfowl, ducks, trout, fish, nature, natural resources, and the environment.
Don't Let the Bond Amounts Mislead You
The $4.1 billion water bond will cost taxpayers $8,000,000,000
The $8.9 Billion water bond will cost taxpayers $17,320,000,000
"The Legislative Analyst's Office estimates that repaying the $4.1 billion in bonds offered up by Prop. 68 will cost the state $200 million every year for 40 years.
The $8.9 billion November bond measure is estimated to have annual repayment costs of about $433 million for 40 years. Money to repay the bonds comes out of the state's general fund," NewsDeeply.org reported.  "In total, California spends less than 5 percent of its total general tax revenue paying off bonds every year."
What's certain is that, of the $13 billion borrowed — at an eventual cost to our state's taxpayers, and their children and grandchildren – $25.4 billion — there's no money in either bond measure to fix California's deficient and decrepit water infrastructure or to provide new water to fix California's chronic water shortage.
Next: Part ll of 2018 Water Bond series
correction: The California Water Foundation is a project (not an independent entity) of Resources Legacy Fund, while the California Water Education Foundation is an independent 501(c)(3) entity.