Droughts are naturally occurring; water shortages are government-created and political. A proposed California ballot measure titled "Water Priorities for All," would shift bond money earmarked for California's bullet train and use it instead to build new dams and enlarge existing dams.
The initiative would also amend the State Constitution to include language prioritizing residential and agricultural water use over environmental and recreational claims on river water while leaving water rights untouched.
The ballot measure is under attack by a coalition of seemingly environmental opponents. The Committee to Stop the Special Interest Water Grab, led by David Guy, president of the Northern California Water Association, Tim Johnson, president of the California Rice Commission and a "contract administrator" at California Rice Industry Association, and political operative Steve Maviglio of Forza Communications, a Democratic strategist and big supporter of High Speed Rail and the Twin Tunnels, have launched an all-out assault campaign against the California Water Priorities Initiative.
All communications against "Water Priorities for All" have come from The Committee to Stop the Special Interest Water Grab. Though they are included in the committee's title, filings list no labor, fishermen or conservationists.
The motives of these groups with their incestuous political alliances range from maintaining close ties to Sacramento's political elite power brokers, to the business of selling water instead of growing crops, to supporting the High Speed Rail Authority and defending its bonds against attack.
Who Wants To Deny Californians More Water?
"Who is blocking 29 million people in Los Angeles from getting water, and why?" I asked in a previous article about California's political water shortage. "A number of enviro-sounding non-profits claiming to be for waterfowl, ducks, trout, fish, nature, natural resources, and the environment, oppose shifting $8 billion in uncommitted rail bonds from the High Speed Train to nowhere, and $2.7 Billion in pre-designated water storage funds from the 2014 Proposition 1 water bond, to use to build new surface and underground water storage.
These non-profit groups have been feeding at the government money trough, doing little or nothing to actually help improve water delivery issues, while the water shortage in California has only gotten worse. The Water Education Foundation, California Waterfowl Association, Natural Heritage Institute, The Nature Conservancy, Trout Unlimited, Audubon California, Ducks Unlimited, Natural Resources Defense Council, Friends of the River, California Sportfishing Protection Alliance, … all have connections to the Resources Legacy Fund, its related tax-exempt foundation Resources Legacy Fund Foundation, and for-profit legal services firm Resources Law Group, founded by Michael Mantell, President of the Resources Legacy Fund and Resources Law Group. Mantell was Undersecretary for Resources for the State of California, 1991 – 1997. Numerous attorneys from the for-profit Resources Law Group also are staff for the non-profit Resources Legacy Fund.
Resources Legacy Fund also runs the California Water Foundation as an internal project under the direction of former California Natural Resources Secretary Lester Snow (2010 – 2011), with close ties to Gerald Meral, Deputy Secretary of the California Natural Resources Agency from 2011 to 2013, who leads the Fund's grant client, Natural Heritage Institute.
The revolving doors at Resources Legacy Fund and its Foundation show its employees move in and out of the government, knowing that when they are inside, they will grant favors to those outside in exchange for secure positions when they are back out again. All of it is dancing to the tune of Packard Foundation and a few other major players, like Rockefeller Bros. Fund and Tides Center.
However, the restricted assets and funds of Resources Legacy Fund are dubious. In its IRS Form 990 for 2014, it had $34,673,039 in restricted assets, and only $2,190,166 in unrestricted assets. Yet, according to its Schedule C, it spent $660,535 in total lobbying expenses.  That would be 30.2% of the unrestricted assets, way more than the maximum of 25 percent that caps lobbying expenditures to avoid them being a "significant activity." Consider that, during the period from 2011 to 2014, RLF reported on its tax filings total lobbying expenditures of $2,249,305.
The Internal Revenue Code says nonprofits are not supposed to count restricted assets and capital transactions in their exempt expenditures. Buying and selling lands or swapping them in conservation easements are not normal exempt purpose expenditures.
Asset transfers should be reported as "unrelated business income" and is taxable.  Nonprofits just can't exist to be action organizations focused on campaign/lobbying activities.  They have to look at expenditures in addition to total assets.  If a nonprofit exceeds the IRS limit it has tax consequences affecting itself and for its board as individuals.
Gerald Meral, long a Brown Administration official, filed eight versions of an initiative that would issue general obligation bonds to fund water-recycling programs, groundwater desalination and watershed management.
Meral, the highly controversial Natural Resources Deputy Secretary who famously claimed "the Delta cannot be saved" in April 2013, directed the Bay Delta Conservation Plan (BDCP) for Gov. Jerry Brown to build the peripheral Delta tunnels. Meral left the state to head up the Natural Heritage Institute as Director of the California Water Program. Meral's fingerprints also are all over the language of Proposition 1, the water bond measure passed in 2014.
Meral conceived and was a long time cheerleader for the peripheral canal, despite Voters rejecting Gov. Brown's 1982 plan to build the Canal through the Delta. Brown now supports an updated version of the canal — twin tunnels beneath the Delta. Meral, like Maviglio, backs it too.
More than $50 billion would be spent on the tunnels, and many claim it is nothing more than a make-work project for union workers, developers, politicians and their expensive consultants.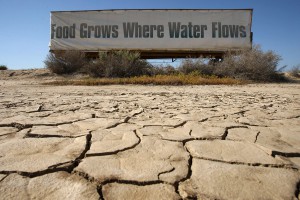 "Our climate is rapidly changing, our population is growing and more extreme weather looms on the horizon. Now is not the time to shirk from responsibility," Gov. Jerry Brown said at his January State of the State address. "Storage or conveyance alone will not solve all of our problems. Recycling, groundwater management and conservation, individually, won't get us there either. It will take all of the above. We must think differently and act boldly — and that's exactly what California is doing."
"There is not one credible environmental group that supports the project," said Barbara Barrigan-Parrilla, Executive Director of Restore the Delta. "The only one that backs the tunnels is Jerry Meral's Natural Heritage Institute." Barrigan-Parrilla's Restore the Delta group filed a complaint with the Fair Political Practices Commission charging Gerald Meral (formerly of the BDCP) with illegal lobbying, by violating the law prohibiting former administration officials from lobbying within one year and one day of leaving office. In June 2014 she wrote, "Since January 2014, Meral has authored several versions of a Natural Heritage Institute-promoted (NHI) water bond for legislative consideration in 2014, and made direct contacts with staff in numerous legislators' offices to influence legislation.". "Our complaint charges Jerry Meral with illegal lobbying during the period when former administration officials are barred from doing so. The revolving door between the Brown Administration, water exporters and groups that would benefit from the tunnels project and its habitat programs just keeps turning."
Gerald Meral was found guilty of "logrolling" by the FPPC on Prop 50 some years ago — the unethical practice of soliciting money to support and fund ballot measure campaigns based for political favors.
Meral's fingerprints are all over every one of the water bonds passed since 2000, in addition to the eight measures in the works right now. Meral and a spokesman for The Nature Conservancy claim to be negotiating yet another one with top Legislature leadership.
Shadow Government: Natural Heritage Institute and Resources Legacy Fund
"NHI's core mission is to restore and protect the natural functions that support water-dependent ecosystems and the services they provide to sustain and enrich human life," its website says. "When the earth's limited stock of natural resources is squandered, the legacy bequeathed to future generations is impoverished, sometimes for all time," the NHI direly warns.
A list of government agencies, Non Governmental Organizations and foundations are listed on the Natural Heritage Institute website as "partners, collaborators and funders."
The foundations, partners and funders listed include the Ford Foundation, John D. and Catherine T. MacArthur Foundation, Resources Legacy Fund, Richard and Rhoda Goldman Fund, The Rose Foundation, The San Francisco Foundation, National Fish and Wildlife Foundation, Pew Charitable Trusts, S.D. Bechtel, Jr. Foundation, Soros Foundation and The David and Lucile Packard Foundation, The Nature Conservancy, Sierra Club, Audubon Society, Environmental Defense, American Rivers, American Whitewater Affiliation, Foothill Conservancy, Friends of the River, California Hydropower Reform Coalition, California Sportfishing Protection Alliance, California Trout, Trout Unlimited, California Dept. of Water Resources, U.S. Agency for International Development, U.S. Bureau of Reclamation, U.S. Department of Interior, U.S. Department of State, U.S. Environmental Protection Agency, and U.S. Geological Survey, among many more.
Former Natural Resources Agency Secretary Lester Snow directs the California Water Foundation program at Resource Legacy Fund. He also served as chairman of the Ocean Protection Council, the Delta Conservancy, the Delta Protection Commission, and the Strategic Growth Council, and was director of the California Department of Water Resources, executive director of CALFED, regional director for the Bureau of Reclamation, and general manager of the San Diego County Water Authority.
The organizing funders of the California Water Foundation project of Resources Legacy Fund were Pisces Foundation and S.D. Bechtel, Jr. Foundation. Other funders plan to contribute at least $1 million per year for ten years and meet regularly to determine the California Water Foundation's overall strategic direction and evaluate progress to date.
"The California Water Foundation's (CWF) vision is to sustainability meet California's 21st century economic and ecological water needs. CWF supports innovative projects and policies that address water challenges today, while bringing together experts, stakeholders, and the public to achieve long- term, science-based solutions for the future. CWF is an initiative of Resources Legacy Fund, with primary funding from S. D. Bechtel, Jr. Foundation and Pisces Foundation, and additional support from David and Lucile Packard Foundation, Walton Family Foundation, and Colleen and Robert D. Haas." (Source: http://www.grac.org/Oil-Gas-Groundwater-Program.pdf)
Lester Snow received a letter July 2014 from the Los Angeles Chamber of Commerce thanking him and pledging support to California Water Foundation for the "two legislative bills aimed at advancing sustainable management of California's groundwater basins," an apparent reference to Sen. Fran Pavley's bills SB 1168 and SB 1319, collectively known with the Assembly's AB 1739 by then Assemblyman Roger Dickinson, as the Sustainable Groundwater Management Act.
On the Climate Adaption Knowledge Exchange website, they say "Resources Legacy Fund advances the conservation of natural resources through creative solutions customized to the philanthropic goals of donors. On behalf of our funders, we apply these strengths to transform philanthropy into permanent conservation legacies.
"What do conservation legacies created by Resources Legacy Fund look like? Whatever our donor-partners envision."
"Resources Legacy Fund can create a solution to address any conservation goal, large or small, virtually anywhere. And because we are able to pool and direct funds, the impacts are often much greater than any single donor can achieve alone."