California State Sen. Joel Anderson (R-El Cajon) was accused last week by Stephanie Roberson, a female lobbyist for the California Nurses Association, a labor union, of threatening to "bitch slap" her and harassing her at a Capitol-area bar last week, several news outlets reported this week.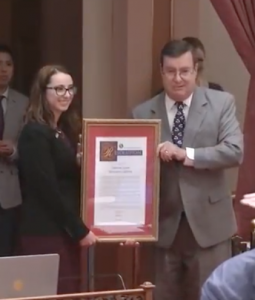 Anderson is now facing a legislative investigation by the Senate Rules Committee.
I spoke with Sen. Anderson who tells the story quite differently. Anderson also said the Los Angeles Times did not speak with him.
Anderson's timeline and account of the incident does not conform with the news accounts, nor with the "anonymous sources" in the Los Angeles Times reporting.
Anderson said he and former Sen. Rod Wright were at a fundraiser at the Diplomat restaurant across from the Capitol, and Roberson said hello to him first. He said they had some small talk. "I said to her, 'I spent all this time working across the street, and thought you'd lobby me one time in 12 years.'
"I told her 'I'm disappointed we never worked together.'" Anderson said he does not do health care bills.
Anderson said he may have insulted Roberson with that comment. A few minutes later however, Anderson said he told her that his wife and daughter are both nurses, and he's very supportive of nurses and nursing.
Anderson said the bar was busy and loud, and he and Wright were also talking with other people, when Wright suggested they move on to another restaurant. "Stephanie said 'Oh no, stay here,'" to Anderson and Wright, he reported.
Shortly after, as they were again making small talk, Anderson said he told her, "Here's something that's a real bitch slap – I unionized my own shop," referring to his direct mail business, and knowing she's with a labor union.
Anderson said it was loud, and she said, "What did you say to me?" So he said he repeated his statement verbatim, "Here's something that's a real bitch slap – I unionized my own shop."
That's when Anderson said Stephanie Roberson started screaming, "He's threatening me! He's threatening me!"
Anderson said bar employees quickly walked up to him and asked him to leave. As this was happening, Anderson said Roberson looked at him and said, "I'm going to get you."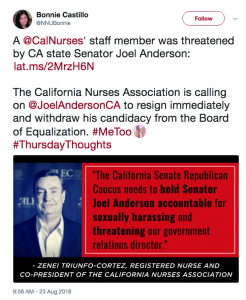 Following this incident, I received a file of legal documents showing the same Stephanie Roberson has a record of inciting violence in public.
Superior Court records show that in late 2016, Roberson attacked a woman in the Blackbird Bar and was arrested for assault and battery, and for causing significant damage to the bar.
According to the court documents, Roberson was ordered to have no contact with the female victim, and never return to the bar in which the incident took place. And, as part of a plea agreement with the court and the Sacramento District Attorney, Stephanie Roberson was ordered to take anger Management classes.
As for the alleged incident with Sen. Joel Anderson, the Times reported, "another lobbyist with Roberson said Anderson brought up the fact that Roberson's organization never endorsed him. During the conversation, Anderson made comments about Roberson's appearance, the witness said, and then threatened to hit her."
Senator Anderson told me he has never requested the endorsement of the California Nurses Association, and it's hard to see why he would ever think it was even a possibility since the CNA has not endorsed a single Republican this election cycle.
It is important to note that Anderson delivered a fiery floor speech in June 2017 in the Senate opposing the single-payer health bill Roberson and the CNA were pushing.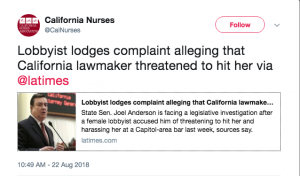 The abhorrent bullying tactics the CNA used during the fight over Senate Bill 562, which would have established a single-payer healthcare system in California, were all over the news. The single-payer bill was passed in the Senate however, once it arrived in the Assembly, Democrat Assembly Speaker Anthony Rendon shelved it because its estimated cost was more than twice the size of the California State budget. The CNA and all of organized labor subjected Speaker Rendon to their wrath, and he even received death threats.
Anderson said Roberson never asked him, "Are you threatening me?" or "did you just threaten to bitch-slap me?"
"At no point did she say, 'please stop, I don't want to talk with you,'" he said.
For context, in 2016 Roberson said, "If we didn't' follow Governor Arnold Schwarzenegger to every event that he had, every fundraiser, to let him know he can't mess with the nurses, and he can't mess with patient safety, then we might be in a different place today, so we have to lead the fight and we're going to win."
In Roberson's assault and battery case two penal codes were cited:
Penal Code Section 242 states:
"A battery is any willful and unlawful use of force or violence upon the person of another."
Penal code Section 594 states:
"(a) Every person who maliciously commits any of the following acts with respect to any real or personal property not his or her own, in cases other than those specified by state law, is guilty of vandalism:
(1) Defaces with graffiti or other inscribed material.
(2) Damages.
(3) Destroys.
Lastly, it is interesting to note that it was public knowledge that later in the week after the "incident" at the Diplomat Steakhouse, Senator Anderson would be presenting a resolution on the floor of the Senate honoring the American Nurses Association's California affiliate — the very union from which the CNA split at its original founding in the early 1990's.