A deceptive piece of puff journalism designed to take some of the heat off Sacramento Catholic Diocese Bishop Jaime Soto ran Sunday, written by Sacramento Bee columnist Marcos Breton. I've been told the Sacramento Catholic Diocese has hired an outside public relations firm – which would explain the Diocesan Sacto Bee propaganda piece.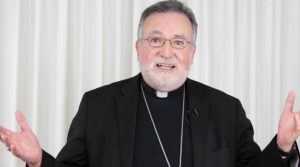 "Since he became the bishop of the Catholic Diocese of Sacramento a decade ago, Jaime Soto has chosen to remove priests accused of pedophilia or misconduct," Breton opined. "This is in contrast to shielding them, as other bishops have in now-infamous cover ups of child abuse being investigated by law enforcement authorities in several states. Soto learned. The question is, has the rest of the church?"
I expect nothing less from Breton. However, the truth would have been preferable.
Breton claims that despite Bishop Soto covering up in 2005 for a priest who was convicted on 26 counts of molesting altar boys, and admitting he was naïve and stupid to cover, it's really the fault of parishioners who idolize their priests, and that is how "sex abuse happens in the church."
Breton glosses over the magnitude of the 2005 Orange County Diocese scandal. Bishop Jaime Soto was the auxiliary bishop under Bishop Tod Brown for the diocese of Orange when a $100 million settlement was authorized and paid to 90 accusers of sexual abuse in 2005. That abuse spanned the years between 1936 and 1996 and involved 31 priests, 10 lay personnel, two nuns and one religious brother, Church Militant reported.
Instead of delving into the horrific details, Breton takes a hard left turn away from the real story line: "But the problem won't go away as long as bishops, priests and lay people worship the men in the collars over the people they are supposed to minister, over the law, and over the teachings of God that is supposed to guide the church."
The very idea that the laity is responsible for the abuse of children by the clergy is reprehensible. The senior clergy cover up is at the heart of this worldwide scandal, and it was solely done to protect priests, Bishops and Cardinals – not to protect the children and young men preyed upon by homosexual priests and Bishops.
There is no discussion in the column between Soto and Breton about how Bishop Soto changed and became "a man who has been humbled and is trying to do better," after covering up for a seminarian classmate.
Soto didn't change – he was promoted up and out of the Orange Diocese.
"In 1986, he wrote a letter in support of Andrew Christian Anderson, one of only two Orange County Catholic priests ever convicted of sex-abuse crimes," OC Weekly reported.
Anderson received a suspended jail sentence, was placed on probation for five years and was sent to a New Mexico for therapy, Breton reported. In New Mexico, while supposedly receiving therapy, Anderson kidnapped and sexually abused a boy, and was still only sentenced to six years in jail.
However, Breton not so artfully avoided most of the rest of the story, as OC Weekly reported:
"Soto appeared on Orange County Business Journal editor Rick Reiff's Inside OC KOCE-TV Channel 50 program and fielded Reiff's polite questions."
"When Reiff broached the unavoidable sex-abuse subject, Soto noticeably became nervous. 'It was a difficult, difficult chapter in the church,' His Excellency stated. 'Mistakes were made that hurt young people.'"
"Soto continued. 'We've tried our best to turn a page over and make sure that never happens again. It's been a very sad chapter in our history but one where we've learned from.'" 
"Reiff then asked Soto if the Orange diocese had handled the sex-abuse scandal badly. 'We've been very proactive on this from the beginning,' Soto responded. 'We learned as we went along on this.'" 
How does a Bishop who covered up for a robed serial sexual abuser, then move up the ladder to his own diocese?
As evidenced by the Cardinal McCarrick scandal and other sex abuse scandals now exposed, there is a network of Bishops, priests and Cardinals who are involved in sinful activities, and who promote one another, while quashing good, holy priests and Bishops.
Many in Sacramento believe this is the case with Bishop Soto who was elevated to become a bishop by mentors who are/were involved in this network.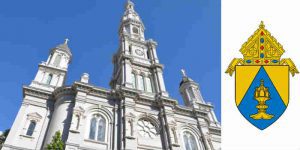 Soto received his episcopal consecration to Bishop May 31, 2000 from the very same Bishop Tod Brown, with Bishops Michael Driscoll and Norman Francis McFarland serving as co-consecrators.
Bishop Tod Brown was allowed to retire, despite facing prison time for his hand in the cover ups, and sending "his former highest ranking priest out of the country to avoid a sex abuse and cover-up deposition and then faced criminal contempt of court charges."
Bishop Driscoll was moved to Idaho and became bishop of Boise, Roman Catholic opinion, despite moving priests accused of molesting minors from parish to parish in Orange County. He helped others relocate to other dioceses and countries to avoid prosecution, ignored or delayed acting on parents' complaints, and accepted a convicted molester from Wisconsin into a local parish, the Los Angeles Times reported in 2005.
Bishop Norman Francis McFarland, despite retiring before the Orange Dioscese scandal, was implicated in several cover ups as well.
As one commenter said, "The Roman Catholic hierarchy has refined the cover up of this abuse to a high art form, and promoted those who protected the Catholic Church over the young sex abuse victims. The actions of the Roman Catholic hierarchy have much in common with the omerta code used by the mafia to swear and intimidate those with knowledge of crimes into silence."
Justice delayed, Justice Denied: Sacramento Catholic Diocese
I have written for several months now about Fr. Jeremy Leatherby, formerly parish priest of Presentation of The Blessed Virgin Mary Parish, who was formally "suspended" by Sacramento Bishop Jaime Soto over dubious allegations of crossing "ministerial boundaries." He was ordered to immediately vacate the rectory where he lived. Bishop Soto immediately sent Fr. Jeremy Leatherby to a mental institution in Philadelphia, PA, where he was told he'd be under mental observation for a few weeks. The weeks turned into six months. This is what happens to good priests – they are shunned, and sent away with their mental health in question.
Many of his parishioners believe their charismatic, holy priest was set up and then removed under the hammer of the Bishop's all-powerful authority to get him out of the way… but out of the way of what?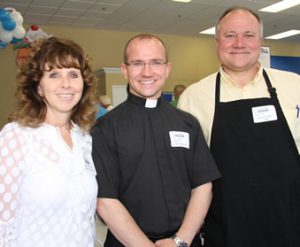 Fr. Jeremy Leatherby was suspended two weeks after his father, Deacon David Leatherby, Jr. reported an incident to the Sacramento Diocesan Vicar for Clergy, that a St. Philomene's parish employee walked into the bedroom where several priests were engaged in sexual relations. Instead of the information being received with appropriate solemnity, the Vicar blew up at Deacon Dave Leatherby Jr. and Fr. Jeremy was suspiciously suspended. The several priests caught engaging in sexual relations are still in their parishes, however.
Father Jeremy Leatherby, under suspension for two and one-half years without having a hearing on his case, and forced to resign over accusations many say are fraudulent, and still Bishop Soto will not respond to Fr. Jeremy's canon lawyer, nor allow a hearing.
The Rot Is At The Top
"Pope Francis, currently implicated in protecting homosexual predator and former Cardinal Theodore McCarrick, reportedly was involved in a similar cover-up while archbishop of Buenos Aires, Argentina," Church Militant reported recently.
"In 2017, German TV channel ZDF produced a documentary showing how Pope Francis, when he was the archbishop of Buenos Aires, ignored cries for justice from abuse victims in his diocese; transferred predator priests to other parishes, as in the case of Fr. Mauro Inzoli; and sought to overturn a verdict of Fr. Julio César Grassi, who is serving a 15-year sentence for abusing children entrusted to his care in the 'Happy Children Foundation' orphanage," Church Militant reported.
"In the course of undertaking their investigation in Buenos Aires, investigators were taken aback by what Pope Francis said to Rabbi Braham Skorka as recorded in their co-authored book, On Earth As It Is in Heaven. When asked by the rabbi about the incidence of sexual abuse in Buenos Aires, the Pope's response was, 'This never happened in my diocese.'"
"If the Pope lied about the incidence of sexual abuse within his former archdiocese, it is understandable why he would not take action against other bishops for underreporting abuse."
The rot comes from the top.
And in the Sacramento Diocese, Bishop Soto delivered this milquetoast message:
"The People of God deserve better. Over the last decade we have made strides in Sacramento to create safe environments for the families entrusted to us. My brother priests and I must continue working to earn the trust of the Catholic community. In the wake of the recent events, we must listen compassionately, counsel with confidence about the steps already taken, and assure the faithful that we will remain vigilant."
And just like the pathetic message from Pope Francis, Soto also said:
"Please pray for those who have suffered from sexual abuse, that they may experience God's profound love for them and God's healing powers."
Without any real leadership, it is now up to the good and holy priests and bishops, and the laity to demand a cleansing of the Catholic Church, all the way up to the top. A good place to start is with Bishop Jaime Soto.