For better or worse, political dynasties do exist, even here. And while we like to think that at least some modicum of ability is required for political offspring to sustain a tradition (the Kennedys and Bushes come to mind), that clearly isn't always the case. You can still find incompetence in government — from big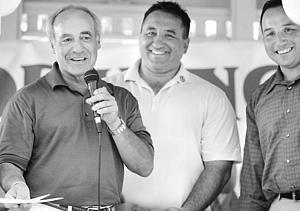 cities to burgs and backwaters — born of apathy, cronyism, ignorance, corruption, racial politics, and even simple "name-identification." Such incompetence often results in under-representation of people who desperately need representation.
Welcome to San Bernardino County, home of U.S. Rep. Joe Baca, D-43rd Dist., and Assemblyman Joe Baca Jr., D-62nd Dist. While Congressman Baca is running for a fourth term, Assemblyman Joe Baca Jr. is gearing up to challenge Assemblywoman Gloria Negrete-McLeod for the 32nd State Senate Seat currently held by Nell Soto. Meanwhile, while Soto is planning to run for one more term in the Assembly, replacing McLeod in the 61st A.D., here comes another Baca to run for the 62nd seat being vacated by Joe Jr. — this one named Jeremy. Read it here.

There's a time-tested adage about motion and activity being mistaken for progress. No better example of this exists than in Congressman Baca's ability to pass off his trademark "Working Joe Baca" nickname to voters. Few members of the Legislature or Congress have been as ineffective as this so-called Working Joe. But since it seemed to work for his old man, Baca Jr. took a page out of Dad's playbook. Though Joe Jr. had been stung in his 2004 Assembly Primary by trying to pass himself, an un-credentialed substitute teacher, as "Teacher Joe Baca" — complete with an apple logo on his campaign literature — he figured he'd take his disingenuousness to the next level: "Genuine Joe." Not only is Working Joe not "working" in the sense of getting anything done — Genuine Joe isn't genuine, either. The whole point is, he's not Joe Baca (which shouldn't be a bad thing not to be). So why would he call himself "Genuine Joe" for any other reason than he's trying to convince people he's someone he's not?
Now for Son of Baca II, Jeremy, who reportedly will use the ballot title of "J. Baca" during his Assembly primary in 2006. Maybe he'll rise above it (giving him the benefit of the doubt). But if Baca history is any indication, I'm thinking he might come up with his own trademark, like "'J' is for Joe, the Name You Know." At a recent San Manuel tribal event, Baca Jr. reportedly introduced his little brother as the "next assemblyman." Where does such arrogance come from? It comes from a lack of competition and accountability. Meanwhile, true to form, Baca Sr. is reportedly busy strong-arming a lot of increasingly impatient donors into supporting his two sons in their ambitions for office (By the way, I've personally witnessed this process, which goes something like this: "Will you support Bill XYZ?" to which he replies, "Will you support my re-election?")
Bad manners and questionable ethics aside, donors — who are often subject to such conversations — have even less reason to want to stay with Joe because he's so ineffective. No access, no influence, no results. Read it here.
One fundraiser familiar with several Baca supporters said Baca's donors are increasingly tired of the years of empty promises, but fear that if they donate elsewhere, the Bacas will retaliate. "They have so much time on their hands, what else are they going to do but retaliate against your projects?" the fundraiser asked. While it's widely hoped in Democrat circles that the party hierarchy along with Nell Soto and Gloria McLeod will see to it that the Bacas aren't able to elect their entire family, conventional wisdom among Democrats is that you can't beat the Baca name.
So if the Dems can't take care of business, is there anything the GOP can do? That may depend on whether Prop. 77 passes. If it does, Joe Sr. may be in trouble, because it's possible that Rancho Cucamonga — a city with 71,000 voters, of which 48% are Republican (31% Democrat) — could be added to his district, offsetting some of Baca's Dem base.
Even now, Baca's prospects are dimming in the predominantly Democrat neighboring city of Ontario. That city is gradually turning Republican, with the GOP down only 5,000 registrations vs. 7,000 two months ago. And with new developments like the upscale New Model Colony in the former agricultural area, Republican numbers will grow at an accelerated clip. But even more significant, as I mentioned previously, is the prospect of Rancho Cucamonga — which was given to Congressman David Dreier in the 2001 redistricting — being added into Baca's Congressional district. The last time "Rancho" was in the district, Baca nearly lost to Elia Pirozzi in the November 1999 special election. In 1996, Baca's predecessor, the late Congressman George Brown, barely fended off a challenge by Republican Judge Linda Wilde of Rancho Cucamonga by a scant 1,000 votes.
In fact, when Rancho Cucamonga is included, the district is even more Republican now than it was then. And with more and more new, upscale developments, the area is seeing the Republican/Democrat voting gap widen. "Rancho Cucamonga is one of the fastest growing Republican cities in the State," said Adam Aleman, Executive Director of the San Bernardino County Republican Party. Aleman added that if Prop. 77 passes on Nov. 8, many GOPers will likely throw in against Baca. The main question would be when. Redistricting could be accomplished by June '06, as Secretary of State Bruce McPherson has stated is his goal. But it's likely that legal maneuvering could delay the redistricting until a subsequent primary. When and if that time comes, said Aleman, "We can only hope that the voters of Baca's district will realize that their elected representative is not serving them."