Today is the debut of the California Republican Party's new weekly podcast program, which has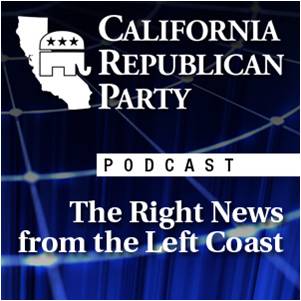 the catchy title, "The Right News from the Left Coast."
This week's episode is hosted by California Republican Party Chairman Ron Nehring with guests CRP Treasurer Keith Carlson and Assemblywoman Diane Harkey.
"Everyone who cares about politics and policy in their neighborhood, in Sacramento or in Washington, D.C. should be tuning into the CRP's new weekly podcast," said Carlson when I caught up to him.  "I was thrilled to be a part of the inaugural edition of the show, and I think you'll enjoy listening to it."
 
The Right News from the Left Coast is a 30 minute podcast available free on iTunes (here), and for download or streaming directly from the CRP's website (here).
Republican National Committee Chairman Michael Steele said, "I applaud the California Republican Party for becoming the first state party to make their podcast available on iTunes.  These podcasts will help inform Californians of the important issues facing their state and will help mobilize voters for the upcoming election.  The incorporation of iTunes into their weekly podcasts embraces the Republican Party's Online Platform of utilizing all possible resources to interact and mobilize Republicans for the upcoming election."