I was on hand back in the early 1990's when the a schism occurred within the Young Republicans in this state.  Rather than suffer the loss of control of the California Young Republicans, then Congressman Bill Thomas, his protégé Kevin McCarthy (who would go on to take Thomas' seat in Congress over a decade later), and their allies cheated and thusly a larger number of activists fled the CYR's to start their own organization, the Young Republican Federation of California.  And so for fifteen years there were two YR groups in California — the Thomas/McCarthy controlled CYR's that stayed small and was controlled from the top-down, and the YRFC which continued through the entire "split" to demonstrate themselves as the "real deal" — a bottom-up activist group that made it's mark through walking precincts, registering voters and electing conservatives to office.  From time to time, the feud between the two groups would bubble up to the California Republican Party Conventions.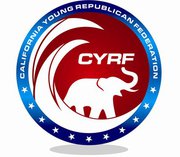 This split might have gone on until the end of time, but for the fact that after over fifteen years, perhaps because McCarthy's eye was elsewhere (pardon the Lord of the Rings metaphor), the McCarthy-controlled CYR group had someone become Chairman who had not drank the McCarthy Kool-aid — Jenniffer Rodriguez.  Rodriguez stood up to the Bakersfield mafia and among other "heretical" actions she and her allies voted against the McCarthy-backed candidate for National Chairman of the YR's (a post McCarthy once held himself) — a contributing factor to McCarthy's candidate losing.  At the next CYR convention McCarthy put up a slate of his own candidates, led by Bakersfield resident (of course) Andy Stanley to challenge Rodriguez and her slate — in a very lopsided vote Rodriguez and her team won the day.  After this convention, serious merger talks that had been ongoing between Rodriguez and the CYRs and the YRFC headed up by it's State Chairman Adam Abrahms resulted in the two groups merging back into one organization — the California Young Republican Federation.  Since the merger, that organization has thrived and is in capable hands under the leadership of Chairman Joe Sanchis and Vice Chairman Chris Mays.  Just this last weekend the group held a high-profile, successful townhall event at the State GOP Convention.
To most Republican politicos in the state, it appears that this issue of a divide in the Young Republicans in California has been resolved — with 100% of the focus of the state's single YR organization focused on electing Republicans in 2012.  Unfortunately, this is not the case.  Because while the new organization has brought most everyone in the YR's back together, those most loyal to McCarthy hired a high-powered attorney (no doubt with some advice and resources from the House Majority Whip himself) Glen Summers to sue what was his former group.  Jenniffer Rodriguez the President of the then-CYR's could not afford an attorney and suffered legal set-backs for almost a year.  McCarthy's displaced former CYR leaders were only one week away from a resounding win in an arbitration that was set to commence in January of 2011.  That said, Rodriguez working with Adam Abrahms and fellow YR Dave Bartels, both capable attorneys, put together a new legal team to represent the CYR's — a team headed up by former California Republican Party Chairman Michael Schroeder.  This legal team went to work, and quickly obtained an injunction (about a year ago) against the arbitration continuing until procedural objections could be heard including their arguments that the actions of McCarthy's minions, with respect to the arbitration were illegal from beginning to end.  Craig Alexander then joined the legal team representing the merged YR entity.
Just recently the trial took place and McCarthy's band of sycophants were soundly defeated.  The Los Angeles County Superior Court issued an order removing the arbitrator from the arbitration and voiding all of his prior orders.  The Court also required that if Team McCarthy wanted to continue with a legal vendetta, they would need to do so from scratch in a legal arena where they have literally not received a favorable ruling in over a year.
The most intriguing question that FlashReport readers should ask themselves is why is McCarthy continuing to fuel this internecine legal battle?  At this point, McCarthy and his allies are suing to try and remove officers from the CYR's that are no longer even in office – as I reported above, now the two statewide groups have merged and have new leadership.  As we go into the heat of the election cycle, one has to wonder when Congressman McCarthy will tell his people to stand down, let the lawyer go, and work with the thriving and well-organized CYRF group.
I, for one, am proud that the Young Republicans have worked things out and are unified as one organization again.  And as for McCarthy, instead of supporting a lawsuit against the organization, he should be supporting their efforts, and demonstrating that he has moved beyond YR politics.  We have big challenges in this state as Republicans, and I am proud that the reunified Young Republicans are focused on helping us to win elections.