For the eighth year in a row the FlashReport once again highlighted the Top Twenty Worst Bills on Governor Brown's desk.  As we have done in the past, we enlisted the aid of two members of the State Legislature to help us in compiling this list.  I would like to once again thank State Senator Joel Anderson and Assemblywoman Marie Waldron for their assistance with our 2013 Rogues Gallery of bad bills.
Last Sunday Governor Brown completed action on all of the bills on his desk, which means we can now report back to you how he did on the very worst bills on his desk.
We present the 2013 Top 20 Bills to Veto list which we respectfully submit to the Governor's attention…
Drum roll, please….
This year Governor Brown signed 14 of 20 worst bills, and vetoed six!  That means that he only vetoed a paltry 30%!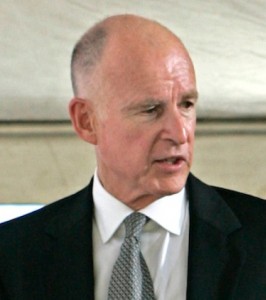 FAIL!!

Below are the Top Twenty Worst Bills — And Next To Each Their Final Disposition…
Union Protections and Expansion
SB 102 – State Employees MOU's — SIGNED INTO LAW!

The salaries for State Water Project employees will be increased at a minimum of 17.9% to a maximum of 37.4%. The bill ratifies the addenda to current memorandums of understandings (MOU) entered into between the state and several bargaining units.  The bill would result in major state costs of $45.2 million in 2013-14, likely to grow annually thereafter as more employees are hired at the higher compensation level.
AB 241- (Ammiano) – Unionize Caregivers — SIGNED INTO LAW!

Mandates that overtime must be paid to personal attendants defined in the measure as "domestic work employees."   For example, if you have a granddaughter who is living and taking care of her 90-year old grandma, the grandmother would have to pay her overtime and the granddaughter would be forced to join a union.  This bill will have a detrimental impact on seniors who need home care workers to keep them safe and healthy at home and avoid being put in a costly institution.
AB 375 (Buchanan) – School Employees Dismissal — VETOED!

Claims to make numerous changes to the process for suspending or dismissing dangerous teachers.  This bill is strongly opposed by school superintendents, school board trustees and administrators.   The only supporters of the bill are the teachers unions.  This is a union attempt to protect predatory teachers at the expense of student safety.
AB 855 (Brown) – State Workers Vacation Days  — VETOED!

Circumvents collective bargaining and mandates that state employees must be reinstated even if the employee was absent without leave for up to five consecutive work days.    This bill makes a mockery of collective bargaining and allows state government workers to take advantage of the system.
AB 906 (Pan) – Personal Services Contracts: Independent Contractors. — SIGNED INTO LAW!

Puts government unions first when it comes to bidding on contracts creating an uneven playing field and leaves taxpayers holding the bag.
This is yet another example of the heavy hand of public employees' unions, through their collective bargaining and in lobbying efforts, to skew the rules in their favor to further inhibit contracting out state services to the private sector.
Job Destruction
AB 8 (Perea) – Car Tax– SIGNED INTO LAW!

Extends, for an additional 8 years, to January 1, 2024, a number of motor vehicle, vessel, and tire taxes/fees for a total of approximately $2.3 billion to fund emission reduction and alternative fuel programs.  This bill would result in fee extensions of $8 in smog abatement, $18 for vehicle registrations, $10 on boat registrations, and $1.00 per tire on consumers annually until the year 2024.
AB 10 (Alejo) – Automatic Minimum Wage Increase — SIGNED INTO LAW!

Raises the minimum wage by $1.25 over the next three years. This bill punishes the poor as businesses will be forced to hike the costs of goods and services to account for their increased labor expenses to consumers. Thus, it will neutralize any temporary advantage employees would have with higher pay. The bill will also build a barrier to entering the workforce for teenagers, whose experience may no longer justify paying the minimum wage.
Incentives For Illegal Immigrants
AB 4 (Ammiano) – State Government: Federal Immigration Policy Enforcement — SIGNED INTO LAW!

Requires that law enforcement refuse to comply with a federal immigration hold request.  If the continued imprisonment of the individual violates any federal, state, or local law if that person has been convicted or is arrested. The bill impedes the ability of local law enforcement to turn in known criminals who are illegal aliens to the federal government for potential deportation as well as those protected by local city policies.
AB 35 (Hernández) – Deferred Action For Childhood Arrivals — SIGNED INTO LAW!

Provides that an illegal immigrant who has been accepted into the federal government's deferred action for childhood arrivals (DACA) program is eligible for unemployment benefits, depending upon delivery of employment authorization from the federal government.  The bill authorizes the Department of Motor Vehicles (DMV) to issue a California ID card to any individual accepted into DACA.
AB 60 (Alejo) – Drivers' Licenses: Eligibility: Required Documentation. — SIGNED INTO LAW!
Creates a separate driver's license for applicants who are undocumented in the United States and mandates that businesses provide full and equal accommodations to holders of illegal immigrant licenses. Businesses will be exposed to discrimination lawsuits if they refuse to hire illegal immigrants. Businesses will be forced to choose between violating federal law and violating state law, and establishes a new protected class for licensed illegal immigrants.
The Nanny State
AB 154 (Atkins) – Healing Arts: Reproductive Health Care: Abortion. — SIGNED INTO LAW!

Expands who is allowed to perform abortions to a nurse practitioner, a certified nurse midwife, and a physician assistant.  They will be authorized to perform abortions by aspiration, or by medication in the first trimester of pregnancy.
This bill risks women's health by reducing the standard of medical care.
AB 218 (Dickinson) Forget Criminal Convictions as Screening Tools — SIGNED INTO LAW!

Prevents state and local agencies from asking about criminal conviction history or using this information as a screening tool for screening out job applicants.  This bill restricts the public employer's ability to evaluate job applicants and it undermines workplace safety. Asking about criminal history is an essential tool in determining early on whether an applicant is a good fit for a job.
AB 1266 (Ammiano) -Transgender Bathroom Bill  — SIGNED INTO LAW!

Goes beyond requiring that a student be permitted to participate in sex-segregated school programs and activities to include using bathrooms and locker rooms consistent with his or her "gender identity."  It allows a student or minor to use all restrooms and locker rooms regardless of their biological gender. This is a public safety issue since it denies students their right to privacy in restrooms and locker rooms and creates unsafe and embarrassing situations.
Assault on Second Amendment
SB 374 (Steinberg) – Firearms: Assault Weapons — VETOED!

Expands the definition of an assault weapon, to include a semiautomatic centerfire rifle. This definition will ban the possession, manufacture, or sale of a semiautomatic centerfire rifle that does not have a fixed magazine with the capacity to accept no more than 10 rounds.  This bill harms law abiding citizens who have a right to protect themselves.
SB 475 (Leno) – Restricts Firearms Sales at the Cow Palace — VETOED!

Prohibits the sale of firearms and ammunition at the Cow Palace.  This bill closes one of the biggest gun shows in California which will be a financial hit to our state's general fund.  It is sure to be tested in the courts as an infringement of the Second Amendment.
AB 48 (Skinner) – Firearms: Large-Capacity Magazines — SIGNED INTO LAW!

Requires the Department of Justice to notify law enforcement entities in the city and/or county in which a purchaser resides if a person obtains more than 6,000 rounds of ammunition within a seven-day period (with specified exceptions).  This bill attacks citizens' constitutional rights to defend their lives and those of their loved ones.
AB 180 (Bonta) Registration and Licensing of Firearms –City of Oakland — VETOED!

Eliminates state preemption for regulation of the registration or licensing of commercially manufactured firearms for the City of Oakland so that the residents can be further disarmed than state law currently allows.
AB 711 (Rendon) – Banning Lead Ammo to Hunters — SIGNED INTO LAW!

Bans the use of lead ammunition in the hunting of any wildlife with a pistol or rifle no later than July 1, 2019.  Not only does this bill undermine the rights of hunters and gun owners, it reduces the ammunition available for purchase.  There will be potential loss to state revenue if hunting licenses are reduced due to lack of approved available ammo.  According to the Department of Fish and Wildlife, this bill would cost the state over $1 million, to develop new regulations and to develop a process to certify ammunition as non-lead.
Manipulating The Elections Process
AB 530 (Quirk-Silva) – Vote By Mail Ballots: Telephone Applications. — SIGNED INTO LAW!
Allows a person to apply for a vote-by-mail (VBM) ballot by telephone instead of a written application with a signature.  This invites voter fraud and continues to weaken and diminish the integrity of our voting system.
AB 857 (Fong) – Initiatives: Petition Circulators — VETOED!

Requires that 10% of all signatures used to qualify initiative measures for the ballot be obtained from non-paid, volunteer circulators, but the bill carves out an exception for paid labor union gatherers.  This bill claims to be initiative reform when in fact it just gives one-sided power to the labor unions.  This loaded bill gives unions a special edge by imposing onerous and unfair burdens on initiative proponents who must hire signature-gathering firms.