This morning at 10:30 am State Assemblyman Tim Donnelly will make the official announcement that he is running for Governor of California.  With family and key supporters gathered around him, Donnelly will make his announcement at the Darafeev Furniture Factory in Baldwin Park.  For those who know Donnelly, it comes as no surprise that he is kicking off his campaign at a manufacturing factory — as he has been traveling the state for nearly a year, channeling the Energizer Bunny, and talking about the importance of job creation in California, and how Governor Brown and the Democrats in the State Capitol have been passing policies that make it harder, not easier, to encourage private sector job creation.
According to Donnelly's campaign spokesperson, Jennifer Kerns, the campaign will focus on three key areas — jobs, civil liberties, and leaving California a better place for the next generation.
"I have traveled up and down the State over the last year talking with voters, and it's clear to me they want a new voice in politics. Our current system has failed Californians," said Donnelly, as he prepares for his campaign announcement.  "California has a jobs crisis, which this Governor and the Democrat majority legislature have done little to solve. Yet they continue to pass more intrusive laws to restrict our civil liberties. It's time for a change. It's time for a new vision. We must leave a better California to our children."
Donnelly's campaign kick-off comes exactly one year before the 2014 general election where Governor Jerry Brown will be asking voters to elect him to a second consecutive term (his fourth overall).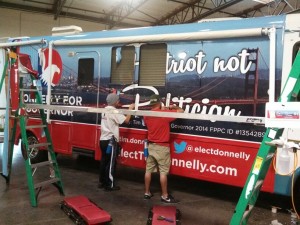 After Donnelly's announcement in Los Angeles, he will then begin a whistle-stop tour around California in a large, tricked out recreational vehicle.  You can see some exclusive photos that we obtained of the motorhome having the finishing touches put on it before it is put into service for Donnelly's campaign.  The Donnelly RV will cruise up to California's Central Valley where there will be a media event at a family farm just outside of Bakersfield.  Then Donnelly heads up to Fresno to stop in at the Red Caboose diner.  OnThursday the RV will arrive at the State Capitol.
As Donnelly, a constitutional conservative, formally enters the race for Governor, he joins one other GOPer who has announced thus far — former appointed Lieutenant Governor Abel Maldonado, who is fresh off of an unsuccessful bid for Congress last year.  Maldonado is a controversial candidate to be sure.  The legislative author of Proposition 14, the so-called "open primary" initiative, Maldonado seeks party support after touting his ballot measure a way to reduce the role and influence of political parties in California elections.  In 2009, Maldonado rather dramatically provided the final and deciding vote for the largest tax increase in California history (at the time) — $14 billion in sales, income and car taxes (this after getting elected to office on the strength of signing a no new taxes pledge).  He then campaigned for a special election ballot measure that, if passed, would have doubled the duration of these taxes from two to four years.  Voters rejected the tax increase by nearly a two-thirds margin.  Contrasting Donnelly in three key areas, Maldonado has called for comprehensive immigration reform, and recently said he is now in favor of gay marriage and supports abortion rights.   A potential third candidates looms on the horizon, Orange County businessman Neel Kashkari — though he has made no formal or informal announcements.
In closing, you can check out more about Donnelly's campaign by checking out his website here.  And below, because I think it is that cool, is a video featuring Donnelly with a celebrity supporter — actor and comedian Rob Schneider!