[Publisher's Note: We are pleased to offer this original column submitted to the FlashReport by Young Kim, a candidate for the State Assembly in California's 65th District – Flash]
Last weekend I traveled to San Diego to participate in an unparalleled opportunity, learning practical campaign experience from top state and national Republican leaders and political strategists.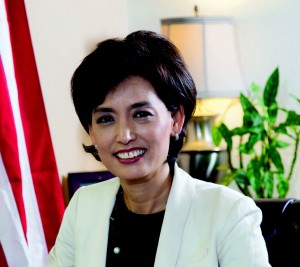 With strong Democratic majorities in both the state Senate and Assembly, it's important we equip Republican candidates with the training and skills needed to win competitive elections. The training was helpful to my development as a candidate, given the 65th Assembly district is expected to be a top target for both parties in 2014. I am committed to winning this seat back for the people of Orange County, who deserve a representative who understands their needs and reflects their values.
As a candidate who is challenging a Democratic incumbent for the 65th Assembly district, I value the skills and lessons learned during the two-day training. I'm a proud community leader in the district and consider it a privilege to have served constituents as Congressman Ed Royce's Director of Community Relations and Asian Affairs.
Even though I have years of public service experience, the experts who conducted the Trailblazers' program sharpened my campaign skills as a candidate.
The training featured the best political strategists from around the country, some of the best fundraising consultants in the business were on hand to help me and other candidates learn to navigate fundraising networks. They gave me some tools that will work in any fundraising situation.
In addition, the program featured top notch political experts from around the country dealing in political data management and advanced political technologies that will give Republican candidates an advantage over competitors. These experts have worked together on integrating two separate kinds of technology to help candidates in a seamless one-stop shop to house and analyze data collected from multiple sources.
Republican field campaign experts were also on hand to lend their expertise, showing participants how to plan and execute a successful ground game by winning support through strong grassroots outreach.   Coming off their big win in the, now, Senator Andy Vidak race, they are really the best in the business to give real- practical advice to candidates looking to run a successful ground operation- which is absolutely necessary if we want to get back the one-third in the Assembly.
Strong grassroots outreach must include connecting with Latinos and Asians, who represent a majority of Californians. As a Korean American and someone who cares deeply about the future of the Republican Party, I was encouraged to see California Trailblazers' efforts to train candidates who are involved in their communities and reflect the demographics of their districts. Moving forward, this engagement will be critical to the long-term success of the Republican Party.
The second, in the two day training, began with a visit to a Republican candidate's local campaign office.  We walked precincts, phone banked and had the opportunity to have a very hands on experience of Get Out the Vote efforts.  There we were able to see the logistics of running a first-rate grassroots effort, as well as see some of the technologies we learned about the day before in action.
The two day event was capped off with an outstanding reception that was hosted by the New Majority San Diego featuring special guest Governor Scott Walker.  At this reception all of the Trailblazer candidates were able to meet and mingle with major San Diego donors that are members of the New Majority and I was even able to pick up an endorsement. (More on that to come soon!)
In a short time, California Trailblazers has become the go-to program for qualified candidates who have a serious interest in running for state elected office.
I'm ready to work hard and win. I appreciate the efforts of the California Trailblazers Board of Directors and Republican legislative leaders to invest their time and expertise to support candidates and future leaders.
The training energized my efforts and provided me with tips and techniques to better communicate with voters and execute a successful campaign. I am eager to continue talking with voters and sharing my vision for a better future for California.