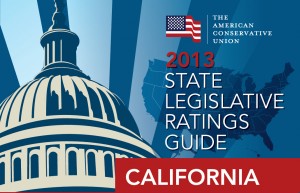 Back in 1964, as conservatism was starting to gain traction in the American political dialogue, the American Conservative Union was formed which represents the views of Americans who are concerned with economic growth through lower taxes and reduced government spending and the issues of liberty, personal responsibility, traditional values and national security. All of these years later, the ACU is most well known for both it's annual Conservative Political Action Conference (CPAC) held in our nation's capitol — and for their scorecard of the United State Senate and Congress, which they have been issuing since 1971.  In recent years the ACU has started to publish scorecards of many state legislatures, one of which is ours here in California.  You can check out the ACU's website at Conservative.org.
This morning I am pleased that the FlashReport is featuring the exclusive first release of the 2013 ACU Ratings of the California legislature.  I have to say that, given that the ACU is headquartered in Washington, D.C., they did an outstanding job of selecting legislation by which to score our State Capitol politicians.  You can view and/or download a full-color .pdf color document of the American Conservative Union 2013 Ratings of the California Legislature here.  I have also embedded the document into this post – just click on it to open it up.  The ACU breaks out the record of each legislator on all of the bills that they used to rate them, and they also include a brief summary of each of the bills.
"On behalf of the American Conservative Union, I am pleased to announce the winners of our 2013 State Legislative Ratings for members of the California State Legislature," said ACU Chairman Al Cardenas. "For 42 years, ACU has set the gold standard for Congressional ratings, and we are now able to offer that same level of transparent information to the voters of California so they can hold their elected officials accountable at the state level as well. In our second year rating the Golden State, we applaud conservatives in the California State Legislature who continue to fight for Second Amendment rights, lower taxes and increased domestic energy production."
It is glaringly obvious when taking even a cursory review of the ratings that there is a massive difference in the legislature between Democrat and Republican legislators.  Generally all of the Democrats voted extremely liberally — and generally Republicans voted much more conservatively.
This year only four legislators were singled out by the ACU with their highest state-level distinction, "Defenders of Liberty," and those were State Senator Mark Wyland, and State Assemblymembers Curt Hagman, Diane Harkey and Tim Donnelly.  These four were the only ones, out of 120 legislators, to score a perfect 100 on the ACU California Scorecard.  Congratulations!!
The ACU gives a shout out to those who scored at least 80% on the scorecard, referring to them as "ACU Conservatives" — in the Senate they are: Joel Anderson, Tom Berryhill, Bill Emmerson, Jean Fuller, Ted Gaines, Bob Huff, Steve Knight, Jim Nielsen, Andy Vidak and Mimi Walters.  In the Assembly they are: Travis Allen, Frank Bigelow, Rocky Chavez, Connie Conway, Brian Dahle, Beth Gaines, Jeff Gorell, Shannon Grove, Brian Jones, Eric Linder, Dan Logue, Brian Maienschein, Allan Mansoor, Melissa Melendez, Mike Morrell, Brian Nestande, Kristin Olsen, Jim Patterson, Donald Wagner, Marie Waldron and Scott Wilk.
All of the Defenders of Liberty and ACU Conservatives are Republicans.  If you are curious, the only two GOP legislators who voted with the ACU position less than 80% of the time were State Senator Anthony Cannella (64%), and Assemblyman Katcho Achadjian (75%).
Starting were the host of California Democrats in the Capitol who earned the  "True Liberals Of The Golden State" honors — for which you had to vote against the ACU position every single time.  In the State Senate: Jim Beall, Marty Block, Ron Calderon, Ellen Corbett, Kevin De Leon, Mark DeSaulnier, Jerry Hill, Ben Hueso, Noreen Evans, Loni Hancock, Ed Hernandez, Hannah-Beth Jackson, Ricardo Lara, Mark Leno, Ted Lieu, Carol Liu, Bill Monning, Alex Padilla, Fran Pavley, Darrell Steinberg, Norma Torres, Lois Wolk and Leland Yee.  In the State Assembly: Luis Alejo, Toni Atkins, Richard Bloom, Bob Blumenfield, Raul Bocanegra, Susan Bonilla, Rob Bonta, Steven Bradford, Joan Buchanan, Ian Calderon, Nora Campos, Ed Chau, Wesley Chesbro, Roger Dickinson, Susan Eggman, Paul Fong, Cristina Garcia, Jimmy Gomez, Richard Gordon, Isadore Hall, Roger Hernandez, Reginald Jones-Sawyer, Marc Levine, Bonnie Lowenthal, Holly Mitchell, Kevin Mullin, Adrin Nazarian, Richard Pan, Henry Perea, John Perez, V. Manuel Perez, Bill Quirk, Anthony Rendon, Nancy Skinner, Mark Stone, Philip Ting, Shirley Weber, Bob Wieckowski and Das Williams.
Enjoy perusing the ratings — there's a lot to check out.