Anyone paying attention has heard about the controversial Sacramento arena subsidy and observed the often bizarre machinations some politicians and subsidy advocates have resorted to in their effort to block a public vote.
Voters have been subjected to everything from an offensive event at a cemetery and a parade of overblown claims, to an embarrassingly ineffective "withdrawal" campaign that cost taxpayers tens-of-thousands of dollars to process almost 14,000 bogus withdrawal signatures (nearly 91% invalid).
Groups and individuals fighting to let the public vote on the subsidy have been met not only with baseless attacks, but have suffered from politically-motivated economic retaliation for daring to get involved.
The City is even attempting to bull-rush approval of the arena project and the $304 million public bond though the City Council, just days before the election – with the sole intent of subverting the vote and disregarding the public's voice.
But the political flimflammery isn't as troubling as the possibility someone crossed the line from unsavory political tactics to potentially criminal efforts to tamper with the election.
Subsidy advocates recently rolled out a legal treatise demanding voters be disenfranchised and the signatures of more than 23,000 voters be discarded.  Most of their assertions are little more than soporific technicalities that most independent experts, including a respected McGeorge Law School professor, agree have little chance of prevailing in court.
The only claim experts believe holds any water is the accusation that proponents failed to file mandated proof of  publication before circulating petitions.  It would be a legal problem – if it were true.
Lawyers representing the group opposing a public vote claim that proponents didn't file the proof of circulation with the city until September – and want all signatures gathered before then to be thrown out.  But the truth is, proponents filed the proof months ago. Fortunately, they retained a copy date-stamped by the city.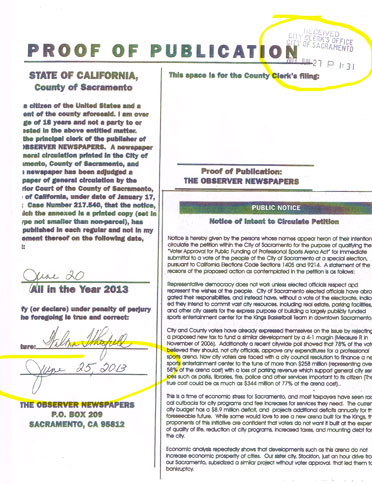 Shockingly, city staff "misplaced" the document – tried to use the missing document as a reason to discard voter signatures and reject the petitions.

At best, the city and the lawyers screwed up.  At worst, someone stole or destroyed the document from the official file in a Watergate-esque attempt to invalidate the petitions.
There is plenty of evidence that someone has leaked information to, perhaps even colluded with, political operatives trying to block a public vote – apparently even providing actual copies of petitions, including private data of voters who signed petitions, subjecting those voters to potential retaliation.
I encourage proponents to forward the evidence to the Attorney General, District Attorney and Secretary of State, and request an investigation to determine if there was a deliberate effort to destroy official documents and tamper with an election.
Regardless of whether you support a public subsidy, buy the false accusation that voter-approval is really an effort to prevent an arena from being built, or even believe the widely-discredited claims that the arena will bring a tsunami of economic prosperity – no American should ever support clandestine efforts to derail an election.  No one.
The debate has often gotten off track – and clearly those who think a new arena will solve all of Sacramento problems are trying to make the issue more complicated.  But the proposed ballot measure is simple in both language and intent: "The City of Sacramento shall not use or redirect, undertake an obligation to pay, or bond or borrow against monies intended for or from the City general fund for the development and/or construction of a professional sports arena without the approval of a simple majority of voters." 
There is little doubt that non-substantive differences exist in petitions, that the variety of connected and independent groups supporting a public vote has led to some confusion, or that passions and tempers on all sides have been tested.
But it is equally clear that the public wants to vote on this issue – and it would be a betrayal of democratic principles to allow underhanded efforts to derail a public vote.  That betrayal would be unforgivably exacerbated if public officials are complicit in that betrayal.
Debate and differing visions  – even the rough and tumble of aggressive campaigns – are good for democracy.  Attempts to corrupt an election is not.

UPDATE:  The City Clerk, who had approved the petition for circulation,  has announced she would now reject the petition, citing claims made by lawyers representing the special interests in line to receive $258 million taxpayer-funded subsidy.   Legal action is pending.
Tab Berg is the founder of TABcommunications.  He has worked with several groups that support a public vote, however, he is currently NOT affiliated with any organization or committee involved in the Voter Approval for Public Funding of Professional Sports Arena Act.