[Publisher's Note: We are pleased to offer this commentary from Simi V Wilk, a cute little puppy, with some keen insights into California politics, that is the pride and joy of Assemblyman Scott and Vanessa Wilk – Flash]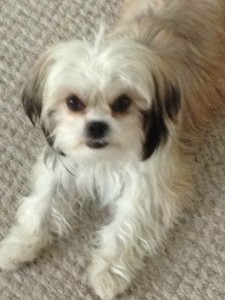 Governor Jerry Brown in his State of the State address made an off-the-cuff remark about his dog, Sutter, stating "Bark if you don't like deficits!" and passed out a playing card with a picture of Sutter Brown on the front and graph on the back  showing how California has gone from budget deficits to surpluses under Brown.  But this doesn't tell the whole story…
While I'm sure Sutter Brown is well-meaning, he doesn't have a real world perspective as it pertains to our "State of the State."  Sutter is an elite pure bred Welsh Corgi who has spent his entire life in government!
Like many Californians I've had my struggles and triumphs.  I've never met my biological father, I was torn away from my mother, and I was actually left in the desert to be eaten by coyotes. Thankfully, I was rescued and sent to a foster home before being adopted by the Wilk family.
Now as the First Dog of the 38th Assembly District and a member of the Wilk household, I learned from my dad, Assemblyman Scott Wilk, we need to do more than just bark to reduce deficits.  We need to put a leash on spending and grow the economy by supporting policies that help small business.
I had never thought about entering into the world of politics but there have been many issues that have ruffed up my fur these days.
It seems like math is only taught in obedience school because some things just don't add up. If you owe more bones than you have buried in your backyard then you are in debt. As simple as that!
I'm dog gone tired of California's spending problem. According to the State Auditor, California's net worth is negative $127.2 billion. We must continue to pay off the "wall of debt" as well as long-term unfunded liabilities and promote policies that will grow the economy.
Sutter Brown says we need to "save some biscuits for a rainy day" but his human only calls for a $1.6 billion rainy day fund which is far below the $8 billion reserve the Legislative Analyst's Office suggested.
Governor Brown keeps talking about the "California Comeback." In order for California to make a true comeback we must encourage small businesses to reinvest and for new entrepreneurs to start businesses. According to CEO Magazine, California is the worst place to do business due to its high taxes, over-regulation, rising workers compensation rates and liberal litigious environment.  Furthermore, Brown and the Assembly Democrats never acknowledge that the Prop 30 tax revenue is temporary.  Businesses will continue to "flea" our state and close their doors if we continue to squeeze their wallets and make it nearly impossible to keep employees.
What about the 2014-15 Budget?  Democrats have been jumping for joy over the revenue increase we've seen this fiscal year.  Last week at their Assembly Democratic Caucus Retreat they argued over what new programs to fund. This "surplus" is temporary as it stems from the higher, temporary taxes from Prop 30 and a stellar year in the stock market.  Sacramento needs to invest more surplus dollars into the rainy day fund as suggested by the Legislative Analyst's Office (LAO) in order to prepare for the next economic downturn.
When it comes to education Sutter Brown helped energize voters to support Prop 30 by telling them it was to save education. But sadly, schools are going to get into a dogfight once they realize they will only see about one third of the Prop 30 dollars and the remaining funds will be diverted to the general fund to be used for non-education purposes.
The Governor should be put in the doghouse for continuing to support the High Speed Rail Project (HSRP) which has been a disaster. The 2008 initiative required the project funding to be identified.  That has never happened and the courts had to step in to admonish Brown and temporarily stopped the project in its tracks.  The governor even wants to take $300 million from the "Cap and Trade" account and apply it to the rail project. I believe this is in violation of both AB 32 (2006) and Prop 1A, which established the so-called bullet train.  The High Speed Rail Project is an epic "bonedoggle".
The 'State of the State' address felt like more of a dog and pony show that displayed all the "positive" things happening in the state but it ignored my dad's  top priority, rebooting the economy.  Without positive economic growth we'll all just be eating scraps from the table.  Please join my fight to defend the underdog by liking my Facebook page.
Simi V Wilk is the first Dog of the 38th Assembly District.