The Primary fight in SD 28 has been one ugly mess. Candidate Jeff Stone knew he couldn't win on what he's done in office (tax increases, repeated FPPC fines and other sordid messes – from enriching his sister to a recent scathing Grand Jury report showing his wasteful use of a "Slush Fund" — their words — to try to enhance his name ID and paying off a family friend with a $100k road to a private artist retreat).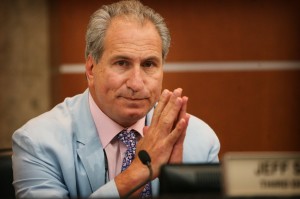 So, to overcome his deficiencies he has waged an almost slanderous, ugly campaign against former Assemblywoman Bonnie Garcia – that is, to this longtime political professional, the most over-the-top and outrageous smear I've seen.
But today, the Real Jeff Stone was exposed in the Press Enterprise.
In another example of an Supervisor Jeff Stone thinking he's above the law,  he "badged" a motorist and ordered him to pull over.
According to the DOJ, it is illegal for him to have a badge.  It is illegal for him to use a badge.  It is illegal for him to order anyone to pull over.  But he doesn't really feel he has to follow the law.
Here's the story from today's PE:
"[A] 2007 opinion from then-Attorney General Jerry Brown was issued in response to a controversy over special badges issued by the Riverside County sheriff – and other officials – to people who weren't sworn officers. It prompted a countywide recall of a large number of badges from volunteers and government workers."
"Supervisor Stone at the time led a charge to rein in the sheriff's ability to issue the special citizens badges, taking issue with the fact that the badges resembled those used by police. He publicly criticized Doyle for having given the emblems to some campaign donors."
"Issuing these badges tarnishes the sheriff's badge," Stone said at the time."
"The 2007 attorney general's opinion stated California law could be violated if the badge falsely appears to be authorized or "would deceive an ordinary reasonable person into believing that it was authorized, for use by a peace officer."
— everyone got rid of theirs, except, of course, Jeff Stone —
"No one would have been the wiser if not for a road rage incident several months ago in Temecula during which Supervisor Jeff Stone flashed an official-looking, star-shaped badge during an angry encounter with another motorist who, according to police, called 911 to report him"
"Arnold (the victim) told deputies he was sitting in traffic on I-15 at the Winchester Road exit when a car swerved dangerously in front of him, forcing him to slam on his brakes, according to the report. Angered, Arnold pulled alongside the car and made a rude gesture."
"Arnold told deputies that the driver of the car, later identified as Stone, cursed at him, ordered him to pull over in a threatening manner and flashed a badge at him, the report says."
"He said he assumed the man was a police officer but was shocked by the way he acted."
"I was like … if he's a cop – he's unstable for the public," Arnold said. "That's not a good example for other people to follow."
According to Sheriff's department:  "These still-outstanding badges are all considered 'stolen property' and are considered contraband when found," she wrote, adding that some badges have "surfaced periodically in the commission of crimes since then."
Read the PE story here.
Disclosure:  I am involved in an independent expenditure that does support Bonnie Garcia.