Hate speech has never really been defined, except by Democrats. There is no hate speech exception to the First Amendment.
But this isn't really about hate speech.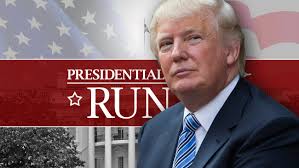 This is another story from the "You Can't Make This Stuff Up" file: California Senate Democrats voted to adopt a resolution condemning Republican presidential frontrunner Donald Trump, and calling for the state to "divest from Donald Trump, The Trump Organization, and any affiliated entities," due to his "racist" remarks about immigrants. And then they urged the state to divest from his "private businesses, and called on individuals throughout California to end all business ties with Donald Trump."
As Eugene Volokh recently wrote in the Washington Post, "I keep hearing about a supposed 'hate speech' exception to the First Amendment, or statements such as, 'This isn't free speech, it's hate speech,' or 'When does free speech stop and hate speech begin?' But there is no hate speech exception to the First Amendment. Hateful ideas (whatever exactly that might mean) are just as protected under the First Amendment as other ideas. One is as free to condemn Islam — or Muslims, or Jews, or blacks, or whites, or illegal aliens, or native-born citizens — as one is to condemn capitalism or Socialism or Democrats or Republicans."
The perpetual window lickers and paste eaters who voted for SR 39 are Senators Allen, Beall, Block, De León, Galgiani, Glazer, Hall, Hancock, Hernandez, Hill, Hueso, Jackson, Lara, Leno, Leyva, Liu, McGuire, Mendoza, Mitchell, Monning, Pan, Pavley, Roth, Wieckowski, Wolk
Only one "no" vote was cast by Sen. Joel Anderson.
Most of the Senate Republicans opted to give the resolution the finger by not voting at all: Senators Bates, Berryhill, Cannella, Fuller, Gaines, Hertzberg, Huff, Moorlach, Morrell, Nguyen, Nielsen, Runner, Stone, Vidak all abstained.
When the Senate Resolution 39 was introduced in July, rational people thought it would quickly be laughed out of the Capitol building.
Reason's Matt Welsh said it best: "As if to wrest the slogan of 'stupid party' from the GOP, California's ruling Democrats have gazed upon the idiocratic spectacle of Donald Trump and decided to make their one-party governance even worse."
The Resolution originally also "condemns in the strongest terms possible the racist rhetoric against immigrant families made by Presidential candidate Ted Cruz," but that was amended out of the bill.
Yes, legislative time and state resources was spent on this Resolution.
Welch also cites a legal issue:
You need not be a fan of either Trump or Ted Cruz to find unseemly a legislature's attempt to politicize the investment decisions of America's largest pension fund. As Scott Shackford reported earlier today, the California Public Employee Retirement System (CalPERS), has returned a meager 2.4% on its money this fiscal year, well under the 7.5% it unreasonably promises. And as Shackford pointed out,
One of the other reasons CalPERS underperforms is because the investment process has been highly politicized, with people calling for investment decisions based not on sound market decisions that will earn the most money, but on rewarding or punishing favored or disfavored options (such disfavored options as investing in guns and tobacco, for example). Why should they care if their social activism is bad business? The returns are guaranteed, so they'll never have to suffer negative consequences for them. Instead, the taxpayers will.
 Dems and Hate Speech
The resolution also called for "an end to hate speech and racist rhetoric by all presidential candidates."
Democrats have certainly offered up plenty of their own hate speech. Freqhently seen wearing t-shirts with the face of one of their favorite icons, mass murderer Che Guevara, estimated earnings from sales of the image of the dead revolutionary mass murderer among liberals and impressionable youth runs into tens of millions of dollars.
Obama White House Chief of Staff Rahm Emanuel is reported to commonly denigrate persons he disagrees with as "retarded."
Former Vice President, Nobel Prize winner, and senior Democratic Party elder statesman Al Gore mocked children with Down syndrome by referring to his political critics as having "an extra chromosome."
In 2007, White House Press Secretary Tony Snow announced his cancer had returned. Commentators on the left-wing Daily Kos website remarked, "the world would be better off without him."
Then-Democratic California Gubernatorial candidate Jerry Brown was condemned by the Anti-Defamation League for "Offensive And Inappropriate" remarks about GOP challenger Meg Whitman in 2010. Brown later attacked Whitman again with extraordinary vile sexist gutter language directed at the female challenger. The California National Organization for Women, a liberal feminist group, did not withdraw its endorsement of Brown.
Former Democratic President Bill Clinton, when asking Sen. Ted Kennedy for his endorsement of Hillary Clinton, said of Obama: "A few years ago, this guy would have been getting us coffee."
Former Vermont Governor and DNC chairman, Howard Dean joked during a speech, "You think the Republican National Committee could get this many people of color in a single room? Only if they had the hotel staff in here."
Secretary of State Hillary Rodham Clinton referred to a subordinate as a "Jew b*stard."
Former-chair of the state Democratic Party, John Burton, excoriating President Barack Obama's intentions to even sit down across a table with Republicans back in late 2010: Just as we do not negotiate with international terrorists, we must stand up to the political terrorism of the Republicans in the United States Senate, Welch reported.
"Support this resolution to send a clear message that bigotry and racism and hatred is not tolerated in the state of California," said Sen. Isadore Hall, D-Compton, the Resolution's author. "It's time quite honestly to dump Trump."
These numbskulls just gave Trump even more press. As Trump wrote in "Trump: The Art of the Deal" (1987), discussing criticism of his decision to demolish two Art Deco bas-relief sculptures on the Bonwit Teller building, which was being torn down to make way for Trump Tower in 1980:
Ironically, the whole controversy may have ended up being a plus for me in terms of selling Trump Tower. The stories that appeared about it invariably started with sentences like: "In order to make way for one of the world's most luxurious buildings . . ." Even though the publicity was almost entirely negative, there was a great deal of it, and that drew tremendous attention to Trump Tower. Almost immediately we saw an upsurge in the sales of apartments. I'm not saying that's a good thing, and in truth it probably says something perverse about the culture we live in. But I'm a businessman, and I learned a lesson from that experience: good publicity is preferable to bad, but from a bottom-line perspective, bad publicity is sometimes better than no publicity at all. Controversy, in short, sells."