The "controversy" surrounding student body elections at a San Francisco middle school after the principal confiscated the results because they weren't diverse enough, is a phony-controversy. The principal is an ignoramus and should be fired.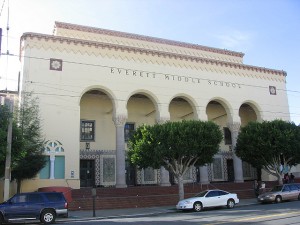 Principal Lena Van Haren at Everett Middle School in San Francisco committed an egregious constitutional lesson blunder, while disenfranchising her student voters and candidates.
The Everett school principal sent an email to parents on Oct. 14 saying the results would not be released because the candidates that were elected as a whole do not represents the diversity of the school.
Her email said she was thinking of ways to value the students who won, while increasing the diversity of the group. According to the news, there were no "English learners" among the winners. "That is concerning to me, because as principal, I want to make sure all voices are heard from all backgrounds," KTVU reported.
The right to vote in a free and fair election is the most basic civil right, on which depend many of the other rights of the American people. What better lesson could she teach the students?
Déjà vu
This was a déjà vu for me. In 2000, my 6th grade son ran for Student Body President of his K-8 Catholic school, populated mostly by inner city kids from disadvantaged homes. He and his opponent ran campaigns, just as the candidates at Everett Middle School did. They made campaign materials, displayed in the main school hallway. Both boys gave speeches to the student body on Election Day, after campaigning all week.
Students voted and the principal announced that my son won the election. However, because the principal didn't agree with the election results, hours later he announced that the boys would instead serve as "co-Presidents," in the name of "fairness."
Both of the boys were mortified. I was appalled. My son offered to step down. The other boy didn't want the position because he wasn't elected. I spoke to the principal about his intervention, and not because my son won, but because the principals' actions told the students that their votes did not matter. He just stared at me as if I was speaking Greek.
"Parent Bianca Gutierrez said the experience has made her son, a 7th grader, rethink his run for class representative. She said he is discouraged and does not want to be a part of the process anymore," KTVU reported. "That should have been something [discussed] prior to elections and prior to the campaigning process," Gutierrez said."
Not Diverse Enough
According to Principal Van Haren, Everett Middle School has a diverse student body: 80 percent of the school population are students of color, and 20 percent white. Interestingly, it was the white, Asian and mixed-race students who were the highest vote getters.
Principal Van Haren, a graduate of UC Berkeley, has taught at Teach for America and was the Principal at Cesar Chavez Academy Summer School, according to her Linkedin page.
She said the election results did not represent the entire study body. "That is concerning to me because as principal I want to make sure all voices are heard from all backgrounds," Van Haren said.
Van Haren said her vision for students included for them to be agents of change. She called a meeting with all the student candidates and administration on Wednesday to talk about the best way to move forward.
"We're not nullifying the election, we're not cancelling the election and we're not saying this didn't count," Van Haren said.
'Tis but thy name that is my enemy… A rose by any other name…
Principal Van Haren said she was considering adding new positions to the student council to be more equal. "I'm very hopeful this can be a learning experience and actually be something that embodied our vision which is to help students make positive change," she said.
"The whole school voted for those people, so it is not like people rigged the game," seventh-grader Sebastian Kaplan told KRON 4, who had run for class representative yet had no clue a week later if he won. "But in a way, now it is kinda being rigged."
Parent Bianca Gutierrez told KTVU that school officials should have decided, prior to the election and students' campaigns, how they wanted to ensure the election results would be more diverse. She said her son, who was running for class representative, doesn't want to be a part of student government anymore as the whole ordeal has been discouraging.
"If we can't teach them the right way it's supposed to work, then we are really just letting our kids down," Gutierrez said. "My heart goes out to the kids because they're confused still about the issue."
This principal needs to resign or be fired; she has failed Civics 1A, and failed her students. And while some say these are lessons in life kids must learn, if teachers and school officials won't uphold the rules, and the rule of law, even in a school election, I wonder what other rules are they bending? How many ways can they cheat, and in the meantime, teach children that it's okay to cheat as long as the agenda is met?