Sacramento Sheriff Scott Jones Announces Bid For Congress
Sacramento County Sheriff Scott Jones, one of the most outspoken critics of President Obama's lackadaisical immigration policy, announced Monday he is running for Congress as a Republican against Rep. Ami Bera, D-Elk Grove.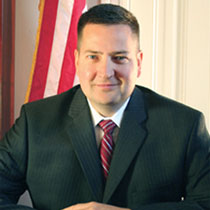 Jones was elected sheriff in 2010. While Jones said today's immigration and national security issues are a priority, his platform includes economic issues.
Following the deadly shootings and murders of two Sacramento Sheriff deputies last year, Sheriff Jones called on President Barack Obama for immediate immigration reform in a youtube video. "Two weeks ago today, I had the unfortunate distinction of burying one of my deputies," Jones said in the Nov. 2014 video. "His name was Danny Oliver, and he was shot a single time in the head during a casual encounter with a suspect. During the ensuing manhunt that day, another deputy from nearby Placer County was also shot and killed by him. In his rampage, he carjacked several people at gunpoint, he shot or shot at several other officers, and shot an innocent civilian in the face."
Jones continued: "You're the only singular person in this entire country that can advance or adopt meaningful immigration reform. By that very definition then, it is your singular failure alone as to why we do not yet have reform, why America continues to be at risk and new crimes and new victims are mounting each and every day in every single state."
President Obama and Immigration Policy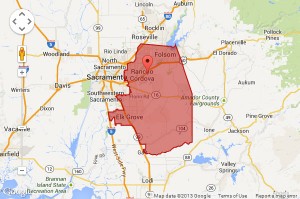 At Monday's announcement, Jones said he sent a personal plea to President Obama last year, but nothing changed. "With the tragic events that occurred last year in our department, immigration reform became a particular focus and passion of mine," Jones said. "The system is broken, there is no political courage or will in the executive branch to change it, and Americans in every state on every day are being victimized because of its failure. After making a direct appeal to the President for reform, I was launched into the national discussion on that issue. Just as becoming Sheriff allowed me a broader perspective for this county, that journey gave me a national perspective," said Jones.
"For any facet of immigration reform to work our borders must be secure," Jones said last year in the youtube video. "So what possible reason could there be for not starting on this immediately?"
"Our national leaders are driving us ever closer, ever faster to disaster," Jones warned Monday at his announcement.
"The federal government allows 50 states to implement policies on illegal immigrants because they don't have the courage to enforce it," Jones said. He added that the crisis with Syrian migrants coming to the U.S. has already made it to his doorstep in Sacramento, with 25 Syrians in the area. "Safety is the preeminent issue," he said. "I have no confidence that the Syrian refugees we are getting have been appropriately vetted… and no confidence of the federal government to vet them."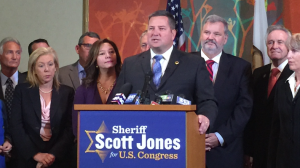 Sanctuary City Policy
Jones testified before Congress in July on sanctuary city policies, warning that because the federal government has no immigration plan, it's failure is putting public safety at risk, allowing local governments to impose their own rules in sanctuary cities.
At the same congressional hearing, Jim Steinle testified that Francisco Sanchez, an illegal immigrant who had been deported five times, murdered his daughter Kate Steinle. Sanchez was released by the city of San Francisco, a sanctuary city, despite a federal request to keep him in prison.
Bera, a three-term incumbent, lost his 2010 attempt at the 3rd Congressional District seat against Rep. Dan Lungren. But redistricting was kind to Bera who defeated Lungren two years later in the redrawn 7th Congressional District. Bera went on to retain his seat in the 2014 challenge by former Rep. Doug Ose. At Monday's announcement, Ose endorsed Jones and said he is a man of the people, qualified on issues of homeland security.
Those joining Jones behind the podium at his Monday announcement included former Sheriff John McGinnis, State Senator Jim Nielsen, Sacramento District Attorney Anne Marie Schubert, former Rep. Doug Ose, Sacramento County Supervisor Roberta McGlashan, Sheriff Jones' wife Christy, and many other local supporters.