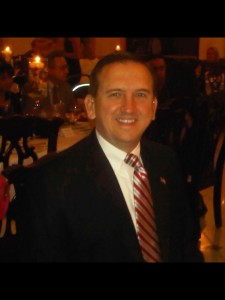 Twenty-Five years ago on June 26, 1990 in the previous century another Republican President George H.W. Bush signed landmark ADA, Americans with Disabilities Act, which paved the way by opening doors of opportunities for 40 million disabled Americans access to employment, transportation and other services. It was a glorious sunny day on the White House lawn the 41st President of the United States signed national landmark legislation with those looking over were wheelchair bounded, deaf, blind and other disabled leaders of our Republic.
We, as Americans, pride ourselves to ensure that each of us treated fairly regardless of our circumstances whom are loved by the man upstairs, God.
Our inspired leader Condoleeza Rice, Secretary of State (2005-2009) under President George Bush, once said "You might not be able to control your circumstances but you can control your response to your circumstances."
It's brings us to Donald Trump who mocked and ridiculed a disabled reporter for the New York Times at a campaign rally last week in South Carolina. Whatever the issue surrounding events on September 11, 2001 that Trump had beef with alleging that Muslims were cheering in the streets in New Jersey isn't the debate, but his flapping the hands in the air at a political rally causes pause, concern and more importantly caused shock and many were at gasped due to his actions.
Let's look at the past year who has Donald Trump offended: Women, Latinos, 2008 GOP Nominee for President, even his opponents in the wide GOP field of qualified candidates and now the disabled.
We must ask ourselves: Is this the man who we want to be a leader of the free world that our beloved Republic strives for to form "A More Perfect Union"?
As a deaf individual who has struggled through life faced enormous odds including discrimination and ridiculed from hearing peers will not and can not sit idle in silence let Trump continue his charade of insulting every American.
I am a proud American who happens to be a Republican by choice respected by many in the Republican Party even outside from my party tent: the Democrats. I have served on my local county GOP Committee elected by my Republican peers since 2002 and a California Republican Party Delegate since 2005.
My friend who is also happens to be Deaf and a Republican by choice remarked, "As a Father of two kids, Donald Trump can't be elected President, I can't tell my kids this is the way any role model should act."
We do not want a pity party because of our circumstances but implore our fellow Republicans to remind ourselves that Republican President Abraham Lincoln, who faced much stress in midst of civil war to save the union, signed a 1864 charter that paved the way for Gallaudet University in Washington, D.C. a higher education for the deaf.
We are a much better country with knowledge that tolerance has it limits from politicians who breaks the cardinal rule of making any disparaging remarks of our fellow citizens has no place in a free Republic.
It doesn't matter who I support for President, but I pray that my party find solace that Donald Trump's actions has no place in the Republican Party.
We know that Republican Party are proud of our past leaders such as Abraham Lincoln, Theodore Roosevelt and Ronald Reagan. We can't bring them back but carry them in our hearts through their inspiration that we continue to strive for equality for all Americans regardless of circumstances because that is what our country demands.
Donald Trump must be censured and rebuked for his actions without equivocation and delay.
Allen J. Wilson of Diamond Bar, California, California native, 20 year GOP Activist, Member of Republican Party of Los Angeles County Central Committee, California Republican Party Delegate.