In Obama's world, Catholic, Presbyterian and Jewish Americans with guns are more dangerous than heavily armed Islamic terrorists.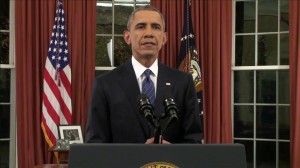 In his Oval Office speech to the nation Sunday evening, following the San Bernardino terrorist attacks, President Barack Obama offered no new plan, and no new strategy in the war against Islamic extremism. He was silent about Americans empowering themselves in the face of this latest attack.
The only assurances he gave were to our enemies.
Obama spent more time speaking about anti-Muslim bigotry than he did condemning Islamic terrorism.
Obama said gun control is "a matter of national security," because in his world, Catholic, Presbyterian and Jewish Americans with guns are more dangerous than armed Islamic terrorists.
Terrorist attacks, such as San Bernardino and the inevitable attacks in the future, are going to be used by this President and his administration to enact greater gun control measures.
What President Obama Should Have Said
"We are at war with radical Islamic terrorists."
"I am here to assure you, the American people, that we are working around the clock to address and eliminate this threat."
"I will direct the Department of Defense and our military to destroy ISIS."
"I will shut down the broken immigration system that is letting jihadists into our country." (Ted Cruz offered this policy change)
"We will update our visa waiver program to prevent dangerous extremists from entering the United States."
Terror in Suburbia
The terror attack in San Bernardino, which resulted in the murders of 14 people, and 17 injured, was carried out by Farook and Tashfeen Malik, a married couple living in California, who openly supported Islamic State terror groups.
In his speech to the nation from the Oval Office Sunday, Obama did not refer to the terrorists as "radical Islamic terrorists."
"ISIL is not gonna pose an existential threat to us," President Obama said. "They are a dangerous organization like Al-Qaeda was, but we have hardened our defenses."
Notice the use of the word "was," in reference to Al-Qaeda. Was? Al-Qaeda still "is."
The president admitted the threat from terrorism is real, but promised that America as a nation "will overcome it." No details from Obama on how we "will overcome it," and certainly no support in Americans arming themselves.
"Our primary responsibility is to keep American people safe from the real and evolving threat of radical Islamic terrorism. That will require the president to produce a comprehensive strategy to confront and defeat ISIS. The enemy is adapting and we must too," House Speaker Paul Ryan, R-Wis said following the President's speech.
"That's why what we heard tonight was so disappointing: no new plan, just a half-hearted attempt to defend and distract from a failing policy."
Former New York Governor George Pataki said Obama's speech was a "pathetic response to the worst attack on US since 9/11." He called Obama's statement "as believable as a hostage video."
Even the FBI finally admitted what everyone else in America knew – that the U.S. has just experienced a major terror attack.
However, Obama's attorney general Loretta Lynch said her 'greatest fear' in wake of the San Bernardino terrorist attacks was anti-Muslim rhetoric. She vowed to prosecute anyone found to be committing this atrocity.
List of Terror Attacks on U.S. Soil
In 2010 Obama said during a 9/11 event, "as Americans we are not — and never will be — at war with Islam." This statement was following eight terror attacks on U.S. soil since he took office — including the Fort Hood massacre:
Binghamton, New York — May, 2009
Taliban chief claims responsibility for N.Y. shooting massacre.
Bronx, New York — May, 2009
FBI arrest four in alleged plot to bomb Bronx synagogues, shoot down plane
Little Rock, Arkansas — June, 2009
Shooting at military recruiting center; 1 dead, 1 wounded; suspect is anti-military Muslim convert
New York and Colorado – September 21, 2009
Three men were arrested and charged in the ongoing terror probe centered around New York and Colorado. The three men are Najibullah Zazi, 24; his father Mohammed Wali Zazi, 53; and Ahmad Wais Afzali, 37. When authorities searched Zazi's car, they found a laptop computer that contained "a jpeg image of nine-pages of handwritten notes. Zazi had connections to high levels of al Qaeda.
Dallas, Texas — September 22, 2009
A 19-year-old Jordanian man, Hosam Maher Husein Smadi, was arrested on charges he intended to bomb a downtown Dallas skyscraper. Smadi placed what he believed to be a car bomb outside the 60-story Fountain Place office tower, according to a statement from the U.S. attorney's office in Dallas. The decoy device was given to him by an undercover FBI agent.
Fort Hood, Texas — November, 2009
Fort Hood massacre: Major Nidal Hasan opened fire and killed 13 service men and women and wounded over 40 others. He has been linked to al-Qaeda. In a document dated Oct. 18, 2012 obtained by Fox News, Hasan wrote: "I, Nidal Malik Hasan, am compelled to renounce any oaths of allegiances that require me to support/defend man made constitution (like the constitution of the United States) over the commandments mandated in Islam." He was sentenced to death.
Detroit, Michigan – December, 2009
Northwest 253 passengers tell of thwarted Detroit terror attack.
Dec. 4, 2009 – A Muslim graduate student from Saudi Arabia, Abdulsalam S. al-Zahrani, stabbed his non-Muslim Islamic studies professor, Richard T. Antoun, to death to avenge "persecuted" Muslims. One of his roommates said, "He was all the time shouting in Arabic, shouting threats, insulting his country for no reason."
April 14, 2010 – A Muslim convert, James A. Larry, 33, became angry that his family would not convert to Islam and shot his mother, pregnant wife, infant son and two nieces in Marquette Park, Illinois. "He was upset at his wife and their family — he felt disrespected that they would not join his religion," Assistant State's Attorney Jim McKay said. Larry also shot his 13-year-old nephew in the face, but the boy survived. When the man was arrested, he told officers Allah told him to kill his family, according to court records. According to a police report, he said, "I wish I had more bullets. I wish I had more bullets."
May, 1st, 2010 United States New York City, New York
United States New York's Times Square was evacuated after the discovery of a car bomb.
In a major speech on May 23, 2013, Obama said, "there have been no large-scale attacks on the United States" since the start of his presidency.  He made that statement following the Fort Hood attack and the April 2013 terror attack, when Chechen brothers Dzhokhar Tsarnaev and Tamerlan Tsarnaev exploded two pressure cooker bombs during the Boston Marathon, killing three people, and injuring an estimated 264 others, 17 of which had limbs blown off.
The continued list of Islamic terror attacks is long:
April 30, 2011 – Rahim Abdul Alfetlawi, 46, shot his step-daughter in the head at point-blank range in Warren, Michigan, after she refused to strictly adhere to Muslim customs. The family claimed the motive was not religion.
Sept. 11, 2011 – Three Jewish men are discovered in Waltham, Massachusetts, with their throats slit from ear to ear and nearly decapitated. Authorities believed the murders were not random, and thousands of dollars in cash and marijuana were left at the scene. According to reports, authorities believe Boston Marathon bombers Tamerlan Tsarnaev and his younger brother, both Muslims, may have been responsible for the triple homicide.
Jan. 15, 2012 – A Jordanian Muslim man, Ali Mahwood-Awad Irsan, 57, gunned down Iranian medical student, Gelareh Bagherzadeh, a friend of his daughter and a Christian convert who widely denounced Islam. He later killed his Christian son-in-law after his daughter married him without permission. Assistant Harris County District Attorney Tammy Thomas told a district judge, "He said, 'I killed that b–ch, and you're next. No one insults my honor as a Muslim and gets away with it.'"
 Feb. 7, 2013 – Yusuf Ibrahim, 28, shot two Coptic Christians to death and beheaded them in Buena Vista, New Jersey. He also removed their hands before burying their bodies in the backyard of an abandoned house.
March 31, 2013 – Reshad Riddle walked into an Ashtabula, Ohio, church and fatally shot his father after an Easter service. After the shooting, witnesses say, he walked through the church holding the gun and shouted that the slaughter was "the will of Allah. This is the will of God."
April 15, 2013 – Muslim Chechen brothers Dzhokhar Tsarnaev and Tamerlan Tsarnaev detonate two pressure cooker bombs during the Boston Marathon, killing three and injuring 264 others.
Aug. 4, 2013 – A Muslim convert, Daymond Agnew, 34, went to an Ace Hardware store on a "mission from Allah to help people" before he fatally stabbed employee Daniel Joseph Stone 17 times.
March 6, 2014 – Registered sex offender James Cosby, 46, is accused of bludgeoning his lesbian daughter to death and shooting her lover in Port Bolivar, Texas. Police believe he then dumped the bodies near a ferry gate. In his bedroom, Cosby had the Quran open to a page that says homosexuality is a sin, family advocate Quanell X told KHOU-TV.
April 27, 2014 – A 30-year-old Muslim man, Ali Muhammad Brown, is accused of shooting to death two men in Seattle and a man in New Jersey. According to local reports, he told police the killings were "vengeance" for U.S. actions in the Mideast. According to court documents, he said they were "just kills" and that he was "just doing my small part" as a self-styled jihadist.
Sept. 25, 2014 – Alton Nolen is accused of beheading a woman in Moore, Oklahoma. Co-workers reported that Nolen had been trying to convert them to Islam. Nolen reportedly used "some Arabic terms" during his attack and had an interest in beheadings. Nolen told a judge, "I'm Muslim. My question is, do you have any Muslims that can represent me as a Muslim?"
May 3, 2015 – In Garland, Texas, Pamela Geller, along with her group the American Freedom Defense Initiative, hosted a "Draw Muhammad" event. Elton Simpson and Nadir Soofi of Phoenix responded to a call to "avenge the prophet" and traveled to Garland, where they were shot and killed by a security guard after opening fire in an apparent attempt to get into the building. The guard was wounded in the attack. Islamic radicals have since called for Geller's head, and vow to kill anyone who "blasphemes" Muhammad.
July 16, 2015 – Four U.S. Marines have been shot dead in an attack, reportedly by a lone Islamic gunman, on U.S. Navy facilities in Chattanooga, Tennessee. Chattanooga Mayor Andy Berke said five people died in all, including the gunman. Two law enforcement sources told CBS News that the shooting suspect was identified as Muhammad Youssef Abdulazeez, 24. Abdulazeez was born in Kuwait and emigrated to the U.S. where he reportedly became a naturalized U.S. citizen.
A friend told me "I am not sure if anyone felt more safe after his arrogant paternal lecture, finger waving, and an 'I got this handled.'  One can never fix the problem unless we own up where we are weak."
Obama's speech was a lost moment.  It again separated the country instead of bringing us together, and further encouraged the hate and separateness that he has so successfully implemented in his term.
Credit to International Institute for Counter-Terrorism http://www.ict.org.il, Daily Caller, World Net Daily,