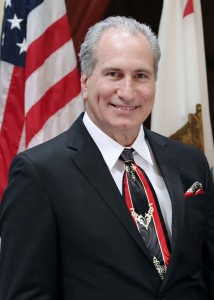 The State of California has had windfall revenues for the past three years. At the same time, the State has shortchanged the developmentally disadvantaged and under-funded Medi-Cal so much that most doctors and other health care professionals won't accept it.
So what is the legislature doing with the billions of dollars of surpluses currently flowing into Sacramento?
They have given raises to public employees. They have also ignored advice from the non-partisan Legislative Analyst Office to eliminate thousands of public employees that are not needed, a move that would save taxpayers hundreds of millions of dollars!
A lot of money was also been shifted to Governor's Choo Choo train to nowhere.
I opposed all three of these issues.
A lot of the current surplus revenue has come from Proposition 30 taxes passed by initiative which raised your state income taxes and sales tax.
This week our legislature, which has an addiction to spending, passed another tax on hard working Californians that, despite the flowery rhetoric, was simply unnecessary.
The bill was falsely marketed as a "tax to support" if you advocate for the developmentally disadvantaged.
Those two issues should never have been linked.
The needs of the DD community have fallen on deaf ears for years in Sacramento. In last year's budget, I advocated for $300 million to restore funding for the DD community. That amounts to about 30 percent of the unanticipated revenue pouring into our state's coffers each month.
However, the Democrats control the budget, and they, and they alone, continued to ignore my plea to restore necessary funding from existing revenue to care for these special people. In fact, the Democrats even refused to give my bill to divert future surplus revenues to the DD community a hearing in a legislative committee.
Rather than spend money we already have on programs that really help people, it seems clear that the Democrats in charge would rather raise taxes on Californians who already pay among the highest state taxes in our nation.
This newly expanded tax will not hurt the wealthy or those on welfare. It hurts the majority of middle and working class people with a resultant higher tax on their health insurance premiums.
Americans were promised that Obamacare would reduce premiums, but they've actually gone up. We were promised we could keep our doctors, but more often than not – we can't. We were promised we could keep our insurance plans with the same level of coverage, but guess what? That didn't seem to be true.
Now, the State of California has passed a special tax on your health plans. Any common sense person understands that this tax will be passed on to our hard working families. There is nothing in this tax legislation that ensures insurance companies will not increase your premiums.
This election year will be a uniquely different one. People are angry at the political insiders on both sides of the aisle, especially those who do what's best for the party or themselves.
I will continue my advocacy for all my constituents. I'm proud to have received high marks from the National Federation of Independent Business and the Howard Jarvis Taxpayers Association as well as other tax and business groups, but I'm most proud to stand in defense of the hard working taxpayers of California and the Developmentally Disabled community.
This year, as election time comes around, I urge you to examine those incumbents running for office that claim to be pro-taxpayer and are pro-business when, in fact, it's all rhetoric and lies.
Investigate before you vote to ensure you're not getting a fox in a sheep's clothing.
Jeff Stone represents California's 28th Senate District. The district, which is entirely in Riverside County, stretches from the vineyards of the Temecula Valley to the Colorado River and includes the cities of Blythe, Canyon Lake, Cathedral City, Coachella, Desert Hot Springs, Indian Wells, Indio, Lake Elsinore, La Quinta, Murrieta, Temecula, Palm Springs, Rancho Mirage and Wildomar. For more information visit: www.Senate.ca.gov/Stone or on Facebook at www.facebook.com/SenatorJeffStone.