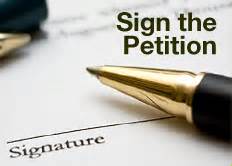 Merriam Webster's Dictionary defines a "price war" as, "commercial competition characterized by the repeated cutting of prices below those of competitors."
So it would be fair to say that right now, in California, there is a reverse-price war taking place in the narrow niche of hiring people to collect signatures on initiative petition forms.  There is a deadline looming in just a few weeks to turn in signatures in order for there to be time for them to be counted and verified by local County Registrars of Voters and still make it onto the ballot this November.  And there are a limited number of professional signature gatherers available, as well as a limit to the number of really excellent spots in which to gather signatures — that means that the demand for signatures overall exceeds the available of signatures that can be obtained in a short window of time.   And so because of it the prices being paid by proponents of ballot measures is getting higher and higher.
Without getting into a bunch of the raw numbers that might interest a wonk, but not the lay person — we are seeing prices per signature increase by as much as 300%!  Stunning.  Paying top dollar right now are Charles Munger's Legislative Transparency Measure (which would require final legislation to be in print 72 hours before a vote, and allow for video recording of all legislative proceedings) and the union-sponsored measure to extend Prop. 30's income taxes.  But there are a dozen other measures out there ranging from decriminalization of marijuana, to gutting prison sentences, to a pair of measures on the death penalty — one to end it, another to actually make it work.
What I found to be of the most interest — however — and most newsworthy, was what I discovered as I was calling and e-mailing around to folks who know the signature gathering world — concerning the Environmental Fee Initiative effort seeking to qualify for November.
A super-quick reminder on this measure. In 2014 the California Grocers Association and their employee union played pole-position on SB 270, legislation to ban plastic grocery bags, and then mandate a ten-cent fee for all paper and thicker plastic "reusable" bags — with the grocers keeping the fee.  The grocers stood to make vast sums of money from this measure.  But the American Progressive Bag Alliance went out and gathered over 800,000 signatures to refer the bill to the voters, thus the ban was put on hold — and this November voters will decide whether to enact or repeal it.  In the meantime, however, the APBA is on the streets now with a companion ballot measure.  This other measure would actually require that the anticipated half a billion dollars generated (tax free) annually by the mandated bag tax be instead diverted to legitimate environmental purposes, rather than to grocer profits.
Well, guess what I found out in talking to signature gathering gurus?  It turns out the Environmental Fee issue is very popular in certain parts of the state — so much so that many signature gatherers are using this measure to attract people to their tables and such.  I got a hold of Lee Albright of National Petition Management who told me, "We're finding the Environmental Fee initiative is quite popular.  Despite paying just a $2 bounty we are seeing strong production and expect to make the November ballot."
Talk about a crisis for the grocers. What once was a sweet new profit stream at the expense of California consumers will now be a massive new overhead cost for the grocers due to the higher cost of paper and thicker plastic bags and inability to provide the inexpensive standard plastic bags. If voters uphold SB 270 and pass the Environmental Fee measure (which I hear polls ridiculously high), it will be the ultimate political (and financial) backfire for the grocers. But in the end it will likely be California consumers who pay the price – as grocers pass on hundreds of millions of new overhead into the price of our groceries.
Sigh.