"California is definitely back," Governor Jerry Brown boasted in 2014. Brown then proclaimed the state a "job creation engine," proving he was still living in the 1960's. However, Brown has shown little stomach for sensible tax and regulatory cuts, and instead pays lip service to the media about how fiscally prudent he is…. everything he touches turns Brown.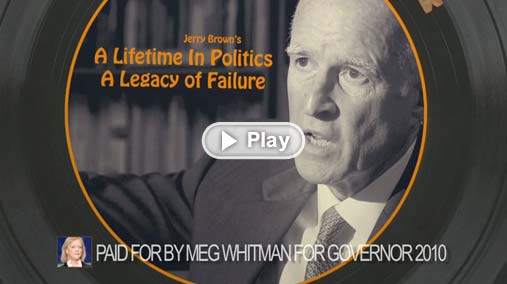 For a state $130 Billion upside down in budget debt, and another $750 Billion of long term unfunded public employee pension debt, the estrangement between what the Democrats in charge say and do, and what Californians know and live daily, continues to grow.
Things are not rosy in California, despite what Jerry Brown and the liberal propagandist media tells you.
Dan Walters, one of the state's few journalistic realists, reported this week that California's unemployment insurance system is stuck in a deep hole, with the state paying out about $5.5 billion a year in jobless benefits. I have been reporting for years about the $10 billion the State borrowed from the federal government to cover the payments. "California owes the federal government $10 billion, money that was borrowed to keep joblessness benefits coming to the state's legions of unemployed; and that it owes $313 million to the state disability insurance trust fund after taking the money to pay for the debt service on the federal loans," I wrote back in 2012.
While Silicon Valley may be awash in jobs and profit, the rest of the state is not. Jerry Brown has been doing his part to help facilitate the inevitable collapse.
Jerry's High Speed Train project, doomed from the beginning as nothing more than a cash-cow for cronies, has been besieged with problems from the beginning, including many legal troubles, is his Jonah. But he stubbornly refuses to give it up, wasting millions of taxpayers funds with nothing to show for it. And his misguided Delta Tunnels project isn't any better. Both projects are bold reminders that todays Democrats are incompetent leaders, and even worse project managers.
Destroy the middle class in America, and Socialism takes over – economic growth is killed, people turn on each other, free speech is attacked, the government grows and becomes more tyrannical, and individuals are not treated equally under the law. Hmm, sounds familiar, doesn't it?
And, subsidies grow as it becomes more "profitable" not to work.
Since 2014, we've been warning that electricity prices will double, having already risen nearly 40 percent since President Obama took office. The average family electricity bill is anticipated to be $600 per month, by the end of Obama's term, the Los Angeles Times reported in 2014.
Is this "recovery?" Is this what being "back" feels like?
No. The magical California job creation engine has shifted from a healthy manufacturing economy, to a service economy – from high-paying jobs with benefits and growth potential, to low-wage, nowhere minimum wage jobs.
Rather than creating policies to make California a healthy business state once again to incentivize businesses, Jerry Brown and California Democrats have instead created a permanent poverty class, by only focusing on low-paying jobs, treating the symptoms instead of curing the disease. Every increase in the state's minimum wage serves only to boost job creation in Arizona, Texas and Nevada.
Add California regulations and highest in the nation taxes into the mix, and it's goodbye 'California Dreamin' and hello Pine Bluff, Arkansas, Monroe, Louisiana, or Albany, Georgia, the poorest cities in America, according to 24/7 Wall Street.
Environmentalists Kill California's Last Nuclear Power Plant
The recent announcement from PG&E that it was closing Diablo Canyon Nuclear Power Plant ironically came on the same day there were rolling blackouts in Los Angeles amidst sweltering temperatures. PG&E said they will replace the loss of the cheap, clean nuclear energy with renewable energy.
Yet in 2015, all wind energy in California only produced 12 billion kWhs, scientist James Conca recently explained to me. "The two Diablo Canyon nuclear reactors produce 17 billion kWhs every year, and will for the next 20 years if not prematurely closed for political reasons."
The closure will drive direct increases in natural gas use, which will be further increased due to the need for backup and balancing the volatile wind and solar output. California cannot rely on renewable energy without natural gas.
This is certainly another way to destroy the middle class.
Liberals love their electric cars, but don't ever acknowledge where the power comes from to charge the batteries – Coal. In fact, 30 percent of our energy comes from coal — electricity is not naturally occurring in nature.
It's ironic how much liberals hate Big Oil, yet their Birkenstocks, bicycle helmets, and inhalers are made possible by oil and gas.
"Some of the renewable-energy projects being built in California are so expensive that 'people are going to get rate shock,' according to Joe Como, of the Division of Ratepayer Advocates, the consumer advocacy arm of the California Public Utility Commission," the Manhattan Institute reported. "'In the long run, the approval of overpriced renewable energy will harm 'the states' efforts to achieve greenhouse gas reductions.'"
While California voters have expressed outrage at the increasing number of public employees, plush salaries, and lavish benefits, they are largely unaware of the implications of the state's large debt.
State leaders could have used the recession as a starting point to implement measures to pay down the debt, and end the abusive budgeting tricks games. Instead, California has an ongoing exodus of businesses and wealthy individuals, coupled with a growing illegal immigrant class – a recipe for disaster.
Californians, gird your loins in anticipation of the tax onslaught.
Thanks Jerry.