California politicians and their union bosses lack all shame in their self-enrichment at public expense. Their outrageous conduct has ravaged the once-prosperous Golden State, consigning taxpayers to $1.5 trillion in debt and another $1 trillion in pension debt. Yet the voting public seems oblivious.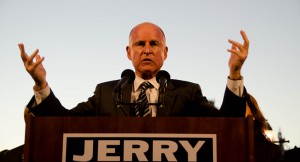 The rest of America has watched without much empathy as California's politicians deal death-blow after death-blow to the once Golden State through insane, hypocritical and often unconstitutional legislation.
California is now the leader of the nations' high taxes, lousy state services, crumbling infrastructure, higher-than-average unemployment, the largest number of illegal aliens, the highest poverty population in the country, and is home to one-third of the nations' welfare cases – with only 12 percent of the country's population.
Mostly Spanish-speaking immigrants, lacking a high school diploma, who do not assimilate, have crossed into California in such high numbers, the result is a vast permanent poverty class. The fallout is overloaded jails and prisons, public schools with some of the worse test scores in the nation, and a drain on social services.
Nearly 50 percent of California's primary school students do not speak English as their first language.
The problem is made worse by Sanctuary Cities – California has 35 Sanctuary Cities making the state a virtual Sanctuary State for illegal aliens. American-born "Anchor Babies" of illegal aliens receive welfare benefits, dramatically impacting California's Medi-Cal and other social services costs.
The deaf, elitist Democrat-ruled California legislature continues passing thousands of ridiculous, dangerous and indulgent laws instead of dealing with the real crises.
And now they get voters to help pass some of the most inexplicable, contradictory laws through the ballot initiative process.
Democrat Death-Blow Laws
Lest we forget some of the most egregious laws passed by the Legislature and signed into law by Gov. Jerry Brown in recent years in California, here are a few:
California's law allowing driver's licenses for illegal immigrants;
Non-Doctors Can Administer First-Trimester Abortions;
Children Can Have More Than Two Parents of Any Gender Combination;
40 gun control bills proposed each year: Democrats even regulated the appearance of toy guns because some look "scary." In 2011, California Democrats passed a law exempting themselves from the state's gun control laws. California lawmakers believe they deserve to own guns but the taxpayers and honest citizens do not. The California Legislature also exempted itself from red-light cameras.
California provides condoms to prison inmates at taxpayer expense, even though sex between prison inmates is illegal and condoms are technically contraband. One Democrat lawmaker, Sen. Isadore Hall, even keeps a bowl of condoms on the reception desk of his Capitol Senate office.
Gov. Brown signed legislation that made the state's minimum wage at $15 per hour, the nation's highest.
California High school seniors no longer are required to take a long-standing exit exam to graduate and receive a diploma.
Californians also pay the highest gasoline taxes in the nation, which is supposed to go to road/highway infrastructure, yet the state's roads, highways, and bridges rate among the worst in the country.
Crazifornia Election 2016
Passed by a Democratic supermajority in both houses of the Legislature, a 2012 ballot initiative was placed on the ballot at the direction of Gov. Jerry Brown, which after passed by voters, approved a large income tax hike on the state's top earners, as well as a significant sales-tax increase, giving California the highest aggregate tax rates in the nation. Proponents of the supposedly "temporary" tax, spent millions to make sure the initiative passed. This occurred at the same time President Barack Obama allowed the Bush Tax Cuts (federal income-tax and capital-gains-tax cuts) to expire. Double whammy.
California is so reliant on tax revenue, about half of the state's revenue comes from income taxes—and half of that comes from only 150,000 top earners.
In 2016, another measure was passed by the Legislature, at the direction of Gov. Brown, to extend the temporary tax another 12 years. Voters again approved this tax on California's wealthiest top earners.
Also on the November 2016 ballot was a measure to impose a $2.00 tax-per-pack on cigarettes, supposedly to punish evil tobacco and deter smoking. However, on the same ballot was a measure to allow recreational marijuana use.
Smoking tobacco is bad, but Smoking pot is good in California. Go figure.
These same voters voted down a measure to require the state to get voter approval on public projects requiring bonds over $2 billion.
And now, thanks to a statewide ballot initiative, nowhere in California can shoppers get a plastic or paper bag to carry out their grocery purchases without paying .10 – .25 cents for it. But welfare recipients get their shopping bags for free. Apparently when welfare recipients use paper or plastic, it isn't bad for the environment.
Voters have passed another measure allowing Gov. Brown to let more felons out of prison. Proposition 57 will allow another 25,000 felons from state prison before they complete their sentences. The 2014 Prop. 47 downgraded serious felonies to misdemeanor status, allowing rapists, human traffickers and child molesters out of prison early, and decriminalized theft to only a citation. This was done on the heels of Gov. Brown's Assembly Bill 109, "Prison Realignment" scheme, which downgraded many felons to county jails.
Voters in California faced 430 local initiatives seeking approval for tax increases, expansions or extensions on the Nov. 8, ballot.
Statewide, 15 of the 22 school parcel tax proposals on the ballot were approved and seven failed.
County-wide, six of the 13 transportation sales tax measures on the ballot in California were approved, and seven failed.
"The cost of these bonds will be staggering, particularly to property owners in the San Juan school district, where a family living in a home with a $350,000 assessed value will get hammered with a $210 increase in their annual property taxes for the next 30 years," explained Craig Powell, President of Sacramento think tank and government watchdog, Eye on Sacramento.  "A comparable Elk Grove family will pay $130 more per year.  It's unclear to me that the voters who approved these bonds had any clue as to the magnitude of the property tax increases they were imposing on themselves."
Its evident voters have little understanding of the economic impact of bonds, given the wide approval of school bond measures across the state. And politicians know this. As Powell explained, "the jumbo $750 million San Juan bond measure is for a school district that will be compelled to start closing schools by the bucketful due to its rapidly declining enrollment.  Elk Grove has never sought to issue bonds before, relying until now on state funding and developer fees to build out its system.  It chose as its bond debut a blockbuster $1/2 billion bond measure."