The "No More Violence" school protest ends with a cop beating and a smashed police car.
More than 600 student protestors from five Stockton high schools took to the streets for a "No More Violence" anti-gun rally Friday, which turned violent when the brainiacs attacked a cop, stole his baton, stomped on his midsection, and smashed several police cars. They also threw rocks through car windows of innocent passersby, and hundreds of the students ran through a nearby mall like a herd of cattle. At least five students were arrested for the violence, attacks, and damage to six police cars.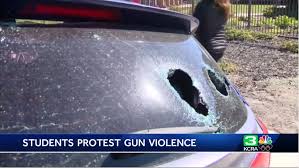 What nice kids… but not so bright kids.
Stockton is one of the crime Capitols in the country, and has a recent bizarre local political history, with former Mayor Anthony Silva arrested for embezzlement, among other odd charges.
KCRA Channel 3 reported:
Students at Stagg, Edison, Chavez, Lincoln and Village Oak high schools were walking along streets, creating traffic problems in the area as streets were blocked off. Stockton police said some students threw rocks and damaged both police and citizen vehicles. Five arrests were made, including charges of battery on an officer, resisting arrest, taking an officer's baton and vandalizing vehicles, including patrol vehicles, Stockton police said.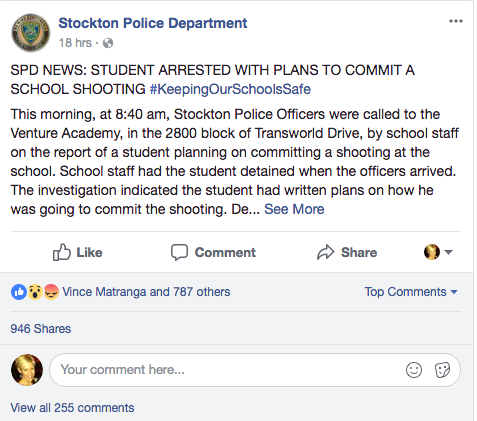 In another incident Monday, the Stockton Police Department reported on Facebook that a 14-year-old boy had written detailed plans on how he planned to commit a shooting at his school. Police arrested the student and booked him into San Joaquin County Juvenile Hall on charges of making terrorist threats. 
Stockton is a violent city full of unemployment, crime, drugs, gangs, violence, and a depressed economy. And now Stockton's Mayor wants to provide a universal basic income of $500 per month to the city's poorest residents, in a socialism 101 experiment.
In 2016-2017, homicides increased in Stockton. Nonfatal shootings rose in 2016. Aggravated assaults increased 8.1 percent.
Remember, Stockton, CA, filed for municipal bankruptcy in 2013 after what many called a "15-year spending spree," after gifting firefighters and city retirees full healthcare in retirement, and providing generous pension deals, as well as taking on huge loans for arenas and marinas.
The Stockton bankruptcy resulted in a diminished police force with a loss of 400 police officers over four years to nearby cities. But Stockton did it to itself. And crime is back up, and violent crimes are even worse.
Contrast Stockton with Kennesaw, Georgia, Nelson, Georgia, Nucla, Colorado, Gun Barrel City, Texas, and Virgin, Utah – five cities which passed "mandatory" gun ownership ordinances. Kennesaw, Georgia is the most famous city to do this. Kennesaw passed its ordinance in 1982. Since then there is very low crime in the city of 30,000, and the only murder was committed with a knife. Who wants to break into a home knowing the owners are packing heat?
Stockton is listed as one of the most violent cities in the country in 2017 (up one from 2015), and only one ranking behind Oakland, by the annual ranking website, 24/7 Wall Street:
Ranked at 11 for 2017 — Stockton, California
> Violent crime rate: 1,421 per 100,000
> 2016 murders: 49
> Poverty rate: 25.3%
> Unemployment rate: 8.7%
Violent crime includes murder, rape, robbery, burglary, and aggravated assault. Aggravated assault accounts for the majority of violent incidents in most cities, and Stockton is no exception. Of the city's roughly 4,400 violent crimes reported in 2016, approximately 3,000 were cases of aggravated assault. Adjusting for population, there were 979 cases of aggravated assault per 100,000 Stockton residents in 2016, the seventh highest rate in the country and almost four times the national rate of 249 aggravated assaults per 100,000 people.
While the relationship is complex, cities with high unemployment often have a higher incidence of crime. Stockton's 2016 annual unemployment rate is 8.7%, far higher than the 4.9% national unemployment rate.
Ranked at 12 for 2016 — Stockton, California
> Violent crimes per 100,000: 1,352.0
> 2015 murders: 49
> Poverty rate: 25.8%
> Unemployment rate: 9.6%
While the relationship is not always clear cut, those who have access to a decent-paying job appear to be less likely to engage in either violent or nonviolent crime. It may also be the case that violent crime can, for a number of reasons, stunt a regional economy and the earning potential of the area's residents. At the very least, both unemployment and poverty are very high in the majority of high crime cities. Stockton, California exhibits similar trends. The city, which has the 12th-highest violent crime rate of major U.S. cities, also had the fifth highest annual unemployment rate and, and more than one in every four residents live in poverty.
"To reverse crime spikes and support safe communities, resources are needed to support modern policing methods," 24/7 Wall Street said. "Child and family welfare, mental health considerations, substance abuse, education, employment, housing, and more affect the problems that lead to violence in a community." — these problems are all prevalent in Stockton, and now we have kids beating on cops in "anti-violence" rallies.
California isn't doing so well these days. The latest study by U.S. News editors say regardless of California's amenities, they all add up "to nothing short of the 50th state to rank as the worst "quality of life" in the United States." And Stockton and it's crime figures into this calculation.
The annual Best States ranking was part of a study that scored all 50 states across eight categories: health care, education, economy, opportunity, infrastructure, crime and corrections, fiscal stability, and quality of life. So despite California's stunning weather, beautiful landscapes of mountain ranges, beaches, fertile valleys, rivers and deltas, our quality of life sucks thanks to our politics, dominated by Democrats and Socialistic policies designed to destabilize the entire state.
And these moronic students from Stockton just epitomize everything that's wrong with California.