On the eve of the United Nations climate summit summit this week, Gov. Jerry Brown signed six bills to make California the biggest electric vehicle market in the nation. Brown's goal is to have  1.5 million zero-emission cars on the road by 2025.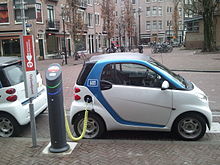 The new laws expand the number of clean air vehicles with access to carpool and toll lanes from 55,000 to 70,000, regardless of how many occupants ride in the vehicles.
However, what Brown did not focus on are the electric car subsidies being extended to low income residents, under the administration of the Air Resources Board. Critics of the increasingly subsidized green political movement say this is simply more taxpayer funded welfare.
According to the Green Auto Blog, Those considered "low-income" residents can get a minimum of $2,500 for cashing in a clunker for a zero emission vehicle. "If, on the other hand, you're a low-income resident getting rid of a car to shift to the car-free/carsharing lifestyle, then you will get a minimum of $1,500. All others get, at most, $1,000."
Transportation Justice
The environmental movement has been waging a war for decades to achieve "environmental justice." Implemented by the Clinton administration in 1994 through an executive order, every federal agency was directed to "make achieving environmental justice part of its mission."
It appears the year 2014 is the year the Legislature helps poor people buy electric cars. This is known as "transportation justice."
Some transportation justice groups sincerely try to help the poor through more reasonable measures, such as trying to restore once-effective bus systems, rather than ineffective and expensive light rail.  The Legislature and California Air Resources Board continues to push instead for new electric cars for the low income.
Life in a Green Bubble
The Legislature and Governor proved once again they live in an unsustainable bubble with the passage of these bills. The average price for a new electric car in 2013 in the U.S. was $32,769, according to Kelley Blue Book.
The median income for a two-person California family is $31,693; the median income for a four-person California family is $46,607.
Purchasing an electric car, even with generous taxpayer-funded subsidies, probably isn't in the cards for more working Californians, much less, those who are low-income.
The Bills
SB 359 by state Sen. Ellen Corbett, D-San Leandro approved a loan for $30 million to help finance low-income residents to transition away from older, higher-polluting vehicles. The bill also supports two state incentive programs for electric-drive cars, trucks and buses.
SB 459 is by state Sen. Fran Pavley, D-Aguora Hills. It requires the state to provide a voucher for a new alternative-fuel vehicle. The voucher would be given to low-income car owners who could not pass a smog test on their existing vehicle.
SB 1275 by Sen. Kevin de León, D-Los Angeles, establishes the Charge Ahead California Initiative to provide financial incentives that increase the availability of zero-emission vehicles, and near-zero-emission vehicles in disadvantaged and low-and-moderate-income communities.
SB 1275 also supports new carsharing programs, new Electric Vehicle charging stations and, "provides access to financing options that would lower combined monthly car payments and fuel costs."
According to the bill analysis, the Enhanced Fleet Modernization Program established by AB 118 in 2007 has not "attracted substantial consumer participation." Rebates have been issued to promote the very cleanest new vehicles paid for through smog abatement fees. In response, Pavley's bill will hand out subsidies to remove "high polluting vehicles" from the road.
AB 8 by Assemblyman Henry Perea, D-Fresno, extended AB 118 until 2024. AB 118, by Assemblyman Fabian Nunez, D-Los Angeles, AB 118 is the California Alternative and Renewable Fuel, Vehicle Technology, Clean Air, and Carbon Reduction Act of 2007. It established the Air Quality Improvement Program, which is administered by CARB, directed by Mary Nichols, who said at a hearing in 2013, "transportation is responsible for climate change and air quality problems. In order to meet California's climate change objectives, emissions need to be reduced 'on roads and water.'"
For the current fiscal year, the program is expected to invest approximately $90 million to encourage the development and use of new technologies, and alternative and renewable fuels, to help the state meet its climate change goals. It is funded through vehicle and boat registration fees, as well as smog check and license plate fees.
Justifying Subsidies, Without Math
This is the first program created by the CARB which specifically targets low-income families who cannot afford an electric car.
"Most plug-in electric cars cost more than the used cars that lower-income families and communities — the people who could most benefit from EV fuel savings, in other words — can typically afford. It doesn't have to be that way, however, and California's Air Resource Board is working to help low-income families get access to EVs by issuing vouchers starting at $2500," PlanetSave.com said.
"With net operating costs approaching zero for cars like Nissan's Leaf in some cases, electric car ownership could go a long way towards enabling low-income wage earners to get better education, as well as better access to healthy food and healthcare," said Gas2, a car blog. "These low-income families would also be able to get to a number of private-sector jobs that, without an EV, would be off-limits to them. That means they'd quickly pay back CARB's $2500 voucher through increased income, payroll, and sales taxes."
The numbers
According to the governor's working group on zero-emission vehicles, the roadmap toward 1.5 million zero-emission vehicles on California roadways by 2025, current spending will include:
* $44.5 million to help Californian buy low emissions vehicles such as plug-in hybrids and zero-emission cars and light trucks, with rebates of up to $2,500 as long as the funds last.
* The state's hybrid and zero-emission truck and bus voucher incentive was increased from $5 million to $15 million. The vouchers of up to $55,000 are for fleet purchases of cleaner trucks and buses.
* The Truck Loan Assistance Program received an additional $18 million to help small-business fleet owners finance truck upgrades required by law.