Hillary "Scandal" Clinton's latest dust up with the law, no matter how egregious or illegal, will not cause her mind-numbingly stupid followers to disavow her. If she were a Republican, she'd be tossed to the curb like a snotty Kleenex.
We normal folks, the real people who work for a living and pay our own bills, keep asking ourselves "what's it going to take?" Which scandal will take Hillary and Bill down? When will Barack Obama and his Executive Pen have gone too far? And what America-loathing racist statement will finally earn Michelle Obama the middle finger from Democrats?
These political freeloaders, and the many more like them, hide behind a façade of "public service." However, they really are elitist Marxists, enjoying a lifestyle paid for by the public.
Badly Behaving Politicians
This sick fascination with badly behaving politicians is not limited to the Clintons and Obamas. Remember William Jefferson, the Louisiana congressman under investigation for bribery when the FBI found $90,000 in cash stashed in his freezer? He was reelected.
How about former New York Attorney General and Governor Eliot Spitzer and his liaisons with prostitutes over a period of many years? The FBI believes Spitzer paid up to $80,000 for prostitutes. After his fall from grace, Spitzer ran for Controller. Fortunately he lost.
There's Anthony Weiner… no comment.
Presidential hopeful John Edwards admitted he cheated on his cancer-stricken wife, Elizabeth, with a former campaign staffer during his second presidential campaign. He was later indicted on federal campaign finance charges.
Former Chairman of the Senate Banking Committee Chris Dodd received cushy loans from Countrywide which may have saved him up to $70,000… among other financial scandals. Dodd is now Chairman of the Motion Pictures Association of America.
Congressman Charlie Rangel, resigned Chairman of the House Ways and Means Committee, failed to report rental income from vacation property in the Dominican Republic as well as hundreds of thousands of dollars in additional income and assets on his financial disclosure statements.
Congresswoman Maxine Waters was brought up on House ethics charges after personally lobbying for a bailout of OneUnited bank, where her husband was a board member, and owned nearly $350,000 in the bank's stock.
New Jersey Governor Jon Corzine, ran financial services firm MF Global right into the ground, after ordering $200 million in funds to be moved from MF Global's customer accounts to illegally cover brokerage accounts at JP Morgan Chase. Then Corzine perjured himself in Congressional hearings. (BTW, Chase's CEO Jamie Dimon is a close associate of Barack Obama.)
Sen. Diane Feinstein's husband Richard Blum's company, CBRE, was selected in March 2011 as the sole real estate agent on the sale of 56 US Postal Service buildings, expected to earn CBRE $19 billion. Blum is a member of CBRE's board and served as chairman from 2001 to 2014. Feinstein and her husband have also come under fire when a company partially owned by Blum's investment firm landed a plum construction contract for California's high-speed rail project valued at $985,142,530, according to Breitbart.
Scandals with most Democrats, including the Clintons, just seem to get them reelected. It's as if more is never enough – for the Clintons, Obamas, Feinstein, Waters, and the public. They are a media circus. The Clintons are the Kardashian equivalent of a political family everyone loves to hate, but never seems to get enough of.
California Scheming
In California, we were graced recently with a set of scandals of our own. State Sen. Leland Yee was arrested on federal gun trafficking and corruption charges. Yee, a Democrat gun control nut, was allegedly selling rocket launchers to Muslim terrorists in the Philippines.
Sen. Ron Calderon was indicted on charges of bribery and influence peddling.
Sen. Roderick Wright was convicted of perjury and voter fraud.
We California voters haven't had enough time yet to reelect them – these scandals are still that fresh. But more than 300,000 voters in San Francisco certainly tried to reelect Leland Yee in the last election; his name wasn't removed from the ballot in time for the election. Yee, Calderon and Wright are all Democrats. And all of them would not voluntarily leave the Legislature until they and their party were finally forced.
Malfeasance in the River City
In Sacramento where I live, former NBA star Mayor Kevin Johnson, has had his own uncomfortable brushes with the law.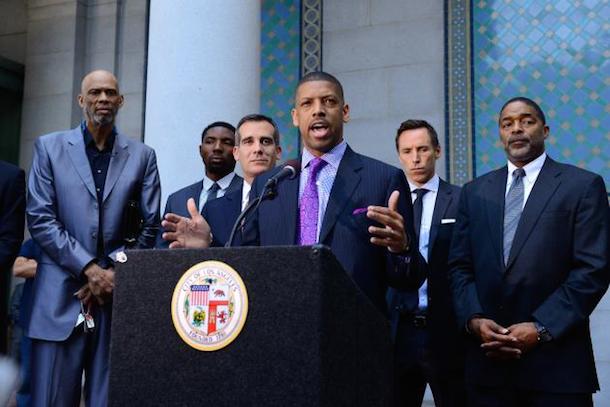 * An investigation by a federal oversight agency into the administration of federal funds at Johnson's St. HOPE Academy in Sacramento accused the group of misusing public funds, some of which they agreed to repay in a quietly done settlement by a Democrat Attorney General. The goal of the settlement was to make sure Johnson could still accept federal stimulus money on behalf of Sacramento.
* Reports of inappropriate sexual behavior by Johnson's towards five St. HOPE students. Allegations were uncovered in the course of the financial investigation. I do not know of any legal action, but two former St. HOPE staff members are on the record as having left the organization in protest when Johnson went unpunished.
* A case from the 1990s involving the alleged molestation of a 15-year old girl while Johnson was in Phoenix. Johnson denied the accusations but settled the case for $230,000 following taped statements by Johnson admitting, "the hug was more intimate than it should have been."
While NBA stars are constantly faced with aggressive advances by some really creepy women, and girls, this case seemed to have more going on.
And then there was the firing of Inspector General Gerald Walpin who exposed serious irregularities in the use of AmeriCorps funds by Kevin Johnson, while Johnson headed his St. Hope Academy. I interviewed Walpin and heard the entire story directly from him, including the strong AmeriCorps ties to Michelle Obama. Shortly thereafter, Walpin was fired by President Obama amidst a smear campaign.
Kevin Johnson, who has been called Obama's "Mini-me," donated the maximum individual amount to Obama for America. Johnson campaigned throughout the country for Obama in 2008, and openly bragged during his Sacramento mayoral run about his friendship and access to both Barack and Michelle Obama. I interviewed Johnson numerous times during his campaign.
The Obama administration's Corporation for National and Community Service bestowed Sacramento (and Johnson) with an AmeriCorps grant worth more than $650,000 to hire 124 AmeriCorps members "to teach fitness and nutrition education to children and offer adult fitness classes for their parents."
Johnson also was fined $37,500 in 2012 by the Fair Political Practices Commission for failing to report $3.5 million in behest donations he solicited for nonprofits and charities.
And who could forget in 2014 when Kevin Johnson acted as liaison between the National Basketball Players Association and the NBA commissioner, in an ironic lead role in the Donald Sterling media frenzy.  Given Johnson's past accusations of misusing federal funds, allegations of sexual misconduct with minors, dodgy behest requests on donations made to non-profits, and the hefty FPPC fine, Johnson calling Donald Stirling out for his conduct and asking for maximum punishment is a little fallacious. He's certainly no moral leader. Deadspin even said in a headline, "The Man Who Helped Bring Down Donald Sterling Is An Asshole, Too."
Following the alleged police racial violence in Ferguson, Missouri, Johnson appeared to be ginning up race relations in Sacramento in order to then insert himself into the middle, as the only guy who can fix it, and only as a strong mayor, prior to a vote in Sacramento on his Strong Mayor initiative (which failed again.)
Johnson is in charge of a billion dollar budget in Sacramento – despite his past financial misdeeds and transgressions.
Again I ask, What is it going to take for voters to hold Democrat politicians accountable?
When is enough going to be enough? And why are we voters letting them do this to our country, our cities and towns? We deserve better, but it's going to take a fight.