Think this title evokes a strange comparison? It is no stranger than Gov. Jerry Brown's press conference Wednesday with legislative leaders admitting defeat of a measure where they sought to cut your gas usage by half. Judge for yourself – here's the actual quote: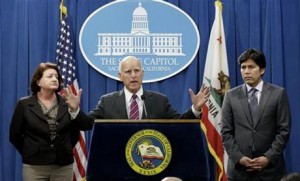 "We look at the Middle East and see the desperate migrants trying to escape the hell of the Middle East wars, and are now inundating Europe," Brown said. "We will get a foretaste of what climate change will mean, not just to Europe, but to California… mass migrations, untold suffering, rising sea levels, extreme events. Now I know that's big, it's not insiderism, it's not tomorrow, but it's real."
Gov. Jerry Brown's "urgent" and "ambitious" climate change agenda suffered a major setback Wednesday. At a press conference, the governor, Assembly Speaker Toni Atkins, and Senate President Pro Tem Kevin de Leon announced
 that their effort to push a 50 percent reduction in petroleum use in the state by 2030, had failed, and was amended out of the highly controversial bill, SB 350. It seems they couldn't get enough Democrats to sign on to the bill.
At the end of the Assembly session Wednesday, Assemblyman Adam Gray, D-Merced, stood up and warned/implored members to carefully consider voting to pass a bill which would nullify the Legislature in favor of a bureaucracy. He was speaking of abdicating legislative oversight authority to the California Air Resources Board.
Following the press conference, de Leon was seen at a political event arriving and departing in a large, black, gas-guzzling SUV, rather than using an electric car, Toyota Prius or Nissan Leaf. Apparently climate change doesn't begin with the state's leadership.
"From day one, the people of California have demanded an urgent and ambitious response to an unprecedented threat to our economy and to our environment," Brown said, "with overwhelming support of the people, including national leaders, Nobel prize winners, and nearly every stakeholder, even the President as well as the Pope."
Gov. Brown called SB 350 "an heroic objective." And he was willing to do whatever it took to be the hero, even as he invoked the strangest of analogies mixed a lot of metaphors.
"When we decarbonize the economy, we create an economic and environmental revolution… so we don't win every skirmish," Brown added. "Big issues are sometimes hard to capture, and there's nothing bigger than climate change."
And then the governor compared Christian persecution in Syria to inaction on climate change here in California.
Yet Brown blamed "big oil" for the reason the petroleum reduction was removed from the bill. Catherine Reheis-Boyd, president of the Western States Petroleum Association, previously said "Legislative mandates to force reductions in gasoline use are not climate change policies.  They are attacks on an important industry in California designed to create conflict and controversy."
After Wednesday's press conference, Reheis-Boyd said that the governor's announcement "was an acknowledgment that California's energy future, economic competitiveness, and environment are inextricably linked. Californians are best served by inclusive energy policy and by a legislative body that retains authority on issues so critically important to jobs, communities and our way of life."
Brown Promises Revenge
"Big Oil has won the skirmish, but they've lost the bigger battle because I'm determined more than ever to make our regulatory regime work for the people of California, cleaning up the air, reducing petroleum and creating the green jobs that are going to put hundreds of thousands of people to work over the decades," the governor said at the press conference.
In California petroleum makes up about 92 percent of all transportation energy use. A 50 percent reduction would wreck the already fragile economy. Rather than suffer a constant leak of jobs out of California as we face now (as acknowledged by the most recent numbers from the Internal Revenue Service), such a dramatic change in fuel usage would very likely push even the most left coast loyalists out of state.
"Oil is at the heart of modern prosperity and yet because of that destructive impact, it will undermine that prosperity," Brown said. He promised that over his next three years, he's going to ratchet up the state's commitment "to reducing our carbon pollution, thereby setting the example to the world to try and save us before it's too late."
Brown said several times that this failure to get the petroleum reduction passed in SB 350, only intensified his "zeal" and determination to find another way to do it. "Nothing is going to stop this state from pushing forward on our Low Carbon Fuel Standard and our Cap and Trade, and local mandates.
Brown Blames Media
Reminiscent of Bernard Goldberg's book, A Slobbering Love Affair: The True (and Pathetic) Story of the Torrid Romance Between Barack Obama and the Mainstream Media, it was laughable that Gov. Brown blamed the California media for a lack of coverage on climate change. Every day the Sacramento Bee, the San Francisco Chronicle, and the Los Angeles Times publish climate change articles. And Gov. Brown even fawned over one of the reporters present at the press conference, saying "except you," and said how much he appreciated the good coverage from the reporter.
The Sacramento Bee's iconic political columnist Dan Walters responded on Twitter:
It's utterly amazing that ‪@JerryBrownGov believes that climate change has been ignored by media; it's been lavishly covered in California. 
Brown assured everyone that the California Air Resources Board "still has all of the power that it's had, and it will continue to exercise that power as long as I am governor."
The latter half of the press conference got weird.
"The only way we get the message out is conflict," Brown said, suggesting that chaos is expected. And then he brought up the 1978 Briggs Initiative. "When the Briggs Initiative made the issue of gay teachers an issue, the support of gay people was born," Brown said. "After, opened up the legislating of that debate."
Brown Exits stage Left
Shortly after that comment, de Leon whisked Brown away from the podium, and began his own odd rant. ""You don't have to watch television and see hurricanes and tsunamis and droughts in developing countries worldwide," de Leon said. "All you have to do is open your eyes and see California. We're in the fifth worst historic drought in the history of the state. You have high unemployment in most impoverished areas."
De Leon's rant continued: "I'm not a scientist but I know hot is hot, and in Los Angeles, it was hellaciously hot, and we're having a lot more hot days, not just in Sacramento, but throughout the state," said de Leon. "So, climate change is happening right now before us."
This is the leadership in the state of California.