Freedom of the press protects the right to obtain and publish information or opinions without government censorship or fear of punishment, whether or not government finds the material offensive, or disagrees with it.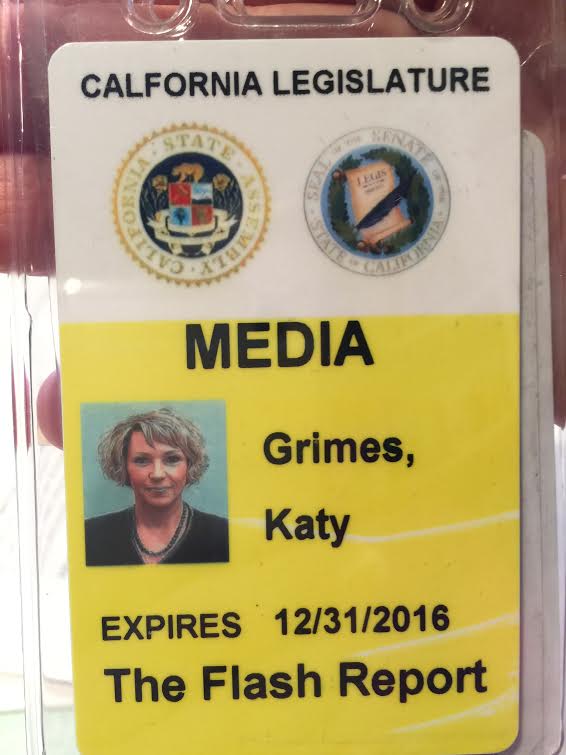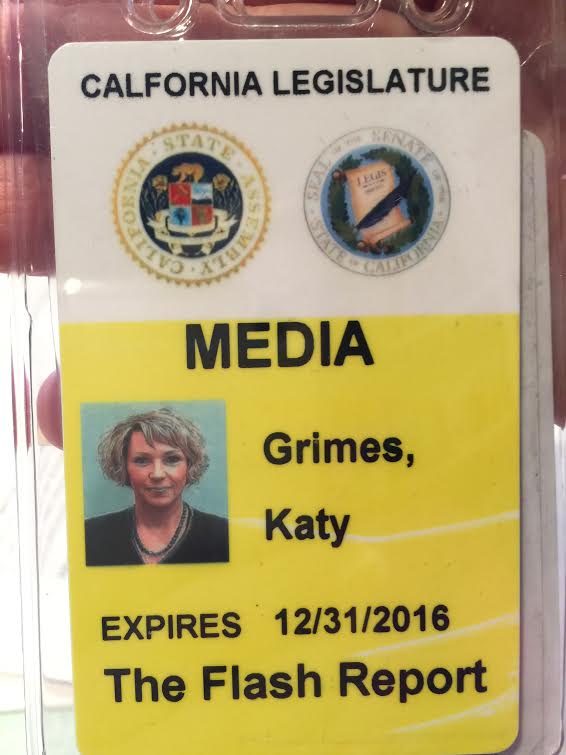 Free speech enables people to obtain information from a diversity of sources, make decisions, and communicate those decisions to the government.
Recently I wrote about having my press credential renewal denied by the Capitol Correspondents Association of California, appointed as an arm of the California Legislature's Joint Rules Committee, which has the final say in press credentialing Capitol media.
What began as a witch-hunt several years ago by the totalitarian bullies who make up the righteous Capitol media cartel, who assumed the role as arbiters of fairness and free speech, turned into a valuable schooling in First Amendment rights.
Following a Legislative Open Records Act request submitted by the Pacific Legal Foundation, my attorney Paul Beard, with ALSTON & BIRD LLP, filed an administrative appeal, which we just won. I picked up my Capitol Press Credential a few days ago.
The ensuing process exposed the air of supremacy and inability for self-reflection among California's liberal media and mainstream journalists, who view themselves as unimpeachable and above reproach.
"A diverse and critical press corps is a linchpin of a free society," Mr. Beard said. "We are pleased that Ms. Grimes has been given the access to the halls of our state government that she deserves—and is entitled to under our Constitution."
Decision to Deny
The Capitol Correspondents Association of California said it based its decision to deny my press credential renewal on CCAC bylaws which "prohibit the credentialing of any applicant employed by or receiving any compensation, directly or indirectly, from any lobbyist or lobbying association, any state office holder or candidate for state office." Because I publish many of my articles at The Flash Report, a news aggregation website, and listed publisher Jon Fleischman as my editor/producer, the CCAC denied my credential because Mr. Flesichman also has a consulting business. "We let Ms. Grimes know of our concerns after receiving her application," the CCAC posted on its website. "Ultimately, the board felt those payments [to Fleischman] violated the above provision of CCAC bylaws, which are part of the Joint Rules of the Legislature."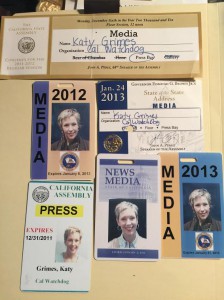 And then they piled on: "To the board's knowledge, CCAC has never recommended a full-time credential for an applicant in similar circumstances. As of last month, there were more than 110 media professionals — representing about 30 different organizations — with full-time Capitol media credentials."
The CCAC mission states, "its purpose is to make it easier for news professionals who cover the state Capitol to do their jobs;"
And, "It also acts as an advocate for open meetings, news media access, freedom of information issues and the fair distribution of public information."
First Amendment Scrutiny
As attorney Paul Beard explained in the appeal, "The only grounds for refusing to credential Ms. Grimes are her political views as expressed in the articles she writes about developments at the Capitol. The denial violates Ms. Grimes' press rights on the basis of the content of what she writes. As a consequence, the Association's decision cannot withstand First Amendment scrutiny."
The article I wrote in January about being denied my press credentials, "Report Negatively About the Legislature; Lose Your Seat in the Press Box" elicited a condescending and rather telling response on my Facebook page from one of the CCAC Board members, J Dale Debber:
J Dale Debber "I'm sorry Katy but your written position is notwell [sic] taken nor is it an accurate representation of the facts.
First, a credential has nothing to do with your opinion (which by the way journalists don't have – remember the word "objective?" You learn it in high school journalism 101). We have credentialed many legitimate reporters without regard for their opinions or affiliation.
I say that as a registered republican.
I would also like to say that when Jon hired you I sent him a note of congrats.
You've broken another professional rule: you've made the story about you.
Further, the lack of a credential does not prevent you from getting it covering the news or the legislature. And you know that else what have you been doing all these years, chopping liver?
As someone who voted to deny your organization a credential understand it was not about you.
The credentialing committee took seriously it's [sic] job and lived up to its charter.
Lastly, speaking personally, I have the utmost respect for Jon Fleischman and the service he provides. 
J Dale Debber
Sacramento"
Then Mr. Debber added an afterthought:
J Dale Debber: I would also like to point out that young Katy failed to take the most basic of journalistic steps: She failed to place a call to any of us on the Committee to confirm facts, or ask for a comment. This would be known in the media as balancing the story. She has committed the same acts that everyone blames on the liberal media.
I replied to Mr. Debber that I had been in regular contact with CCAC board president Jim Miller during the credential process, and got my facts directly from him.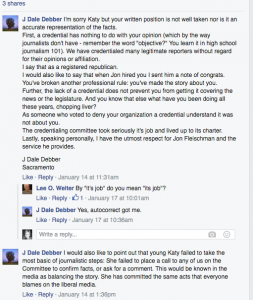 This wasn't my first dance with the Correspondents Association; each year at press credential renewal time, I experienced delays and hassles with my credentials. One year the Assembly Speaker's office even took away the press desk assigned to me by the Assembly Minority Leader, and reassigned it to a news outlet that no longer had a Capitol correspondent, and directed me to the "Visiting Media" desk in the farthest corner.
First Amendment Violation
"The constitutional problem with the Association's decision is that this same policy is not consistently (if ever) applied to Ms. Grimes, who produces hundreds of news articles every year covering the Legislature, and she does so by being at the Capitol, attending committee hearings, press conferences, meeting with and interviewing lawmakers, staff, lobbyists, and members of the public," Attorney Paul J. Beard wrote in the appeal to the Joint Rules Committee.
"In one recent year, Ms. Grimes published 330 news articles and news columns. As a conservative journalist in one of the most liberal Capitols in the country, Ms. Grimes provides a much-needed voice of dissent on political issues that affect the lives of every Californian. Yet the Association has singled her out—because of her political views—for discrimination and harassment. This, despite the Association's stated mission of 'mak[ing] it easier for news professionals who cover the state Capitol to do their jobs' and 'act[ing] as an advocate for open meetings, news media access, freedom of information issues and the fair distribution of public information.'"
The records that were helpful to winning the administrative appeal, obtained through a Legislative Open Records Act request submitted by Pacific Legal Foundation, requested the last 10 years of press credential applications, approvals and denials. In the 10 years of records received, there were no denials of press credentials… until now.
"The Association does not regularly (if ever) apply the policy in question to other journalists who actually are employed or paid by consultants and lobbyists," Attorney Beard said in the appeal. "Documents obtained via a recent Open Records Act request to the California Legislature establish that a number of reporters whose publishers are involved in political consultancy or lobby have nevertheless received press credentials."
"Take, for example, the credentialed Dan Aiello, writes for the California Progress Report—an online publication sponsored by the leftist and very active lobbying organization, Consumer Federation of California. Another credentialed reporter, Steve Maviglio, is a political consultant who also writes for the California Progress Report. Similarly, journalists Chris Palmeri, Alison Veshkin, James Nash, Michael Marois, and a dozen more all received credentials, despite the fact that they work for Bloomberg News, whose CEO and publisher is one of the country's most renowned lobbyists."
And there were many others including:
The Adelante Media Group, which also had numerous state Capitol press credentials, is a Latin based

music radio

station group with stations in California, Idaho, Washington, Utah and Wisconsin, had press credentials.
Capitol Public Radio even had a photographer who received State Capitol press credentials.
The CalChamber was issued Press Credentials for a guy who was also employed by McNally Temple Associates, a political public relations firm that also handles political candidates.
In 2011, the "Office Manager" for the Los Angeles Times received press credentials.
NHK Japan Broadcasting (in Japan) is granted press credentials.
Cal-OSHA Reporter is granted press credentials. Workers Comp Executive is granted press credentials. Both are under the umbrella of Providence Publications, run by the aforementioned J. Dale Debber, a CCAC board member. They also publish the Workers Comp Resource Guide, and Compline, which provides access to workers comp providers and services.
The best check against abuses by government officials, as well as those by the media, is to uphold freedom of speech and freedom of the press for those who choose to exercise these rights. The First Amendment doesn't just apply to elitist liberal media and mainstream journalists, even though they appear to think it does.
"The media's role as government watchdog doesn't exempt it from accountability for its own excesses and abuses," Attorney David Limbaugh recently wrote. "After all, the three branches of government aren't beyond scrutiny just because they keep one another in check. And the media are no less vulnerable than the government to the trappings of power and to corruption and abuse."