The California Senate just passed 11 anti-gun, and quite possibly anti-constitution bills, which will likely be tied up in court for a very long time. The bills were rushed through by Democratic Senate President Pro Tem Kevin de León, infamous for his bill to paint all BB guns bright colors so they wouldn't be mistaken for real guns.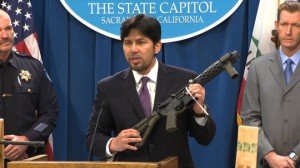 This is what oppression looks like. And, it's just plain stupid.
Even more dubious, the bills were gutted and amended "zombie bills" left behind by Assemblyman Henry Perea, a fellow Democrat, when he abruptly left the Legislature in December to become a lobbyist.
The original contents of those bills enjoy attorney-client privilege between the original bill author and Legislative Counsel. Sources inside the Capitol say de León violated this attorney-client privilege by not getting Perea's prior permission to gut and amend the bills. However, every attempt to verify this was met with a cone of silence, other than "They have the majority, they can do it."
Rules are for others. Remember, Fascism is a way of organizing a society in which a government ruled by a dictator controls the lives of the people and in which people are not allowed to disagree with the government.
The door-to-door gun confiscation program
In 2013, SB 140 was passed, by Sen. Mark Leno and then-Senate President pro Tem Darrell Steinberg, which appropriated $24 million to the California Department of Justice to "enhance the identification and confiscation of handguns and assault weapons that are in the hands of convicted felons, persons who are determined to be mentally unstable, and others who have criminal backgrounds that prevent them from legally possessing guns." However, what it really did was create a program to allow state officials to "confiscate guns owned by people whose legal right to own them had been superseded by some later action or declaration, such as criminal convictions, restraining orders, or being adjudicated mentally ill," Brian Doherty of Reason reported recently.
"In May, the last $24 million allocated for the program will run out, leaving nearly 12,000 Californians still owning their guns even though the state would rather take them, as Associated Press reports. The state's gun bureaucrats want to get that number down to 8,300 by next year," Doherty said.
SB 140 has done little to prevent criminals, gang members, and the clinically insane from procuring weapons, and instead, only targets private citizens.
déjà vu all over again
This is déjà vu all over again. In 2013 I wrote: "The surprising recall election of two Colorado Democratic lawmakers Tuesday for backing gun control laws was a warning shot for lawmakers across America eager for more gun control laws. But not for the Democratic supermajority in the California Legislature. More than two dozen gun control bills are being voted on this week."
The 11 new gun control bills sponsors promise they will reduce gun violence. "We cannot stand by while our communities suffer from this horrific violence," de León said.
But none of these or any previous gun control bills does anything other than create incredible hassles for law-abiding gun owners, infringing on Constitutional rights.
Interestingly, the bills were rushed through the Senate for reasons that have nothing to do with actual gun violence; the Democrats in the state hate that private citizens own guns.
"Lt. Gov. Gavin Newsom is pushing his own gun control ballot measure, and he and de León have been feuding, with the latter openly urging the former to drop his measure," Sacramento Bee columnist Dan Walters wrote last week. "One factor is fear among some Democrats that having Newsom's gun control measure on the November ballot would encourage turnout among gun-owning voters that would hurt the party's other causes and candidates, as it did in the 1982 election for governor."
The National Rifle Association breaks down Newsom's proposal:
Ban possession of and confiscate hundreds of thousands of lawfully possessed magazines capable of holding more than 10 rounds;
Require licensing of all ammunition vendors and drastically limit the places where ammunition could be sold;
Require ammunition buyers to undergo a background check before they could purchase any ammunition;
Turn law-abiding citizens into criminals should they fail to report lost or stolen firearms to police within a limited amount of time after they "should have known" a firearm was missing.
As mayor of San Francisco, Newsom supported an ordinance that prohibited the possession of firearms on county property, required handguns to always be stored in locked containers, and increased the burdens placed on firearm retailers to such a degree that the one struggling gun store in San Francisco was finally forced to go out of business. Newsom was also mayor when the city passed Proposition H, a voter initiative that would have completely prohibited the possession of handguns by law-abiding citizens—if it hadn't been stopped by a National Rifle Association/California Rifle & Pistol Association lawsuit.
Gun Owners of California has the latest breakdown of the gun control bills –   all 36 currently in the Legislature including SB 880 by Sen. Isadore Hall which revises the definition of assault weapon, or SB 1235 by de Leon, which Requires the Attorney General to maintain information about ammunition transactions and ammunition vendor licenses. And there is SB 1446 by Sen. Hanna Beth Jackson, which seeks to prohibit the possession of standard capacity ammunition magazines, capable of holding more than 10 rounds.