While America's new President Donald Trump was busy signing Executive Orders to boost energy independence and jobs in the United States, California Governor Jerry Brown was busy promising upcoming battles with Republican-controlled Washington, and used his 2017 State of the State address to double down on California's regressive "progressive" policies.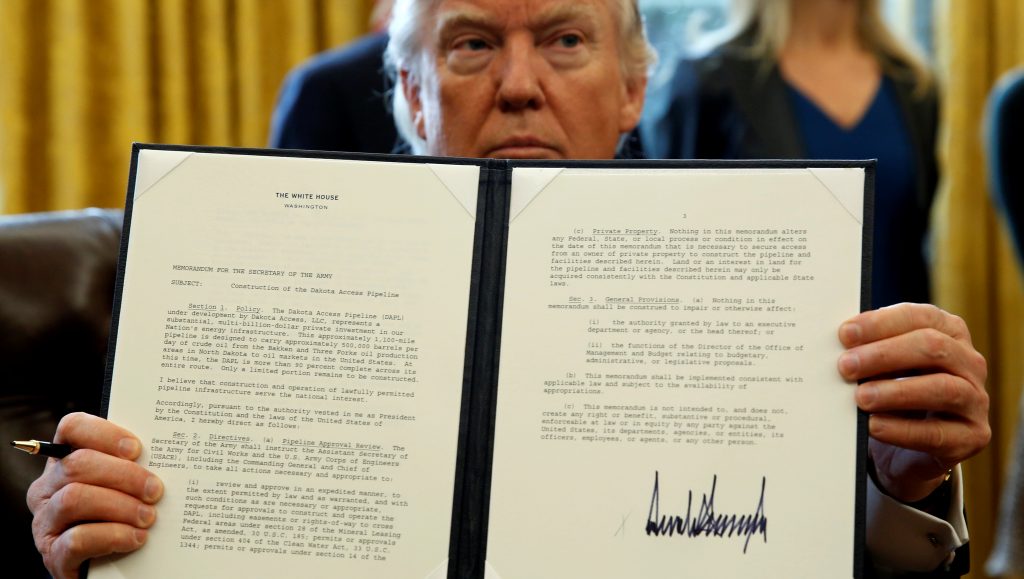 On the heels of revealing faulty budget math that resulted in an additional $1.6 billion budget deficit, Brown dug his heels in today and said "California is not turning back. Not now, not ever."
Senator Moorlach is Capitol's Adult
Sycophants in the media often refer to Brown as the only adult in the State Capitol, when compared to the infantine legislature and foolish Democratic leadership. "California needs less showmanship and more leadership," said California Sen. John Moorlach, R-Costa Mesa, following Brown's State of the State speech. "Governor Brown gave a defiant, play-to-the-crowd speech, but he still does not understand the fundamental change that's happening in this nation and in so many other states," Moorlach said. "He's on the wrong side and his 'alternative facts' about the health of our economy need to be rectified. California's balance sheet must be fixed – this is priority number one; not antagonizing the new President. When you upset the leader of this nation, you better prepare for push back. It will negatively affect every Californian; and that is poor leadership."
Gov. Brown would be wise to heed Moorlach's prudent words before his devastating regressive "progressive" policies push all of California into bankruptcy.
Brown's Got a Big Hat, But Trump's Got the Cattle
President Trump's first Executive Order only hours after being sworn in was on the construction of the Keystone Pipeline, which he said will create 28,000 construction jobs.
The second order was on construction of the Dakota Access Pipeline.
Trump's third order directs the Commerce Department to use U.S. steel in constructing the pipes for these projects. "We will build our own pipelines. We will build our own pipes. … Like we used to in the old days," Trump said, Fox News Insider reported.
Meanwhile Gov. Brown continues to provide sanctuary to millions of illegal aliens in 35 cities, while bankrupting the state providing excessive benefits for them. "Brown reiterated promises to protect undocumented immigrants, provide healthcare to the needy and continue his signature fight against climate change," sacbee.com reported.
While President Trump's conservative agency nominees are being confirmed, Gov. Jerry Brown swore-in Latino radical Xavier Becerra as California's new Attorney General.
While Trump has vowed to cut corporate and income taxes and stimulate the economy, Brown has pushed through two massive tax increases on the top income earners in the state, and sales taxes on everyone.
Trump's fourth order directed the Commerce Department to streamline the deliberately byzantine process of permitting manufacturing projects. "The regulatory process in this country has become a tangled-up mess and very unfair to people," Trump said.
Gov. Brown continues to encourage passage of climate change regulations and excessive gas taxes, killing and stifling business, while chasing away other businesses to more friendly states.
Trump's fifth Executive Order was to "expedite environmental reviews and approvals" for important infrastructure projects (not sports arenas). "We can't be in an environmental [review] process for 15 years if a bridge is going to be falling down or if a highway is crumbling," said Trump.
Gov. Brown has ordered Californians to cut gasoline use by 50 percent by 2050, and is forcing electric companies to obtain most of their energy from wind, solar, and cow fart sources by 2030.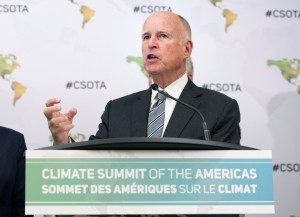 California Assemblyman Travis Allen, R-Huntington Beach, pointed to a list of Brown's claimed accomplishments that Allen says are, in reality, a litany of failures:
Increased spending on California's public school system, but California's public education remains one of the worst in the nation.
Adding 5 million Californians to Covered California/Obamacare and Medi-Cal expansion – which is 95 percent funded by the federal government. When Obamacare is predictably repealed, Brown's health care house of cards will collapse and leave the state budget devastated.
"Re-aligning" state prisoners into county jails, or simply releasing them back into our communities has increased crime rates across California exponentially.
Self-proclaimed "World leader" in climate change regulations – which has resulted in no change to the climate, but Californians are now stuck paying the highest gas taxes in the nation, and businesses have job/business killing "clean air" regulations on them.
Passing a water bond – yet trillions of gallons of recent rain water has been released right back into the ocean because no large-capacity water storage has been built since the bond's approval – or since Brown was governor 30 years ago.
Closing a budget deficit of $27 billion – achieved by making Californians pay the highest taxes in the nation; and the state budget is already back in deficit territory.
Reduced unemployment from 12.1 percent to 5.3 percent – which ranks California as the 11th worst in the nation, with the highest welfare recipient rate and the highest poverty rate when factoring in the cost of living – and doesn't account for those no longer looking for work, or the underemployed. Take away welfare and suddenly 90 percent of the illegal population will no longer have any reason to be here.
"There are really two 'states of the state' in California," said Assembly Republican Leader Chad Mayes. "One California is populated by wealthy people. They receive excellent healthcare, their children are taught in the best and safest schools. The other California is home to people whose access to health care is limited, their schools are failing and violence is an everyday reality."
Gov. Brown talks a good game, but everything he does is wrong for California… unless he is trying to destroy the state. Then he's right on track. Citing the English poet John Donne in his State of the State speech, the Governor said California is not an island and America's future is inextricably tied to California's future: "When California does well, America does well. And when California hurts, America hurts." Well, maybe not any more.
Perhaps this is one reason Trump is willing to cut off funding to Sanctuary Cities… a thought for another day.