Gerawan Farming just filed a motion with the ALRB to disqualify former Sen. Isadore Hall from making any decisions related to their pending cases. And for good reason. Not only does Sen. Hall have no experience in or related to agriculture, Hall even voted for the "farmworker overtime bill"  to force more farming employers into United Farm Workers union contracts.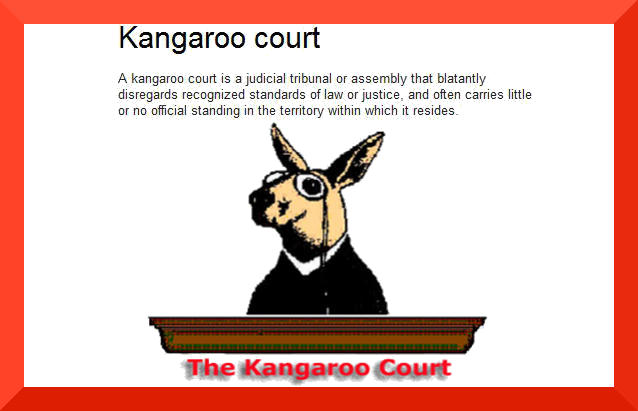 At issue is Hall's ability to be fair to agricultural employers because of his dependable support of union labor, and especially the United Farm Workers. The Gerawan Motion for Disqualification points out that Hall was assigned to a job where 90 percent of his work will be to adjudicate UFW-related issues, and half of his work will be Gerawan-related.
For that matter, all of the other ALRB board members are also reliable labor union hacks. But that's another point, another day.
Representatives from various growers questioned Hall's fitness for the job during a Senate confirmation hearing March 1st. And for good reason. Hall is a career politician from urban Compton in Los Angeles. The only "experience" he has with the agriculture industry is marching with the President of the United Farm Worker's labor union, and publicly declaring his solidarity with the UFW campaign against the Gerawan Farming employees. Hall didn't just randomly march with the UFW, but marched specifically against Gerawan Farming and its employees who do not want to be unionized by the UFW. In exchange, Sen. Hall received an endorsement from UFW.
Yet Hall was appointed by Gov. Jerry Brown to the Agricultural Labor Relations Board anyway.
There are more than 80,000 farms in California, and the UFW has only 30 of those under a collective bargaining agreement contract. Is it any wonder the UFW is desperate for more contracts – any way they can get them?
After losing a race for Congress in November 2016, Hall became just another former state legislator who found himself out of work… thus, the appointment to the ALRB at $142,000 per year. Hall has announced he will campaign again for the Congressional seat in 2018… apparently while he is on the ALRB making $142,000 annually. It's a great gig for a career politician.
Bad Boy, Bad Boy, Whatcha Gonna Do When They Come For You?
The night before his March 1 confirmation hearing in the Senate Rules Committee, Sen. Isadore Hall was witnessed making an obscenity-laced, threatening rant in the Hyatt hotel bar in Sacramento at several growers who were to testify the next day in opposition to his nomination.  I was told Hall said, "Are you the mother******s here to testify against me tomorrow?" Hall then allegedly said, "I have a memory and I am going to get you," delivering a threat. My sources said Hall dropped the mother*****r F-bomb numerous times in a hair-raising, threatening tone to the farmers.
Sen. Andy Vidak (R-Hanford), a cherry farmer/grower, sent a letter to Sen. Pres. pro Tem Kevin de Leon telling of the outrageous incident, and asking for . In his letter to de Leon, Sen. Vidak formally requested:
The Senate Rules Committee investigate this incident and inform the entire Senate of its findings; and
As part of the investigation, the Senate Rules Committee request the testimony of the individuals who were present at the incident and assure them there will be no retaliation; and
The pending Floor confirmation vote on Commissioner Hall be postponed until the conclusion of the investigation.
During the full vote of the Senate on Hall's confirmation, de León described Sen. Isadore Hall as "fair minded," and insisted that an investigation had been done. De León claimed that he had "reached out to farmers and growers," and all was well with the world and Hall's pending confirmation.
Yet the growers who had been threatened maintained their silence out of fear of retaliation, according to my sources. And if the gross misconduct by the ALRB and abusive way the board has handled the Gerawan witch hunt is any indication, the growers have plenty to fear. Hall's appointment only makes this venomous board that much more  malicious.
Sen. Vidak also filed a complaint with the Senate Legislative Ethics Committee concerning the probable conspiracy to cover-up the reported threats made by Isadore Hall.
After Vidak was informed on the Senate Floor by De Leon that there would be no investigation into Hall's threatening tirade, he sent a letter urging Governor Brown to remove Isadore Hall from the ALRB. All of Vidak's efforts have fallen on deaf Democrat ears.
Why are Democrats destroying California's agricultural industry?
Damning Evidence
Gerawan's attorney David Schwarz even included in the disqualification motion, copies of photos from the UFW's Facebook page of ALRB Board member Isadore Hall marching with the United Farm Workers on October 22, 2014 in support of the Los Angeles City Council Resolution opposing Gerawan Farming and its employees. Additionally, Schwarz had photos from Hall's Facecbook page of the march, and posts from Hall acknowledging the UFW endorsement following the march.
What will be most interesting is what Gov. Jerry Brown does. Since Sen. Isadore Hall is Brown's appointment, regardless of what Brown decides related to the disqualification motion, it won't look good. If he digs his heels in and defends Hall from the disqualification motion, all hell could break loose, including details about the Hyatt bar incident. But if Brown decided to unseat Hall for Gerawan-related decisions, and introduces a new but temporary ALRB board member, it will confirm the widespread accusations of shameful patronage, well documented in many news articles. Currently, half of all of the ALRB's decisions are likely be Gerawan-related, so it will appear ridiculous that Hall wouldn't be able to do even half the work he was hired for. And it would once again show the ALRB for what it really is: An ochlocracy, or Kangaroo Court.
The Rest of the Story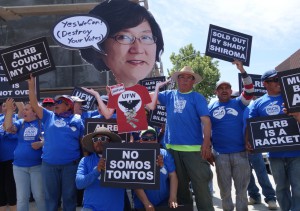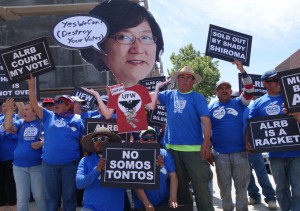 The back-story is about Gerawan Farming, and its 5,000 employees, targeted since 2012 for unionization by the United farm Workers Labor Union, with help from the ALRB. The Gerawan workers fought back against unionization, even holding an ALRB election to try to decertify the labor union – largely because most farm workers have no interest in "organizing," and losing 3 percent of their pay as mandatory dues. While most of Gerawan's employees are well-compensated full-time workers, many farm workers are seasonal and work in various locations around the state. I have been told by many workers they don't see any advantage to the union "stealing" their hard-earned income for dues.
When the UFW couldn't convince Gerawan's employees to join them, the union leaders turned to the ALRB to force them into the union.
As for the farm worker overtime pay, California is the only state to mandate "premium overtime pay" for farm employees after 10 hours of work in a day. Unions not only want a bigger cut of farm worker pay, they think increased overtime is one way to accomplish this. But the real goal is to force desperate farmers into union contracts.
California's agricultural abundance includes more than 400 commodities. Over a third of the country's vegetables and two-thirds of the country's fruits and nuts are grown in California.