El Dorado County Superior Court Judge Steven Bailey recently retired to run for California Attorney General. A Superior Court judge since 2009, Bailey stepped down last month to mount his campaign for the office of Attorney General.
Bailey, an attorney since 1990, was a State of California Criminal Law Specialist, and handled complex criminal matters including death penalty, life in prison, homicide and sexual offenses.
This is significant since Xavier Becerra, the current Attorney General has been a politician his entire career rather than practicing law. Becerra's law license was filed "inactive" with the California State Bar Association until 1/1/2017.
I met with Judge Steven Bailey and we covered a lot of ground. This is Part l.
Judge Bailey, a Republican, said he decided to run for Attorney General, "when after 8 ½ years on bench, you see all of the problems that revolve through the courtroom, but have no solutions." Bailey explained that because too many "solutions" come from Sacramento, and the Legislature, California also needs a solutions-oriented Attorney General.
One of the other significant issues Bailey discussed is how law enforcement is being misused and put in the position of having to be mental health case-workers. "We have police officers and sheriffs officers going around the state collecting statistics for bureaucrats," Bailey said, as a result of Black Lives Matter activists pressuring police to write down the ethnicity of everyone they stop.
Proposition 47 (2014) and Proposition 57 (2016), along with Assembly Bill 109 allowed for the release of criminals back on street, as well as the decriminalizing of many felonies including theft and many sex crimes. "Crime is out of control," Bailey acknowledged. "Law enforcement officers are targets for gangs. Almost nothing they can do is right."
"What can be more ridiculous than Sacramento city council announcing they will pay gang members to not be violent?" he added.
Bailey talked about how it has become commonplace for officers to be killed on duty. "Assassination are taking place on the streets," Bailey said. "When an officer is down, the killers brazenly come up and shoot them when they cannot defend themselves." This is new.
So many of these criminals on streets are the ones released under AB 109, Prop. 47 and Prop. 57, and "they are dangerous," Bailey reiterated.
Weaponizing The AG's Office
Given that Bailey has practiced law and served many years as a judge, I asked if the office of the AG has become too political and why, because the California Attorney General hasn't always been such a partisan political office. "Jerry Brown set the standard for politicization of the office of Attorney General," Bailey said. "Then Kamala Harris did as well."
Bailey said the current Attorney General Xavier Becerra, appointed by Gov. Jerry Brown, hasn't a clue what he is doing. "He was inactive as an attorney for 26 years while he lived in Washington D.C. and was in Congress." Suing the federal government over President Trump's decision to reverse the unconstitutional DACA executive order by former President Barack Obama, or suing over Trump's plans to overturn Obamacare, "is what he does. His focus is Washington D.C. He has no clue on what is important to the people of California."
Bailey said California compares right up there along with New York… the two biggest opponent states of Donald Trump. "They're spending all of their time fighting Washington," Bailey said. "We taxpayers are paying this guy to work for the people of this state. But I guess it's normal for him to spend all of his time fighting Washington because that all he knows."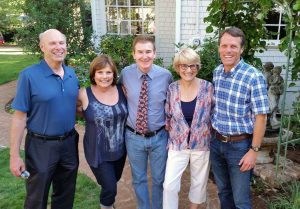 I asked Judge Bailey what he sees as some of the needed reforms in the California Department of Justice.
"We need to bring the whole department and organization back to being focused as advocates for the people," Bailey said. "What we've got is a public interest law firm paid for by taxpayers. This emasculated the agents in the department," Bailey added.
Jerry Brown, Kamala Harris and Xavier Becerra "nearly wiped out the crime lab in California," Bailey said. "There is no attention being paid to drug crimes. Look at the DOJ and where they are putting their resources into investigations… not into crime control, and not supporting law enforcement."
"When you're whole focus is 'who did you stop today?' instead of 'how many crimes did you prevent today,' you get emasculated agents."
Bailey also said the DOJ has not hired criminologists to do drug training, and they are solely focused on DNA. "While DNA is important, there are a lot of other things that need attention, like drug labs, which was always a DOJ job," Bailey said.
"The recent and current Attorneys General think drugs are so unimportant, they worked to get Propositions 47 and 57 passed."
Regarding drug crimes, Prop. 47 removed one of the key mechanisms away from courts to get treatment. Judges used to be able to order drug convicts to drug treatment and rehabilitation. "Treatment or prison…" Bailey said. "They choose treatment." Now, following passage of Prop. 47 and Prop. 57, anyone convicted of a drug crime is told it may be a 90 day sentence, but because the jails are full, the sheriff will likely have to let you go, or there is treatment, but it's no longer mandatory, Bailey explained.
"With Prop. 47 We've encouraged people to go out and steal from the public," Judge Bailey said. "We've signed the death warrant to thousands of people who are addicted. We've made the mistake that all drug users are the same. But they are not. Some support their habits selling. Now it is a misdemeanor… maybe you'll get 6 months – maybe 180 days, but if the jail is full like it typically is in LA County, they probably won't do any real time."
Bailey added, "They used to get real time."
Part ll next: Ballot Titles and Summaries; Jails as Mental Health Facilities