The California Legislature is a hotbed of indecency, on many levels. Decades of vulgarity, obscene tales of trysts and assignations, and the usual gropes and grabs have made the rounds in local watering holes, and on the pages of newspapers. So when more than 150 women wrote an open letter last month condemning the culture of sexual harassment in the Capitol, news reports joined in the condemnation. Since then, more women have added their names to the letter. But it turns out the culture inside the Capitol is even more uncivil and indelicate than previously thought possible.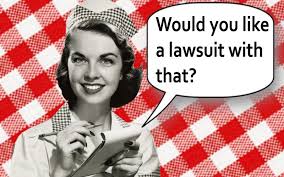 Following the women's letter, it was reported that Senate President Pro Tem Kevin de León said his office has asked the women's caucus for further recommendations on "new protections that will encourage those who have been victims or witnesses of harassment to come forward and report — and provide counsel and assistance throughout the reporting process." Except some of the members of the women's caucus, along with other legislative leaders, may have been involved in helping to cover up for abusive Senators and Assembly members in their capacity as Rules Committee members and senior members.
The California Legislature has apparently been violating state and federal laws which require employers to provide and maintain workplace safety and security, free from harassment. Government Code §12940(k) requires employers to take all reasonable steps to prevent illegal sexual harassment from occurring in the workplace.
Whew. Isn't it good to know California employees are protected under state law from harassers… except those working in the State Capitol, where whistleblower protections for legislative employees have been killed every year they are proposed.
Kevin and Tony Were Roomies
"Over the weekend, Senate President Pro Tem Kevin de León moved out of a Sacramento apartment he shared with Sen. Tony Mendoza on Saturday, the same day the Sacramento Bee published a story in which a former female intern publicly accused Mendoza of inappropriate behavior toward her when she was 19," the San Jose Mercury News reported. Yet de Leon claims he never knew about the sexual harassment allegations, despite being roommates with one of the Legislature's alleged harassers.
"A de León spokesman confirmed Sunday that the Senate leader had moved out of the apartment that he shared with Mendoza during the week. He did not provide more information," the SJMN reported. Yet has anyone asked de Leon's spokesman, Dan Reeves, about these stories? By all accounts, Dan Reeves is involved in every aspect of de Leon's role, including the civil rights debacle last year in which Republican Sen. Janet Nguyen was forcibly removed from the Senate floor for speaking about the late Senator Tom Hayden, and his involvement with communists in Vietnam. In an unprecedented move, Reeves, a Democratic staffer, told Sen. Nguyen, an elected member, that she would not be allowed to speak on the issue on the Senate floor.
Senate HR is a Kangaroo Court
I know a little something about Human Resources and labor law issues first hand. For 20 years I was a Human Resources Director for a large manufacturing company. As such, I was tasked with investigating sexual harassment accusations, among many other responsibilities.
While Kevin de León was working as a community organizer and labor union stooge, as Director of Human Resources and a Labor Law Specialist I managed 250 manufacturing, clerical and sales employees, did hiring and terminations, employee evaluations, health and safety policy, regulatory compliance, Workers Compensation insurance and caseload, health insurance, general insurance for business, payroll oversight, OSHA, EDD appeals, and general labor law and legal issues, as well as making sure our large, diverse workplace was free from harassment of any kind, was safe and accident free. I never lost an OSHA or Workers' Comp appeal, discrimination case or sexual harassment case. And yes, I had to ferret out vindictive female employees falsely accusing male supervisors they deemed tyrannical, versus legitimate sexual harassment problems. I even had to terminate two male employees for harassing female employees, after conducting thorough investigations, all-the-while keeping the female employees safe from retaliation.
What Is Sexual Harassment?
For anyone working at the Capitol who is unsure, "Sexual harassment" is unwelcome conduct of a sexual nature that is sufficiently persistent or offensive to unreasonably interfere with an employee's job performance or create an intimidating, hostile or offensive working environment. Sexual harassment is defined by the Equal Employment Opportunity Commission Guidelines as unwelcome sexual advances, requests for sexual favors and other verbal or physical conduct of a sexual nature.
Under Title VII of the Civil Rights Act of 1964, there are two types of sexual harassment: a) quid pro quo and b) hostile work environment. Sexual harassment can be physical and psychological in nature.
Senate Announces A New (Sneaky) Strategy
The Associated Press reported that the California Senate announced it will hire an outside legal team to investigate all complaints of sexual misconduct and recommend discipline following new allegations against Democratic Sen. Tony Mendoza. However, hiring an outside law firm to investigate sexual misconduct is really sneaky. The outside law firm would immediately establish attorney/client privilege and maintain confidentiality to work to shield key facts from the public and independent law enforcement evaluation, as my co-author of "California's War Against Donald Trump: Who Wins? Who Loses?" and attorney, James Lacy explained.
The Senate has typically handled its harassment complaints internally by human resources employees that report to the Senate Rules Committee, made up of five State Senators, in a fox-guarding-the-henhouse arrangement. We've seen just how sleazy this Senate Rules Committee can be when one of their own is in trouble with the law.
Remember only three years ago when then-Senate President Pro Tem Darrell Steinberg hired an outside law firm to investigate Dina Hidalgo, the Senate Human Resource director, after she was accused in an anonymous letter of gross nepotism and abuse of authority by hiring numerous family and friends? She even hired her own son, one of the Senate's in-house law-enforcement officers, who was caught with cocaine and marijuana in his system the night he was involved in a fatal off-duty shooting outside his Greenhaven-area home.
Steinberg and the Senate Rules Committee then denied a Public Records Act request by The Associated Press for a copy of the $98,000 taxpayer-funded nepotism investigation, citing special exemptions under the California Public Records Act.
Dina Hidalgo, as head of human resources for the California Senate played a major role in hiring more than 40 friends and relatives. Her immediate supervisor, Greg Schmidt, then was the Senate's top administrator, had his own nepotism issues:
• Schmidt's son Jeffrey has worked for the Senate since February 2010, during which time his salary increased nearly 63 percent as he changed jobs.
• Schmidt's daughter-in-law Beth Schmidt worked part time for the Assembly for nine years until 2013. During most of her employment in the California Capitol, Beth Schmidt was allowed to work remotely from her home near Salem, Ore.
• Schmidt's nephew Kevin worked for the Senate for three years and then worked for Lt. Gov. Gavin Newsom.
The Senate's long-time chief sergeant-at-arms, Tony Beard, took one for the team when he claimed he had withheld information about Lopez' drug use from Steinberg, "who only learned of the incident after being asked about it by the press," Capitol Weekly reported. Uh huh. "Beard, whose father also served as Senate chief sergeant decades earlier, resigned his position." Greg Schmidt retired.
The Senate HR scandal was child's play compared with the criminal activities plaguing the Senate in 2013 and 2014 under the "leadership" of then Pro Tem Steinberg. Sen. Ron Calderon, D-Montebello, was indicted on federal corruption charges, and Sen. Leland Yee, D-San Francisco, was indicted on federal corruption charges, racketeering, and arms dealing, while Sen. Rod Wright, D-Inglewood, was convicted of perjury and voter fraud in January for lying about his legal residence in Los Angeles County.
The involved members of the Senate (and Assembly) attempting to distance themselves (Kevin de Leon) from this latest vile scandal are only trying to save their own pitiful careers, and have no concern for the women who feel they were harassed. De Leon, his predecessor, and his Senate cohorts are not leaders and are grossly mishandling this crisis in their swamp.
I've been critical of women who won't stand up for themselves and smack abusers where they deserve it. But in the face of gross corruption and malfeasance in the California Legislature — again — justice must be done. We can't count on California's Attorney General Xavier Becerra to focus on anything other than suing President Donald Trump. Perhaps it's time to bring in Trump's DOJ to investigate this den of thieves known as California corrupt Democrats. This is the result of decades of the culture of corruption dominated by leftists.