What is behind the explosion of drug addicted, criminal, and mentally ill homeless on California's streets?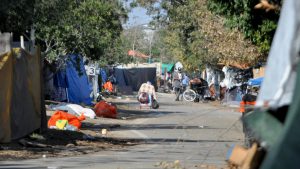 Democrat policies and politics going all the way up the ladder to California Gov. Jerry Brown and the California Legislature, on up to the Obama administration, and the Obama-Holder prison reform program which subverted the law as well as Congress.
The so-called reforms succeeded in promoting crime by decriminalizing many crimes, and reclassifying violent crimes as "non-violent." Gov. Jerry Brown's A.B. 109, "realigned" California's overcrowded prison system, shifting responsibility of repeat, newly classified "nonviolent" offenders from state prisons to county jails. Those released were assigned county probation officers rather than state parole officers. Those newly "non-violent" criminals let out of county jails due to overcrowding are living on the streets, living on our parkways, rivers, and canals, and using the streets as their toilets.
The two-mile long stretch of homeless tent encampments in Orange County along the Santa Ana River Trail, littered with  human waste and used needles, is becoming a common sight in most California cities.
"In stark contrast from local governments in Los Angeles and San Francisco, the Orange County authorities are beginning to clamp down on the tent city, describing the 'illegal' housing as a major public health concern," Sean Hannity reported over the weekend.
In stark contrast to Orange County leaders, Sacramento Mayor Darrell Steinberg, a Democrat who is the most recent former California Senate President, and local Democrat politicians are proposing more tax increases to build thousands of tiny houses for the homeless. "Less than a week after calling for a multibillion-dollar fund for infrastructure, arts and affordable housing, Sacramento Mayor Darrell Steinberg proposed Tuesday spending $21 million over the next three years to subsidize construction of hundreds of small homes to help shelter the city's growing homeless population," the Sacramento Bee reported.
Steinberg plans to allow homeless drug addicts and criminals to jump ahead in the long waiting line of Section 8 public housing vouchers. In January 2018, 34,766 applicants had entered the
Sacramento Housing and Redevelopment Agency's lottery
for a place on the waiting list, the SacBee
reported
. However, Only 7,000 slots are available, taking up to two years before housing becomes available.
But what's behind this explosion of drug addicted, criminal and insane homeless on California's streets?
In this picture (to the right) is the list of "non-violent crimes" in California from the "Keep California Safe" initiative to repeal parts of AB 109, Proposition 47 and Proposition 57: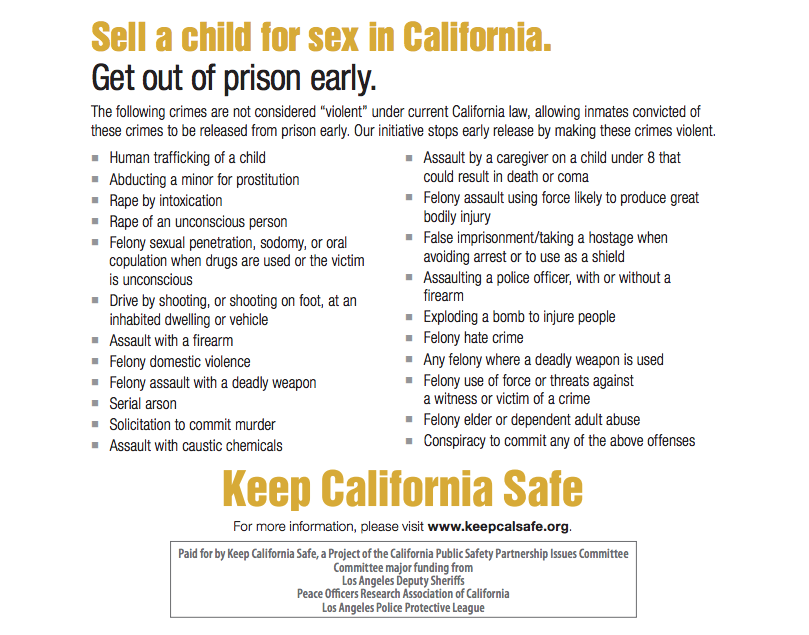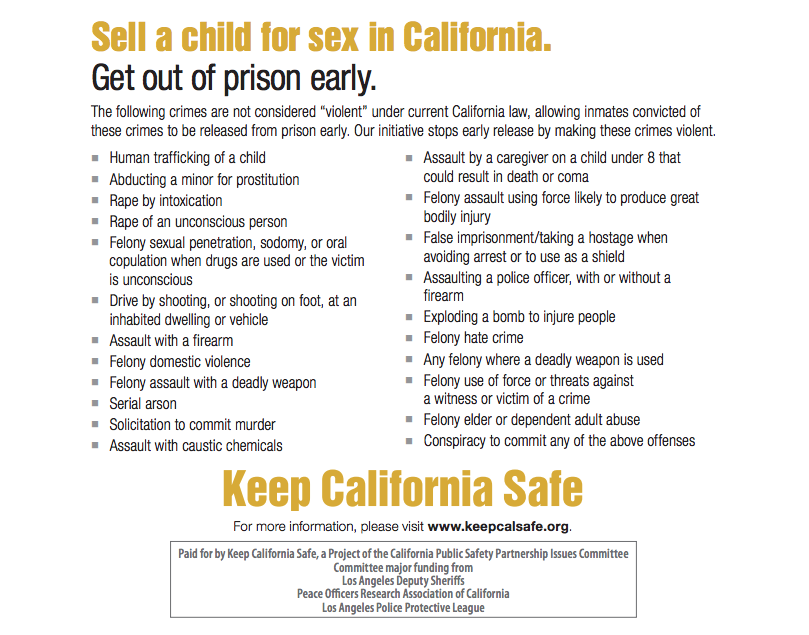 Assembly Bill 109, Proposition 47, Proposition 57 decriminalized theft, drug crimes, sex crimes, and emptied out California prisons.
The Obama administration policy encouraged states to ignore certain crimes, decriminalize certain crimes, in exchange for receiving extra federal grants… along with a massive homeless population.
The Keep California Safe initiative plans to 1) reclassify currently "non-violent" crimes like rape of an unconscious person, sex trafficking of a child and 14 other serious crimes as "violent" — to prevent the early release of inmates convicted of these crimes. 2) reform the parole system to stop the early release of violent felons, expand parolee oversight, and strengthen penalties for parole violations. 3) reform theft laws to restore accountability for serial thieves and organized theft gangs. 4) expand DNA collection to include those convicted of drug, theft, domestic violence and other serious crimes to help solve rape, murder and other violent crimes.
This is what real reform looks like. Conversely, Mayor Steinberg, who has no solutions to the drug addled filth living and defecating on downtown streets, wants to punish taxpayers once again to make it appear he is doing something.
Yet, during his last year in the California Legislature in 2015, Darrell Steinberg created The Steinberg Institute, to supposedly battle mental illness. "Since its inception in January 2015, the institute has helped enact sweeping improvements in California mental health policy, including securing $2 billion to provide housing and care for homeless people living with brain illness," the foundation claims. In three years of operation, the Steinberg Institute claims it "has had outsized impact on California's legislative agenda.  Key to our mission is inspiring legislative champions – and 2017 saw the largest number of bills dedicated to mental health in recent history in California."
I'm not sure what the Steinberg Institute is spending its funding on, but in the three years since Darrell Steinberg created his foundation, the mentally ill homeless population has exploded in downtown Sacramento and surrounding city neighborhoods.
"In addition, we have pushed for – and won – decisive gains in the areas of homeless housing and services, foster youth, law enforcement training, suicide prevention, and college mental health services," the Steinberg Institute says. "We have done so with bipartisan support, reaching across party lines to grow awareness of brain health issues; and through thousands of calls and meetings with elected officials, agency heads, advocacy groups, business leaders and research groups, as we educated, advocated and systematically built our network of supporters."
Founded in 2015, The Steinberg Institute is not rated by Charity Navigator or Guidestar, nor are the Steinberg Institute's IRS Form 990's available. The Steinberg Institute actually appears to be more of  lobbying organization. "One of the Institute's key priorities and areas of work is in organizing robust legislative agendas for mental health in California and engaging elected officials," Steinberg's bio says.
In 2015, Steinberg published a report claiming that Proposition 63, the Mental Health Services Act is working. Steinberg spearheaded Prop. 63, which levies an additional 1% tax on incomes of $1,000,000 or greater to fundamental health service programs beginning January 1, 2005. However, the 2015 report, published in conjunction with the County Behavioral Health Directors of California, used statistics from 2011-12. They claim through the "Whatever it takes" mental health services, homelessness and shelter use was down in 2011-2012, due to the extra $500 million in funding provided through Prop. 63 taxes on California's top income earners. However, in 2011, the California Legislature passed AB 109, known as prison "realignment." So before the effects of AB 109 could possibly be known, this study was claiming the tax money was the result of declining incarcerations.
Steinberg also authored SB 82, the Investment in Mental Health Wellness Act of 2013, "which allocated $142 million in state General Funds for a grant program to expand the number of community-based mental health crisis services." But what it really did was send funding to The California Health Facilities and Financing Authority (CHFFA) to administer the capital outlay function of the Act, which is to "convene public forums and webinars, reach out to stakeholders, craft emergency regulations and then permanent regulations, and design grant application processes–" …Lots of talking about homelessness and mental illness, costing $142 million.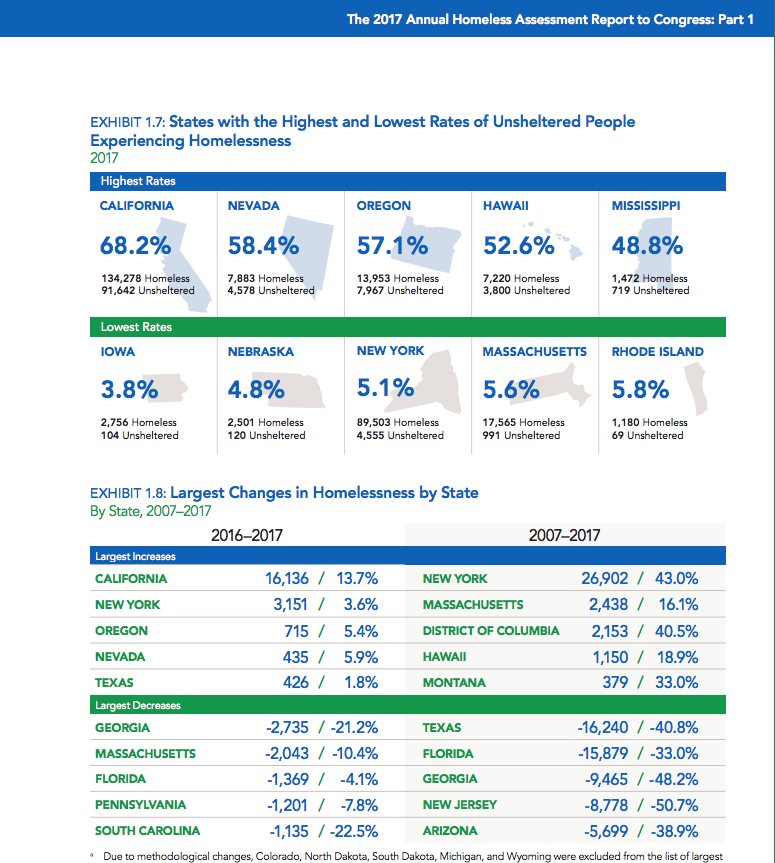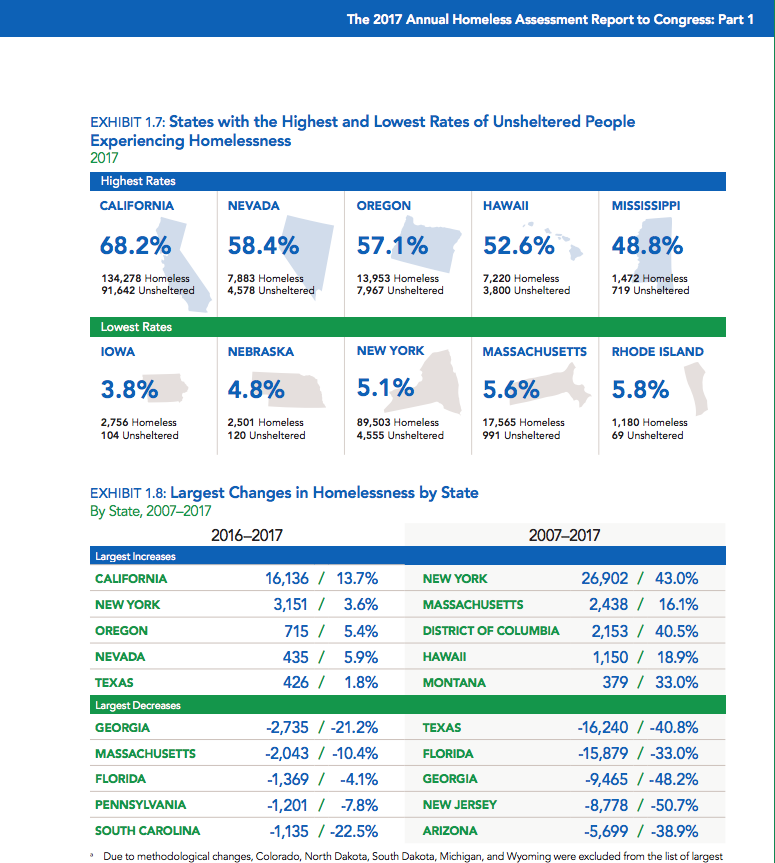 Flash forward to 2018. The federal Housing and Urban Development agency published its 2017 report on homelessness which found California not only has the largest homeless population in the country, the population grew from 2016. California had 134,278 homeless in 2017, of which 91,642 were unsheltered — a 13.7% increase from 2016.
The HUD report found the number of homeless declined in 30 states during the same time period between 2016 and 2017, with the largest decreases in Georgia (2,735 fewer people), Massachusetts (2,043 fewer people), and Florida (1,369 fewer people). The largest percentage decreases were in South Carolina (23%), Georgia (21%), and Louisiana (17%).
The number of homeless increased in 20 states between 2016 and 2017, with the largest increases in California (16,136 people), New York (3,151 people), and Oregon (715 people). The largest percentage increases were in North Dakota (18%), California (14%), New Mexico (10%), and Vermont (10%).
I recently interviewed Dr. Ben Carson, HUD Secretary, Feb. 13, 2018, about HUD's approach to decreasing homelessness in cities throughout the country. Dr. Carson said the significant increase in the number of unsheltered homelessness, was particularly steep in California where there is a significant lack of affordable housing. Last January, Los Angeles and Los Angeles County counted a total of 55,188 individuals living in sheltered and unsheltered settings, an increase of nearly 26 percent over January 2016. Dr. Carson said HUD would be providing $2 billion in grants to cities to address the housing shortages. "We know how to end homelessness, and it starts with embracing a housing-first approach that relies upon proven strategies that offer permanent housing solutions to those who may otherwise be living in our shelters and on our streets," Dr, Carson said. He agreed that California is not approaching the problem correctly by allowing the massive tent cities to flourish; he said it costs cities less to get the homeless off the street than to deal with filthy homeless encampments and the ensuing health and disease concerns. Dr. Carson is also a believer in not making the homeless too comfortable. "Compassion means not giving people 'a comfortable setting that would make somebody want to say: 'I'll just stay here. They will take care of me,'" Carson told the New York Times last year.
Dr. Carson and I briefly discussed the Haven For Hope, in San Antonio, Texas, a model holistic homelessness program using public and private funds, which addresses all of the issues surrounding homelessness. Haven for Hope, which is listed and rated on Charity Navigator and Guidestar, provides short-term residential housing on-campus, substance abuse, mental health treatment, employment services, education services, life-skills training, legal services, childcare, health care, even an animal kennel, and housing.
Lobbying the California Legislature might be more effective if the goal was to teach homeless residents to learn to become self-sufficient active members of the community. "Most cities think they're doing a great job if they feed and clothe the homeless, but they're not," Haven for Hope founder Bill Greehey said in a 2011 interview. "We're putting them through a program to become drug- and alcohol-free and live independently."
In Sacramento, after already legislating hundreds of millions of dollars in funding for combating homelessness ineffectively, we're now going to tax responsible residents out of more of their hard-earned income, and build tiny homes for people currently living and pooping on the street. The numbers don't lie; The Steinberg Institute may be busy doing something, but homelessness is only increasing in California. Tent cities, used needles, piles of defecation on the streets are increasing, as are communicable diseases.
Democrats have solved nothing, and are spending ridiculous amounts of money doing it. It's hard not to ask who is getting rich off of these bogus programs.