The Capitol cesspool saga adds another chapter in the sexual harassment orgy going on under the dome.
Senate President pro Tem Kevin de Leon lectured Senate colleagues on the Senate floor Thursday about how he would not tolerate the abuse of power in the Senate, during the on-again, off-again session to determine the fate of Sen. Tony Mendoza amid sexual harassment investigations."We will not tolerate harassment, nor sweep it under the rug," de Leon said (as I spit my coffee). Earlier in the week, de Leon threatened to expel Mendoza, but many assumed it was an empty threat.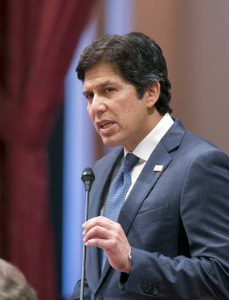 Following the "independent" investigation by an outside law firm into sexual harassment allegations against California Sen. Tony Mendoza, which found that six women likely "experienced unwanted flirtatious or sexually suggestive behavior" by the lawmaker, Thursday was D-Day and the vote to expel him. Or so most people thought.
The many Democrat caucuses taken Thursday during the Senate regular session were groan-worthy. It was apparent Democrats and their leadership did not want to make the decision to expel Senator Tony Mendoza over the serious sexual harassment allegations against him, and the findings of the "independent" investigation. And, many believe that because Mendoza and de Leon were roommates, Mendoza knows something or has something on de Leon.
One moment of levity on Twitter was "Nooner" publisher Scott Lay who mocked the Democrat caucus meetings: "'I can't vote to expel Tony Mendoza, because I f***ed so-and-so.' It's going to be a long day," he ended.
Of the six women accusing Senator Mendoza of sexual harassment and/or sexual advances, four were former staffers, including a college intern and a Senate Fellow. They reported that they "believed that complaining about his conduct could put their careers at risk," the investigation found. Mendoza's other incidents involved a Fellow from another Senate office and a lobbyist. The report says the incidents ranged from 2007 up to last year.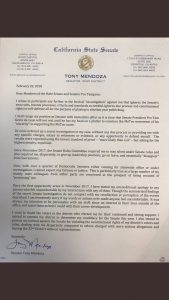 Expulsion threats ended when Mendoza submitted a very bitter resignation letter in what appeared to be right before lawmakers were to decide his fate. In his resignation letter, Mendoza, who until recently was the roommate of  Senate President Pro Tem Kevin de León,  said de Leon "will not rest until he has my head on a platter to convince the MeToo movement of his 'sincerity' in supporting the MeToo cause."
Many in the Capitol speculate that de Leon's hesitation to expel Mendoza permanently is because Mendoza may know something about de Leon and his activities which may not be on the up and up – if the Capitol "Whisper Network" is to be believed.
In my article Thursday about the deafening silence coming from the usually vocal, flag-waving feminists in the Legislature's Women's Caucus, and why they are stunningly silent on the sexual harassment charges against their colleagues, I asked if these women lawmakers even care about the victims? The Women's Caucus has apparently become a ladies coffe klatch rather than the flag-waving feminists they proclaim to be. The caucus, which boasts many Democrat legislative leaders, has been deafeningly silent amid the many sexual harassment investigations of their legislative colleagues. Rather than getting out in front of this scandal, the ladies caucus is now preparing for its 'Woman of the Year' celebration in March.
Mendoza, who could have been suspended by the Senate, either with or without pay, has been languishing in never-never land since last fall, when the first sexual harassment allegation was waged against him. Within weeks, other women came forward with additional allegations.
Following the 2014 criminal charges and eventual convictions against three Democrat senators, voters in 2016 approved Proposition 50, a state constitutional amendment allowing for suspension without pay, per-diem or travel costs. In 2014, then state Senators Ron Calderon, D-Montebello, Leland Yee, D-San Francisco, and Rod Wright, D-Inglewood, were charged and convicted of bribery, racketeering, money laundering, public corruption and bribery (after selling arms to Muslim terrorists in the Philippines), perjury and voter fraud, respectively.
While the three Democrat Senators were being investigated, they were suspended with pay by then-Senate President pro Tem Darrell Steinberg, D-Sacramento. Consequently, their millions of constituents went unrepresented for a very long time while they each received a taxpayer-funded paycheck.
Sen. Joel Anderson, R-San Diego, argued on Thursday in the Senate that if expulsion wasn't considered for the three senators in 2014, it shouldn't be in Mendoza's case. "The [Democratic] majority tabled that motion each and every day," Sen. Anderson said referencing the 2014 suspensions. "And I brought it up multiple times. Now we have somebody who has been accused of something, who hasn't been found guilty of anything. Not a crime. And yet, we're talking about expelling that member. So the penalty of being accused of something is greater than being found guilty of eight felonies."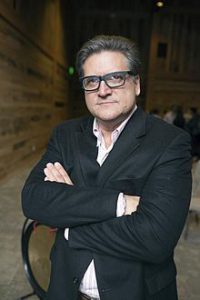 Interestingly, Senator Bob Hertzberg (D-Los Angeles), has also been accused of harassment by a former Assemblywoman, and by current female members of the Legislature who chose to remain unnamed. But Hertzberg hasn't been suspended with or without pay – something Sen. Mendoza pointed out numerous times in communications with his Senate colleagues. Hertzberg has been accused of unwanted lingering hugs, and pushing his groin into women as he pulls them closer to him with his hands on their lower backs. Specifically.
Accusations have been levied by women against State Senator Tony Mendoza, (D-Artesia), Assemblyman Raul Bocanegra (D-Arleta) Assemblyman Matt Dababneh (D-Los Angeles), Assemblyman Devin Mathis (R-Visalia), Sen. Bob Hertzberg, (D-Los Angeles), and apparently mmore to come.
The"whisper network" inside of the Capitol tells much: Several additional lawmakers are being named as harassers, or covering up harassers in their offices, and I was told that de Leon's Chief of Staff contacted former female staffers to offer incentives to avert any potential accusations.
This cesspool in the State Capitol is what we get as taxpayers: thugs in suits who believe they don't have to live under the rule of law in California. When will enough be enough for the people of California?