The midterm elections have turned out as most observers expected, nationally, statewide, and in Sacramento. By historical standards, nationally, the Democrats underperformed and lost a number of high-profile races. There was no Blue Wave – more like a blue ripple.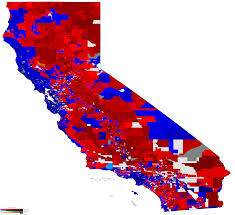 However, California is another story, remaining as blue as can be, and headed right into insolvency. In the contest for governor, California voters chose Democratic politician Gavin Newsom over Republican businessman John Cox, who is not a politician.
California goes 'Full Nuthouse' as my friend Leslie Eastman reports at Legal Insurrection. In addition to electing Newsom, Eastman points out voters rejected a repeal of the gas tax, and says, "a majority of Californians are thrilled that Sacramento will squander more of their money."
A friend pointed out "California is a state where everyone bitches about how poor they are and how they need rent control, and yet constantly vote to raise their taxes every chance they get. The voters of this state have never seen a tax increase or bond measure they didn't love."
Brilliant.
Californians also re-elected long-time incumbent Democratic U.S. Sen. Dianne Feinstein, rejecting Democratic State Senator Kevin de Leon (Los Angeles). Dumb and dumber was the choice there.
There were some surprises as well. California Democrats flipped three Republican districts: Rep. Steve Knight, (CA-25th District) lost to Democrat Katie Hill, Republican Diane Harkey lost Rep.Darrell Issa's 49th District to Democrat Mike Levin, and Republican Rep. Dana Rohrabacher lost his race in the  48th District to Democrat Harley Rouda.
In statewide races, it appears Marshall Tuck has beat Assemblyman Tony Thurmond in the race for Schools Superintendent. Tuck is a real reformer. "Tuck made a name for himself in Los Angeles turning around high-poverty, low-performing charter schools before then-Mayor Antonio Villaraigosa recruited him to improve schools within the conventional public school system," the San Francisco Chronicle Editorial Board said in their endorsement of Tuck. "Marshall Tuck is the clearest and most emphatic voice for reform in the field."
Democrat State Senator Ricardo Lara and Steve Poizner appear in a near tie for Insurance Commissioner.
California's Legislative Democrats appear poised to regain their supermajority in the state Senate and retain the supermajority in the Assembly.
Democrat Assemblywoman Anna Caballero beat Republican Rob Poythress in the race to succeed outgoing Republican Sen. Anthony Cannella in the Central Valley 12th Senate District.
Incumbent Republican State Senator Andy Vidak surprisingly lost his reelection against Democrat Melissa Hurtado in Senate District 14.
"Picking up both seats would give Democrats 28 seats in the Senate and restore the supermajority they lost in June when voters recalled Josh Newman of Fullerton," sacbee.com reported.
The ballot initiatives were another surprise. Proposition 3, the water bond, was thankfully defeated. "With millions of dollars of unspent water bond money from 2006 and 2014 water bonds, why is there yet another a water bond on today's June Primary ballot, and another on the November ballot?" I wrote in June 2018.
Proposition 5 was defeated, which would have allowed homeowners age 55 and older to sell their current homes, purchase a replacement property anywhere in the state and transfer the property tax assessment from the home they sold to the home they bought. The opposition lied and claimed that the state would have lost millions of dollars if Prop. 5 passed. Not so – Prop. 5 would have encouraged empty-nesters to sell their large family homes and downsize without being penalized. And it would have meant more money with the sale to the new owners.
Proposition 6, the gas tax repeal was also defeated – California's high gas taxes and high car registration fees will remain. Sadly. Prop. 6 would have also amended the state constitution to require voter approval of all future increases in fuel and vehicle taxes or fees.
Proposition 8, which would have authorized State Regulation of Kidney Dialysis Clinics, was defeated. Thankfully.
Proposition 10, repeal of Costa-Hawkins, was defeated. Prop. 10 would have allowed state government to regulate rent, and would actually have created an even worse housing shortage in California.
Sacramento's Measure U sales tax increase, a slush fund for greedy politicians, was passed by voters, despite that Sacramento city revenues are more than $120 million up from 2010, and up 16 percent in just the past two years.
Measure U doubles the 2012 half-cent sales tax increase and makes it permanent, raising Sacramento's sales tax to 8.75 percent.
Mayor Darrell Steinberg and most of the members of City Council can't or won't be honest about their gross spending and particular taste for other people's money. Despite promising to spend the Measure U tax increase money wisely, the additional $50 million will likely go straight to unfunded city pensions, which are expected to increase by $60 million a year and are projected to hit $129 million by 2022-23.
What is needed is spending discipline rather than continuing to pick the pockets of the taxpayers and business owners.
Buried at the end of the SacBee article on Measure U's passage, is this little gem:
"Even with Measure U's passage, the city's budget is still projected to be in the red. The city deficit is estimated to be $7.6 million in fiscal year 2019-2020 and $28 million in 2022-23, according to the city budget. If Measure U had failed, the city's deficit was projected to grow to $47.3 million in fiscal year 2019-2020, and to $80 million in 2022-23."
Will California's Blue Wave lead to insolvency faster?
Costa Mesa Republican Sen. John Moorlach's fiscal report, "Financial Soundness Rankings for California's Public School Districts, Colleges & Universities" finds 2/3 of California's 944 School Districts bleed red ink. That report follows his March 2018 reports on the state's 482 cities that found 2/3 of them in the red; of 58 counties, 55 suffered deficits and only three enjoyed positive balance sheets. His May 2018 report on the 50 U.S. states found only nine were financially healthy, with California ranked among the worst, in 42nd place.
There is only so much we faithful, native Californians can take. How much beautiful weather is worth this leftist insanity, and/or before this leftism turns into liberty crushing authoritarianism? Just sayin…