Last week former Utah Governor and Ambassador to China Jon Huntsman officially joined the 2012 race for the White House in front of the Statue of Liberty.  He has wasted no time circling the wagons with press and fundraising appearances across the country.   One such appearance was at a private fundraising event emceed by OC GOP Chief Scott Baugh at the Island Hotel in Newport Beach.  A number of top GOP donors and influential operatives were in attendance to hear the Governor, encourage friends to support his campaign and get a better understanding for his plan to defeat Barack Obama in 2012.  Of course in order to do that he will have to stand out to GOP primary voters in what is becoming an increasingly crowded field.  I was fortunate to have the opportunity to attend the event and get a better perspective of Huntsman and his campaign.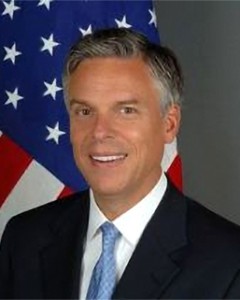 One initial obstacle  Huntsman faces is that he is relatively unknown to many voters, which Huntsman will attempt to capitalize on by branding a strong identifiable message to voters as they get to know him better.   The event served both purposes for Huntsman, as he brought in a nice level of contributions while taking the opportunity to communicate his message during remarks and Q & A.  After networking with attendees  for about an hour, Huntsman delivered formal remarks followed by a few questions.
The former Governor focused his remarks on his record of accomplishment in Utah.  One noticeable applause line came when he recalled his flat tax policies in Utah and regulation reform that brought jobs to his state at the expense of California and Governor Schwarzenegger's policies.   He also struck a chord with the conservative audience when he spoke about more philosophical issues and advocated for a government based on Federalism and local control.  Huntsman's perspective from an international view served as a nice transition to his views on foreign policy.  He stressed a sound foreign policy grounded on the needs for US security and a responsible way of utilizing our precious resources.  Energy independence was also stressed as both an economic factor and security concern for the nation.  In fact energy policy was identified as one of Huntsman's three major priorities along side advocating for a flat tax policy and serious regulation reform.  During the Q & A portion of the evening Huntsman spoke about his opposition to Cap & Trade and gained even more favor with the audience when he not only opposed ObamaCare but essentially said we have no choice but to repeal it.
The core message of Huntsman's comments was the call to action that compels him to run, because the issues facing America cannot wait until 2016.  As he displayed to the audience, his knowledge of the issues coupled with his unique array of experience will serve Huntsman well in debates and media interviews.   He also had the ability to effectively connect on a personal level in casual conversation through mentions of his personal life and delivering unscripted direct answers.  After the program one had the sense that Huntsman doesn't just stick to talking points, but understands the questions being asked and has the ability to give thoughtful and direct answers based on his ideas of how to deal with an issue.   Talking with others in attendance following the event, not one person walked away unimpressed, a good start for the newly minted candidate.