This weekend about 5,000 Republican leaders, made up of every member of the State GOP Central Committee and every elected member of each of the state's 58 County GOP Central Committees from around California, should have been gathering in Sacramento to consider whether the California Republican Party will endorse a candidate for United States Senate. Instead, as few as 24 individual members of the CRP's Board of Directors will meet in a room at a hotel in Burbank this Sunday, where as few as 16 votes may make a decision that previously had been reserved for millions of Republican voters statewide.
Last month at the California Democrat Party convention/freak show, you may have noticed that they held regional caucus where local party leaders gathered, by district, to determine who would get the CDP endorsement in all of the state's Congressional, State Senate, and State Assembly Districts. On the Republican side, while County GOP Committees in some cases have given their local endorsements, those same 24 CRP Board Members will gather and will decide on behalf of all California Republicans who the CRP will endorse before the June election.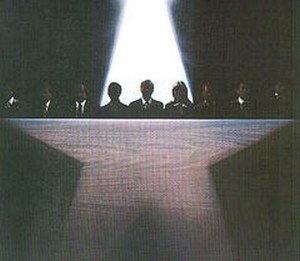 It is outrageous and unfortunate, don't you think, that such a small group of people in a virtual "star chamber" will be wielding this kind of power? Ironically, a majority of the people in that room did not want to be there. A majority of the members of the California Republican Party's Board of Directors supported a much different system for selected party endorsees — one that would have included many more people in the process.
Before the end of his term, former CRP Chairman Ron Nehring (still on the Board as Immediate Past Chairman) offered up a comprehensive plan on how the party could weigh into races. His plan was introduced to deal with the terrible and intended impact of Proposition 14's top-two election system which was specifically designed to reduce the role of political parties in the election process. Nehring's plan, recognizing that the party could not longer use the June election for Republicans to pick their nominees, would have ensured that the broadest number of elected Republicans leaders would have a chance to consider our statewide party picks, and that local GOP leaders would be the decision makers for legislative endorsements. I was proud to support Nehring's plan, which was ultimately stymied by a large effort by Republican politicians, and financed by Charles Munger, Jr., whose father is the business partners with Warren Buffet. Their motivation, of course, was to allow a small number of people to control the process — and as this Sunday's meeting of such a small group of people making such important decisions demonstrates — they were successful.
So when the Sunday star chamber meeting takes place, the only real chains that will be on the Board of Directors in terms of where they cannot hand out party endorsements will be a rule that says that where a county party (or parties) have weighed into federal or state legislative races in an affirmative way (whether to endorse a candidate by a 2/3 vote, or passed a motion to oppose a candidate), then the CRP Board may not take a position contradictory to those positions. It is important to understand that a County Committee's decision not to vote at all on local endorsements, or their voting on an endorsement and falling short of the 2/3 vote, do not bar the CRP Board from action.
I am not aware of any instance where a local Republican Central Committee has voted by 2/3 to endorse the challenger to an incumbent, or have passed a motion asking that the CRP not endorse an incumbent, but some of these meetings are still taking place as late as tomorrow. Absent this case, it is likely that the Board will pass a motion to endorse all incumbents running for re-election. I don't think that will be too controversial.
So if you want to focus on those areas that may be more interesting, it will be those efforts for select districts to put the CRP's endorsement on a candidate in a June contest that includes more than one Republican, whether scoundrel Abel Maldonado can even get one vote on the CRP Board for an endorsement (Maldo double-screwed the GOP, violating his No New Taxes pledge to pass the largest tax increase in state history, and leveraging his vote to place Prop. 14 on the ballot), and whether 2/3rds of the Board votes to endorse a candidate in the race for U.S. Senate.
The 2/3rd vote will really impair the party's weighing into a lot of races where they might otherwise do so. It means that just 8 or 9 people can "block" an endorsement, which as a practical matter means that on one side the more ideological conservative activist base on the board has more than enough votes to block endorsements, and the legislator/leadership group on the board also can do the same.
I'm quite content to no longer serve on the party's Board of Directors, but for those "lucky few" who will vote this Sunday, I would counsel you to think ahead of time about what your principles will be in deciding whether the State GOP should weigh into a race. Is there a risk that the absence of backing a candidate could mean we do not get a Republican into the runoff? Are anti-Republican special interests weighing into a GOP contest, maybe necessitating the party to offset that influence? Could a Republican make the runoff who is willing to vote for tax increases? Should the party board, absent these factors, play king maker?
I am most interested to see what the star chamber does on the U.S. Senate race. I have yet to have any of the Republican candidates demonstrate to me that they have what it takes to retire Dianne Feinstein. Which is not to say that one could not, but that is what the next few months are for — to allow competing Republicans to demonstrate their ability to get elected. Some are worried that if one candidate does not have the ability to have their name listed in the Sample Ballot Pamphlet on a page separate from the actual sample ballot, that bizarre whack-job "birther" Orly Taitz, a gadfly running for U.S. Senate, could be the top GOP vote-getter. I don't buy that, but perhaps some on the board will. I lament that it will be only 24 people making this decision, and not GOP voters, or at least many thousands of GOP leaders.
Also piquing my interest is whether the board weigh into the Rep. Gary Miller vs. State Senator Bob Dutton throw-down.
As a cautionary note to all GOP candidates, incumbents or not, be sure to bring your check book. The party is charging a fee of a few hundred bucks for the privilege of being considered.
Of course it is important to remember if you are a candidate that a party's endorsement (whether Democrat or Republican) is somewhat limited in its importance. Being a party-endorsed candidate does not guarantee you will be on the November runoff ballot (under the new system, voter choice is severely limited as no longer will a candidate from every major and minor party be present on the general election ballot). If you are lucky enough to be endorsed by the party, it means that on a page of the Sample Ballot Pamphlet you will be identified as your party's endorsed candidate. And it means that your party may now provide material support to you, which may or may not happen.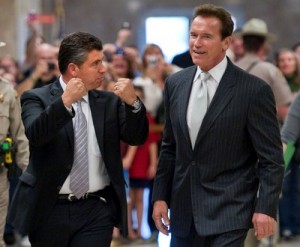 I will close this column by expressing my sarcastic, heart-felt appreciation to both Arnold Schwarzenegger and Abel Maldonado for their key roles in inflicting Proposition 14 on us, and to U.S. Rep. Kevin McCarthy and our state legislative leaders, especially Sen. Tony Strickland, for working so diligently to ensure that such a small group of party insiders (remember, in many cases over their objections) will make important party decisions that should be make by a broader group.
I believe it is the intent of the CRP to live-stream this meeting on the CAGOP.org website, which would be a good idea since even if everyone who wanted to could make it to Burbank, there's only so much room in the back room.